Under Mueller's Scrutiny, Trump Allies Cry FBI Entrapment
The president has handed his associates a new way to characterize any suspicious interactions they may have had during the election.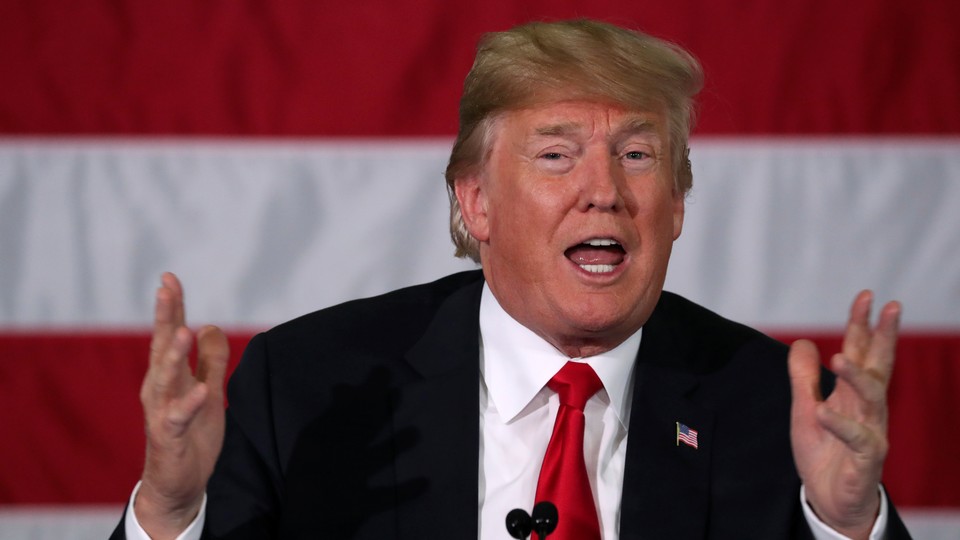 President Donald Trump's repeated claims that the FBI planted a "spy" in his campaign has handed his associates a new way to characterize any suspicious interactions they may have had during the election: those interactions, especially those being examined by Special Counsel Robert Mueller, were an FBI setup. Mueller is investigating whether the Trump campaign abetted a Russian disinformation campaign, and whether the president sought to obstruct that investigation.
Earlier this month, The Washington Post revealed that Roger Stone and Michael Caputo, two former advisers to Trump's campaign team of interest to special counsel Robert Mueller, were approached during the election by a Russian national who was offering dirt on Hillary Clinton. Stone and Caputo told the Post that they believe the man was acting as an informant for the FBI. The wife of another campaign aide now cooperating with Mueller, George Papadopoulos, is telling a similar story: Papadopoulos did nothing without the campaign's consent, she has said, and was targeted by western agents trying to entrap him.
Retroactively downplaying these potentially inappropriate contacts with foreign nationals by casting them as an FBI set-up fits squarely into a narrative enthusiastically promoted by the president. Trump, a subject of Mueller's obstruction investigation, has tweeted repeatedly about "Spygate"—a term invented by his allies to describe the FBI's use of an informant to approach members of his campaign during the election. The FBI, which does not usually publicly discuss ongoing investigations, has not responded to the accusations. The result: Trump and his supporters have been able to minimize their bad publicity and continue to characterize the Russia investigation as a "witch hunt."
Roger Stone and Michael Caputo's latest disclosure to the Post is a good example: Neither Stone nor Caputo told the House Intelligence Committee when testifying under oath last year that the Russian national, Henry Greenberg, had tried to sell the campaign damaging information on Hillary Clinton. Caputo told me that didn't remember his May 2016 interaction with Greenberg until just before his interview with Mueller's team last month. (He says he told the agents about a second interaction he had with Greenberg at a fundraiser charity event in Miami in January 2017). Still, Caputo is not worried that he may have perjured himself before Congress—he believes Greenberg was acting as an FBI informant when he approached the campaign, and that the bureau should have to answer for its use of human sources during the election. Hours after the Post story broke, Caputo's spokeswoman sent out a press release touting his exposure of "another FBI informant."
"It is important to note that I disclosed this to Mueller after they asked me a very general question about whether a Russian ever approached me with information on the Hillary Clinton campaign," Caputo told me. "It bothers me that the Obama FBI was investigating the Republican nominee for president. But it truly concerns me that they were tapping a violent Russian criminal illegal alien to join the fray." Greenberg, who appears to have assisted the FBI between 2008-2012, was charged in Los Angeles in 1994 with assault with a deadly weapon, according to records obtained by the Post.
Papadopoulos' wife Simona Mangiante, who has asked Trump to pardon Papadopoulos, has used a similar argument: In an interview with The Daily Caller, she said "it was George who brought up Mifsud to the FBI"—a reference to Joseph Mifsud, a mysterious Maltese professor who told Papadopoulos in April 2016 that the Russians had dirt on Clinton. (The FBI accused Papadopoulos of making materially false statements about the timing of his meeting with Mifsud.) Mangiante added that she believed the FBI used Stefan Halper, a longtime FBI and CIA source who teaches at Cambridge University, to target Papadopoulos "and infiltrate the campaign." She claimed that Papadopoulos was the target of other "highly suspicious" approaches during the election.
Whereas Halper reportedly approached the Trump campaign at the FBI's behest, however, there is no evidence that Greenberg was acting as an FBI informant when he offered the campaign dirt on Clinton in May 2016. Asked why he did not notify the FBI when a Russian offered him compromising information about Clinton, Caputo said he and Stone "thought Greenberg was a crackpot and of no concern, and he did not represent himself as an agent of the Russian government." Caputo said he now believes Greenberg has been allowed to remain in the U.S. because he is still working for the FBI. He questioned why the special counsel's team grilled him last month about his contact with Greenberg, and why the FBI agents "knew so much about this meeting" with Greenberg "that was so matterless." (Stone has said he has not yet met with, or even been contacted by, Mueller's team.)
Caputo says he hired private investigators in Florida and Russia to look into Greenberg and "got chapter and verse on this guy." He discovered, among other things, that Greenberg repeatedly entered the U.S. from Russia under a "significant public benefit parole" between 2008-2012. Records obtained by the Post support that claim. Scott Olson, a recently retired FBI agent who ran counterintelligence operations and spent more than 20 years at the bureau, told me that this kind of parole "is available to law enforcement when they need bring someone who is assisting with a criminal investigation into the US and that person cannot gain entry on their own, usually because they have a criminal record."
But the records show that Greenberg's work with the FBI ended in 2013—three years before he reached out to Caputo and Stone—meaning it is likely that he was either "freelancing" or working for Russia when he approached the Trump campaign in May 2016, said Frank Montoya, Jr., a former FBI special agent who served as the Director of the Office of the National Counterintelligence Executive. When Greenberg approached Caputo, moreover, the FBI had not yet launched its investigation into the Trump campaign.
"My read on Greenberg is that he was either working at the behest of the Russians or he was freelancing (which means it was at the behest of the Russians)," Montoya told me. The Russians, he noted, "used all kinds of resources" to launch an "all-out assault to undermine our election," and human sources are not immune from "freelancing" or going "rogue," he said. "It is not unheard of—rather routine actually—for people like [Greenberg] to play both sides against the middle."