Pruitt Aide Resigns Amid Scandals
Millan Hupp filed her paperwork shortly after portions of her congressional testimony were made public.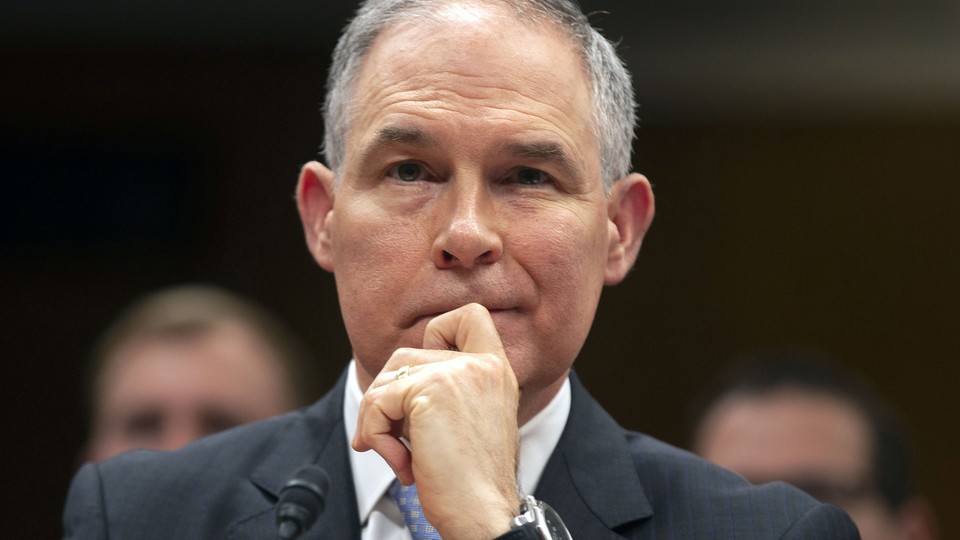 A top aide to Scott Pruitt, Millan Hupp, resigned from the Environmental Protection Agency, according to a source briefed on the matter and correspondence reviewed by The Atlantic. Her last day will be Friday.
Hupp, who worked as the director of scheduling and advance, has been entangled in many of the scandals dogging EPA Administrator Pruitt. In March, she was one of two aides who received hefty salary bumps, even after the White House refused Pruitt's request for raises. And as The Washington Post reported on Monday, she recently testified to the House Oversight Committee that she regularly spent her days doing personal tasks for Pruitt, from hunting for housing to calling the Trump Hotel in Washington, D.C., in order to inquire about purchasing a used mattress.
According to one top EPA official, the 26-year-old was "tired of being thrown under the bus by Pruitt," and weary of seeing her name constantly appear in headlines about the agency. Officials began drafting her resignation paperwork on Monday morning, just after portions of her congressional testimony had been made public.
Hupp's testimony contributed to the long list of scandals and improprieties plaguing the agency—including, most notably, that Pruitt rented a Capitol Hill condo from an energy lobbyist for just $50 a night, and spent more than $40,000 on a soundproof booth in his office on the taxpayers' dime. The Washington Post also reported that Pruitt instructed Hupp to inquire about opportunities for his wife to purchase a Chick-fil-A franchise. For months now, according to multiple White House and EPA sources, officials as senior as Chief of Staff John Kelly have lobbied President Donald Trump to fire Pruitt.
Rumors circulated that Trump was simply waiting for Pruitt's deputy, Andrew Wheeler, to be confirmed before letting Pruitt go. But that was two months ago. Since then, according to reports, Trump has been increasingly irritated by the barrage of stories that reflect poorly on his administration, including The Atlantic's reporting on a Pruitt aide who tried shopping negative stories about Interior Secretary Ryan Zinke to other news outlets. Yet the EPA administrator appears to remain in good standing.
Pruitt has lost a valuable ally in Hupp, however. She was part of a small cadre of aides who worked for Pruitt in Oklahoma before joining him in Washington. She served on Pruitt's political team during his time as the state's attorney general. Hupp's closeness with Pruitt was often a point of contention among officials; many staffers grumbled that she and others in the "Oklahoma posse," as they were called, received special treatment, as the March raises seemed to imply.
"Millan has been a valued member of the EPA team from day one, serving an integral role in our efforts to take the President's message of environmental stewardship across the country," Pruitt wrote in a statement to The Atlantic. "I've had the opportunity to know Millan for the last several years as a colleague, friend and trusted partner. She has done outstanding work in all of her endeavors here and will be sorely missed. I wish her all the best."
When reached by phone, Jahan Wilcox, an EPA spokesperson, would not comment. He said: "You have a great day, you're a piece of trash."