The Trump Administration's Shifting Story on Family Separations
White House officials are sending mixed (and sometimes wrong) messages on their own policy's origins.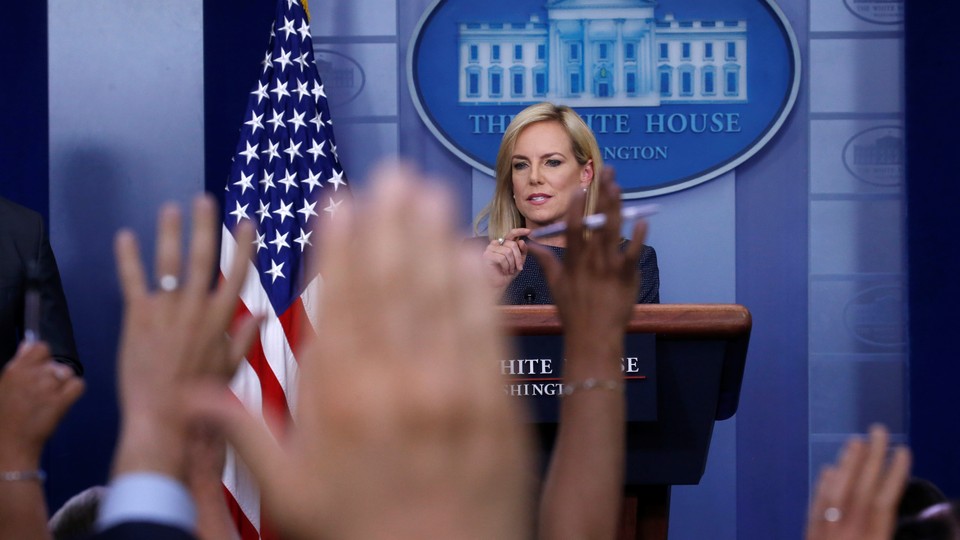 The Trump administration struggled to contain the fallout as outrage over migrant children being separated from their parents at the border accelerated on Monday.
As more and more disturbing stories and images have come out in recent days showing the children's plight, the administration has been unable to get its story straight on the matter, with different officials offering different, even false, explanations of why the separations are happening and what kind of policy this is. Some White House officials have taken to shifting the blame elsewhere, saying, wrongly, that only Congress can ensure the families are not separated. President Trump, meanwhile, has specifically, and repeatedly, blamed Democrats. But the administration's story is only getting more complicated as the backlash becomes more intense.
As Monday wore on, the only official word on the separations coming from the White House was through presidential tweets. The White House delayed its press briefing, originally scheduled for 1:15 p.m. ET, multiple times, until Press Secretary Sarah Huckabee Sanders said that Homeland Security Secretary Kirstjen Nielsen would be taking questions at a 5 p.m. session. In the time it took for the briefing to finally begin, another potentially damaging story emerged: Nielsen took the podium a little over an hour after ProPublica published leaked audio from a Customs and Border Protection facility in Texas last week of young children wailing for their parents.
Asked if the separations amount to child abuse, Nielsen said the children were being taken care of. "We have high standards," she said. "We give them meals. We give them education. We give them medical care. There's videos, TVs." CBP has released photos of where some of the children are being kept, showing them using Mylar blankets and being housed in cages.
The separations are a result of the administration's "zero tolerance" immigration policy announced by Attorney General Jeff Sessions earlier this year, which mandates criminal prosecution of any adult crossing the border illegally. In practice, that means that parents with children are incarcerated, and the kids are reclassified as unaccompanied minors and taken to a different facility. In response to reporters' questions, Nielsen insisted that only Congress could reunite the children with their parents, despite the fact that it's administration policy, not law, that's separating them. "Congress and the courts created this problem, and Congress alone can fix it," she said Monday.
Asked if the children were being used as political pawns—leverage for Trump to get what he wants on immigration policy—Nielsen said, "The kids are being used by pawns by the smugglers and the traffickers."
Nielsen further claimed that the separations are "not a policy" and that the separations were not meant to send a message to people who might want to cross the border, calling that suggestion "offensive."
But on these points, she's at odds with other members of the administration. In an interview with NPR in May, White House Chief of Staff John Kelly, who led DHS before Nielsen, said separations "could be a tough deterrent—would be a tough deterrent" and the children would be "put into foster care or whatever." An earlier Kelly interview shows the administration was weighing the policy as a deterrent well before that: In March of last year, when he was DHS secretary, Kelly told CNN that he was "considering" separations "in order to deter more movement along this terribly dangerous network. … They will be well cared for as we deal with their parents."
As for whether separations are administration policy, rather than law, Nielsen also stands apart from influential White House policy adviser Stephen Miller, who told The New York Times in a story published Saturday that it was a "simple decision by the administration to have a zero tolerance policy for illegal entry, period. The message is that no one is exempt from immigration law."
The president seems to disagree with Miller, however, that it was his decision at all: For days, he's put the blame on Democrats, who are neither responsible for the policy nor in power in Congress. "I hate the children being taken away," he told reporters at the White House last week. "The Democrats have to change their law. That's their law." He has repeated this sentiment in a series of tweets.
But Trump's usual ability to bury a negative story under confusing messaging and chaotic news doesn't seem to be working the same way it has in the past—at least, to start. Congressional Republicans have publicly criticized the policy, including Texas lawmakers Ted Cruz, who's introduced emergency legislation on the issue, and John Cornyn, the second highest-ranking Republican in the Senate. "We have to keep family members together to prevent unnecessary hardship, stress, and outrage," Cornyn said in a floor speech Monday. Other Republican leaders have similarly voiced their concerns, including Massachusetts Governor Charlie Baker, who canceled plans to send National Guard troops to the border because of the separations.
"Every once in a while you get a story that just breaks through," said Republican strategist Rick Tyler, a former Cruz aide. "Despite Trump's amazing ability to distract away from stories he doesn't want people focused on, every once in a while a story comes along he can't distract from, and this is one of them."