The Supreme Court Hands a Win to the Pro-Life Movement
Conservative justices decided in favor of crisis-pregnancy centers in NIFLA v. Becerra on First Amendment grounds.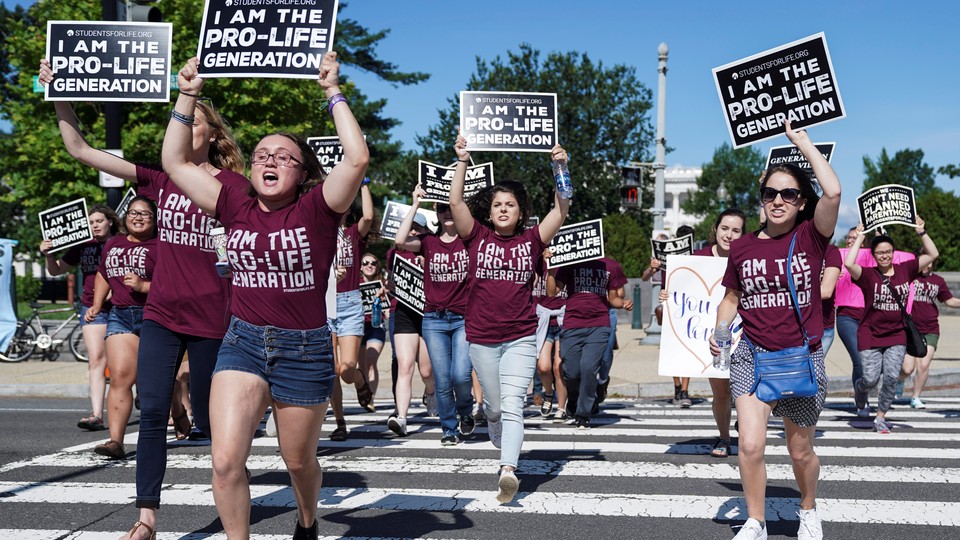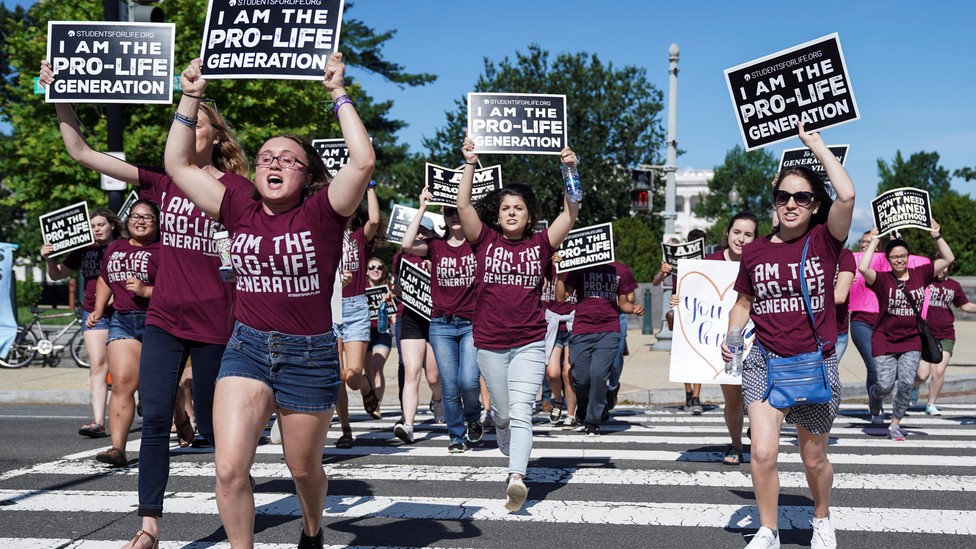 The Supreme Court handed a big win to the pro-life movement on Tuesday. In a 5–4 decision in NIFLA v. Becerra, the justices ruled that California can't force crisis-pregnancy centers to post signs about state-sponsored abortion services, regardless of whether those facilities are licensed medical providers or not. The decision vindicated pro-life advocates who have long argued that states and cities unfairly target these centers, which exist to provide alternative pregnancy services to women who don't want abortions. Even more importantly, the decision vindicated pro-life voters, who look to the Supreme Court to limit abortion rights in America.
The law at stake in the case is the 2015 California FACT Act, which was passed after legislators and activists became concerned about the rise of crisis-pregnancy centers in the state. Many of these centers have been around for decades, and were designed to offer services to women who are unexpectedly pregnant, but unsure about getting an abortion. Pro-choice activists argue that these centers behave deceptively, falsely claim to offer a full range of pregnancy services, and steer women away from the low-cost family-planning services provided by the state. Legislators took these arguments at face value, passing a law that required licensed facilities to post information about the state's services. It also required unlicensed facilities to post a notice stating that that they are not medical providers.
Several of the crisis-pregnancy centers pushed back. They argued that these notices would effectively require them to advocate for the very service that they exist to oppose: abortion. Many of the centers have a religious mission, and many of their employees and volunteers are drawn to their work because of their faith. California had violated First Amendment rights of these people, they said, because it compelled them to speak in violation of their consciences.
In his decision for the majority, Justice Clarence Thomas agreed that the FACT Act likely violates the First Amendment. The law "imposes a government-scripted, speaker-based disclosure requirement that is wholly disconnected from the State's informational interest," he wrote. Because the law selectively regulated only certain kinds of facilities, Thomas said, it ran the risk of only limiting the speech of those who disagree with the state's views on abortion.
One of the big questions in the case is whether California can regulate notices in crisis-pregnancy centers as a form of "professional speech"—a somewhat fuzzy legal category that allows states to require doctors and lawyers to disclose medical or ethical facts, for example. California argued that these crisis-pregnancy centers are licensed medical providers, and should be regulated that way; it also has an interest in making sure women aren't confused about the nature of unlicensed facilities. Thomas, along with the rest of the conservative justices on the court, disagreed.
"The notice does not facilitate informed consent to a medical procedure. In fact, it is not tied to a procedure at all," he wrote. If California wanted to make sure low-income women know about its low-cost family-planning services, he went on, this isn't an acceptable way to do it. Instead, the state could try a public advertising campaign, Thomas suggested, or "could even post the information on public property near crisis-pregnancy centers."
In a scathing concurring opinion, Justice Anthony Kennedy went a step further, arguing that California specifically targeted pro-life centers. "This law is a paradigmatic example of the serious threat presented when government seeks to impose its own message in the place of individual speech, thought, and expression," Kennedy wrote, joined by Chief Justice John Roberts and Justices Samuel Alito and Neil Gorsuch. The California legislature had noted that the FACT Act was part of its legacy of "forward thinking," Kennedy wrote. He strongly disagreed:
It is forward thinking to begin by reading the First Amendment as ratified in 1791; to understand the history of authoritarian government as the Founders then knew it; to confirm that history since then shows how relentless authoritarian regimes are in their attempts to stifle free speech; and to carry those lessons onward as we seek to preserve and teach the necessity of freedom of speech for the generations to come.
Pro-life advocates are celebrating the decision as a major win, both tactically and symbolically. "Today is a victory for more than just the dedicated volunteers who staff pregnancy care centers," said Catherine Glenn Foster, the president of Americans United for Life, in a statement. "It is also a victory for the thousands of women who go to the centers seeking life-affirming care and support."
"The government cannot silence one side's speech just because it may be unpopular," said Mark Rienzi, the president of Becket, a law firm that supported the crisis-pregnancy centers, in a statement. "This ruling proves that when it comes to important issues, the government doesn't get to tell people what to believe, and it also doesn't get to tell people what to say about it."
The dissenting justices read the facts of the case differently. Justice Breyer, joined by Justices Sonia Sotomayor, Elena Kagan, and Ruth Bader Ginsburg, called for a more balanced application of past decisions concerning abortion and the First Amendment, using a single standard. This "need for evenhandedness … should prove particularly weighty in a case involving abortion rights," Breyer wrote. "We cannot try to adjudicate who is right and who is wrong in this moral debate. But we can do our best to interpret American constitutional law so that it applies fairly." That, he wrote, led him to conclude that "a Constitution that allows States to insist that medical providers tell women about the possibility of adoption should also allow States similarly to insist that medical providers tell women about the possibility of abortion."
These radically different readings of the case suggest that the Court is still wrestling with how it thinks about abortion: as a medical procedure, an act with heavy moral consequences, or both. Looking ahead, the Court's decision in NIFLA may be most consequential as a boundary line for the way the government treats pro-life groups. In this respect, Kennedy's concurring opinion is most telling, wrote Mary Ziegler, a law professor at Florida State University, in an email. "He is concerned about freedom of thought and religion for conservative Christians, and he thinks the FACT Act shows evidence of bias against believers who work in [crisis-pregnancy centers]," she said. "This may turn out to be the most significant part of the opinion."
This is what pro-life advocates have been arguing all along. Governments may claim that regulations on crisis-pregnancy centers are designed to help women. But ultimately, advocates say, they are silencing those who disagree with abortion. In recent opinions, the Supreme Court has been highly sympathetic toward these kinds of socially conservative voices. As pro-lifers look ahead, they may increasingly see the highest court in the land as their best bulwark of defense.