The Strangest Thing About Trump's Approach to Presidential Power
Many presidents have pushed the limits of their authority. But not like this.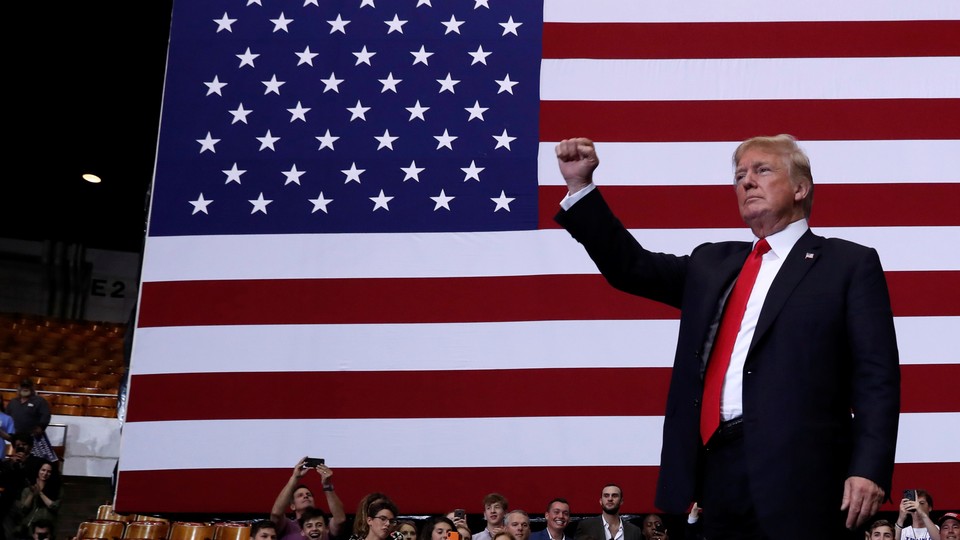 Donald Trump's take on executive power is peculiar, but not merely because he's reaching for more of it.
Expanding presidential prerogatives is practically part of the job description in the modern era. So when Trump's all-caps flirtation with a self-pardon this week launched a new round of concerns about the president's use of executive power, many of those concerns were, in part, misdirected.
That's not to say that Trump's behavior is normal. In suggesting that he might pardon himself—even as he insisted that he had done nothing to necessitate it—Trump implied that he was not so much above the law as beyond it entirely. And Trump's unprecedented assertion to self-pardon comes at a time when his legal team is busy making other questionable claims—like the idea that the president can reasonably resist a subpoena, and the assertion, made by Rudy Giuliani, that Trump couldn't be indicted even if he were to shoot former FBI Director James Comey.
Critics see this, rightly, as part of a broad rhetorical effort to undermine rule of law. "We overthrew control by a monarchy, and the Constitution signals in multiple places that the president is subject to law," Peter Shane, a law professor at Ohio State University, told Charlie Savage.
But what's most interesting is the way the president is choosing to flex his muscle compared with his predecessors. Past presidents have frequently tested the limits of their powers—and of the Constitution—on national security, war powers, and push-pull interactions with the legislature. But Trump seems to be pushing against the limits of his presidential power almost entirely to protect himself. "He certainly uses presidential power for personal purposes," says Julian Zelizer, a professor of history at Princeton. "That's the place he uses it more aggressively—to protect himself, to protect his inner circle. That's clearly where he's most assertive."
By even publicly discussing a self-pardon, Trump is breaking new ground. Richard Nixon apparently considered the idea late in the Watergate scandal, but the Office of Legal Counsel (OLC) concluded he could not do so, and he did not try. Instead, he resigned, and his successor, Gerald Ford, pardoned him. Yet unless and until Trump actually tries to pardon himself, or refuses a subpoena, or shoots a former official and tries to resist arrest, the actual limits of executive power will remain unknown.
"Most recently he's at least openly talking about things beyond the boundaries of where other presidents were willing to go," says George Edwards III, a professor of political science and presidential studies at Texas A&M. Other presidents have tried to shield the West Wing from scrutiny, he notes, "but most presidents step way back from that when it comes to something in the realm of criminality, and of course most presidents are not seriously under examination."
Presidential privileges, once established, tend to persist. Opinions diverge about where to date the beginning of the expansion of the president's power. Abraham Lincoln claimed vast powers during the Civil War, including allowing detaining prisoners without appearing before a judge. Teddy Roosevelt consolidated federal power. A common conservative argument pins the most dangerous expansion on Franklin Roosevelt's New Deal, and World War II only expanded the president's ambit. Several years ago, the historian Robert Dallek suggested that John F. Kennedy had begun a new era. Liberals point to George W. Bush's vast assertions of power after 9/11; conservatives point to a variety of moves by Barack Obama, often focusing on his own military moves overseas. Libertarians, civil and otherwise, shake their heads in despair and say both groups are right.
It's worth considering where these expansions took place. Franklin Roosevelt seized new powers over the economy, first to fight the Great Depression, and then for the war effort. This gave the executive branch new sway over regulating business and agriculture, under the cover of interstate commerce. He also infamously tried to pack the Supreme Court in order to bless some of his expansive assertions of power, and while that failed, the justices became more amenable to Roosevelt's expansions afterward. Some of these powers slowly abated, while others remained. Harry Truman attempted to seize control of the steel industry in 1952. Price controls generally disappeared, though Richard Nixon briefly froze wages and prices to combat inflation.
Kennedy's great expansion was in the area of foreign policy, from soft programs like the Peace Corps to more aggressive options, like the Bay of Pigs and the Vietnam War. The latter, which his successor Lyndon Johnson expanded, is an infamous example of executive power: The war killed more than 58,000 Americans over more than a decade. Though the war was a cataclysm that soured the U.S. on foreign wars for some time, presidents haven't surrendered the power to deploy the military overseas. At the moment, U.S. forces are involved in wars in Iraq, Afghanistan, and Syria and have extensive presence in parts of Africa, in Yemen, and elsewhere, even though Congress hasn't declared a war since 1942.
Following 9/11, Congress passed two Authorizations for Use of Military Force, against al-Qaeda in 2001 and for the full-scale invasion and occupation of Iraq in 2002. Obama later launched bombing raids against Libya, saying the effort did not require congressional authorization. He also used the original 2001 AUMF to justify attacks on isis, a group that, as critics noted, didn't even exist when Congress passed the AUMF.* But Obama blinked when it came to Syria, deciding that he couldn't launch airstrikes on the Assad regime without Congress's say-so.
Bush and Obama both pushed the limits of presidential authority and the Constitution on civil liberties on national-security grounds. The Bush administration was repeatedly scolded by courts for its handling of detainees from the war on terror. The government asserted the authority to torture prisoners, in part by refusing to characterize its interrogation techniques that way. Bush also established sweeping new surveillance powers.
Obama took office promising to curtail Bush's overreach, but his record is a mixed bag. Obama banned and investigated torture but declined to punish anyone for it. He continued massive surveillance, as revealed by Edward Snowden. Obama also asserted the right to kill American citizens overseas without a trial, a sweeping power, though used rarely.
What's surprising is how limited, so far, Trump has been in expanding executive power where other presidents have. Despite his promise to not engage in foreign wars, Trump ordered two separate missile attacks on Syria. The OLC told Trump that such strikes were not a war but were in the national interest, but this justification follows what Obama's OLC told him.
When the government undertakes increased surveillance, it tends not to say so, so it's possible that Trump is expanding presidential power in that area. There are reasons to doubt that, though. Trump has had the rockiest relationship with the intelligence community of any president, perhaps ever, and has clashed with these agencies in particular over the Russia investigation. Because of his many, and so far all debunked, claims of having been improperly surveilled during the campaign, he has evinced a personal skepticism of intelligence collection and even briefly came out strongly against an intelligence bill his administration backed, before apparently being talked down by aides.
Trump has sought to use executive actions where he cannot get Congress to act, but this follows directly in the model Obama set, and in some cases Trump has used Obama's tactics to dismantle Obama's own policies. Last week, the White House rolled out a plan to compel electric-grid operators to purchase power from coal plants, using the same national-defense rationale Truman did to seize steel, but it's always difficult to tell how seriously the White House is pushing a policy like this. Trump has not been especially aggressive with Congress, resulting in one of the skimpiest lists of legislative achievements in recent years. In some cases, in fact, he seems to have empowered Congress rather than himself. As James Hohmann wrote last August, the Senate's decision to force sanctions on Russia over Trump's objection showed Congress reclaiming some powers. Nor, despite his often thunderous and shocking language about the federal judiciary, has he tried to defy or alter courts in the manner of Nixon or Roosevelt or Andrew Jackson.
Rather than take concrete actions, Trump has deployed unusually strong rhetoric. He has attacked judges in unprecedented terms. He has repeatedly demanded that the Justice Department investigate various political opponents. And, of course, he has made sweeping claims about pardons. So far, however, there's been little follow-through.
The Justice Department hasn't launched the probes Trump requested, and the president has abided by court rulings. His assertion about self-pardons is eye-popping, but the pardon is already, as Lawfare notes, "among the broadest of presidential powers." This doesn't mean that rhetoric doesn't matter, but it's much harder to measure its impact on executive power than when a president actually does something to test whether he can get away with it.
"It's less an exercise of power as an appeal to the public," says Edwards, the Texas A&M professor. "Many people think that's crossing a boundary in that regard. He'd love for [DOJ] to be responsive, but I don't know if he actually expects them to be responsive."
Past presidents have expanded their power in part because the public demands it, and because the public allows it. Tracking expansions of executive power is important because it's so rarely reversible. The cases of shrinking power tend to come after crises. Presidential power was drastically drawn back after the Civil War; Congress tried to prevent Andrew Johnson from even choosing his Cabinet, and impeached him when he tried to fire a secretary. Presidents gradually yielded powers after World War II. After Watergate, a mixture of new laws and new norms restricted the president—but many of those laws have since been superseded. The Trump presidency has demonstrated how flimsy norms are when a president is determined to ignore them.
Those presidents who have scaled back their power have not fared well with voters. "Both Ford and Carter had more modest approaches to the presidency, but then they got criticized for that," Edwards says. "Americans are always of two minds. They want a strong and effective president, but they want it checked. They want a Congress of the other party, but they want it to get things done."
This is why Trump's approach to executive powers is so strange. Most of the new powers he is claiming are about self-preservation. They arise not out of any public demand, nor out of any desire to accrue powers to the presidency itself. They are almost entirely motivated by personal, seemingly narcissistic reasons. This is in keeping, however, with this view of the presidency less as a vehicle for any specific policy agenda and more as a vehicle for self-glorification. Trump ran for the presidency for personal reasons, and he is expanding its power for personal reasons too. Policy "is just not of as much interest" to Trump, Zelizer says.
There's another essential element in constraining presidential power, one that is fundamental to the Constitution, but strangely absent from the current debate: Congress has the power to summarily remove the president, as Charles C.W. Cooke writes.
There's little evidence to suggest the current Republican-led Congress is interested in curbing Trump's power. But everything about Trump's assertions of his authority is unusual. How can anyone forecast the reaction to a provocation as unprecedented as a rejected subpoena or a presidential self-pardon?
---
*This story originally misidentified the AUMF that Obama used to target ISIS. We regret the error.