The Silence of John Bolton
President Trump's diplomacy with North Korea shows little sign of his hawkish national-security adviser's influence.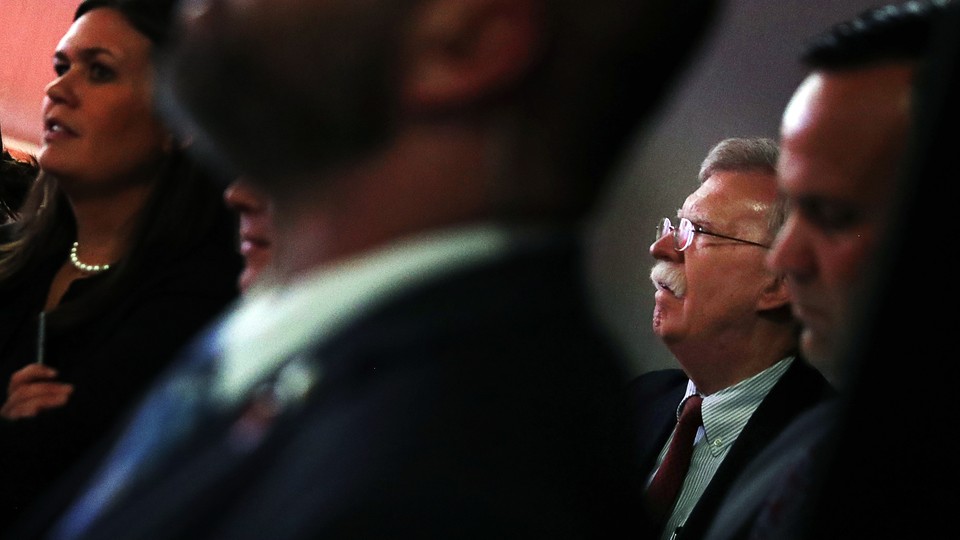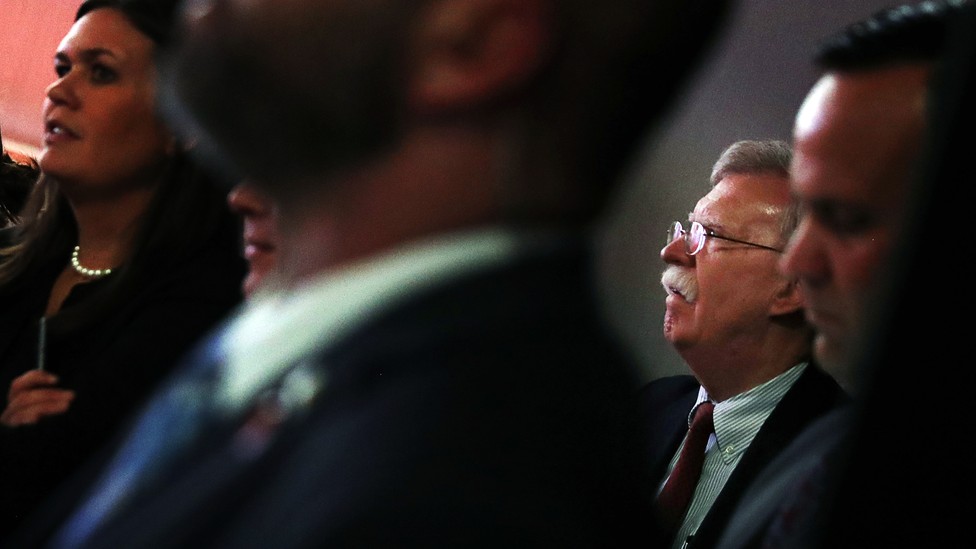 President Donald Trump's Singapore summit with North Korean dictator Kim Jong Un was full of showmanship, featuring photo-ops, a long press conference, and one very unusual promotional video. But one player in the scene was surprisingly quiet: John Bolton, Trump's national-security adviser.
Though Bolton was in Singapore for the summit, he has taken a lower-key approach in recent days as Trump has forged ahead with his plan of high-level diplomatic engagement with North Korea over its nuclear program. This was after Bolton had become a point of contention between the two sides leading up to the talks; he is famously hawkish on North Korea, and comments he made recently infuriated the North Koreans, throwing the summit into question. But the job of the national-security adviser isn't to set policy, but to help implement it, and the North Korea summit shows that Bolton, despite his views being at odds with Trump's plan, is getting with the program—whatever he might be really thinking.
Bolton is the latest case study in the administration in how much an adviser's views and ideology can really influence—or not influence—Trump.
"The secretary of state is supposed to be the nation's chief diplomat and top foreign-policy adviser to the President," former Bush administration national-security official Elliott Abrams said in an email. "This is what people like Kissinger, Jim Baker, George Shultz, and Condi Rice were and what it seems Pompeo is now. The system works best this way, with the national-security adviser an inside player making sure that all relevant perspectives get to the president and that his decisions are implemented. Bolton appears to be playing exactly that role, to the surprise of some of his critics. If we now enter long and complex negotiations with NK over denuclearization, several agencies (State, DOD, CIA, DIA, and more) will have to be involved and that coordinating job is why we have an NSC. So it seems to me so far so good for Bolton."
"There is no daylight between the president's policy and that of the ambassador,"NSC spokesman Garrett Marquis told me. "The ambassador is coordinating and working closely with all national-security agencies to provide the president with national-security options and guidance."
It's unclear thus far how much of a role Bolton will play going forward in what will clearly be a Secretary of State Mike Pompeo-led negotiating effort. But his quieter role on the North Korea issue doesn't necessarily mean that he is being disempowered at the NSC. James Carafano, an analyst at the Heritage Foundation, pointed out that Bolton overhauled the NSC staff when he entered the administration, replacing a series of staffers with his own people. "It's Bolton's NSC, he owns that thing body and soul," Carafano said.
A senior White House official who spoke on condition of anonymity downplayed Bolton's lower profile recently, pointing out that the initiative was being led by Pompeo and that no one wanted a misunderstanding with the North Koreans. "This has been [Pompeo's] initiative and clearly he's the face of it and he's the one who's been interacting with the North Koreans," said the official. "John has history with them."
"He's been very clear, his views—everybody knows what his views are—it doesn't matter," the official said. Bolton "sees himself as very much a personal adviser to the president and not somebody who's running a mini State Department."
Bolton has made his position on North Korea abundantly clear over the years. "The Democratic People's Republic of Korea (DPRK) will never give up nuclear weapons voluntarily," he wrote in his 2007 book, Surrender Is Not an Option: Defending America at the United Nations. Just this past February, he wrote a Wall Street Journal op-ed in favor of a preemptive strike on North Korea, invoking Daniel Webster and arguing: "It is perfectly legitimate for the United States to respond to the current 'necessity' posed by North Korea's nuclear weapons by striking first." In March, Bolton said the summit would be a way to "foreshorten the amount of time that we're gonna waste in negotiations that will never produce the result we want, which is Kim giving up his nuclear program."
And in his role as national-security adviser, Bolton recently said on television that "we have very much in mind the Libya model from 2003, 2004," a reference to the Libya denuclearization process that ended the country's nuclear program. What Bolton left unsaid was the downfall in 2011 of Libyan autocrat Muammar al-Qaddafi following a U.S.-led intervention.
North Korea took umbrage at what they viewed as a provocative remark by Bolton, with a top foreign-affairs official saying, "The world knows too well that our country is neither Libya nor Iraq which have met miserable fates," and, of Bolton, "we do not hide our feeling of repugnance towards him." (These were not even the harshest words the North Koreans have had for Bolton; in 2003, a state media article called Bolton "human scum and a bloodsucker.") Bolton was not the only official to refer to the Libya model; so did Vice President Mike Pence. The plans for a summit nearly broke down, with Trump saying he would pull out after bellicose statements from North Korean officials. Pompeo reportedly blocked Bolton from an Oval Office meeting with a top North Korean official earlier this month, telling Trump it would be "counterproductive."
As a governmental official, Bolton has less leeway in his actions and public statements than he had in his years as a Fox News commentator. "There are two different John Boltons. There's the John Bolton unchained, which is, 'I'm a pundit, I can say not just whatever I want but I can put out provocative positions because I'm not constrained by doing them,'" Carafano said. "That's not the John Bolton we saw in the Bush administration, who was much more like the Luca Brasi character"—Vito Corleone's enforcer in The Godfather.  "He said, 'I'm the guy who gets things done.'"
"Bolton was not hired to tell the president what his foreign policy is gonna be," Carafano said.
"John Bolton opposed past agreements that were more specific on denuclearization commitments by DPRK than this one," said former Bush administration NSC director of Asian affairs Victor Cha in an email. "So he is either getting softer in his old age, or the President solely is driving this one."
"I think the outcome of the summit was sort of the un-Bolton," said Joel Wit, a former State Department official who worked on the team that negotiated the 1994 Agreed Framework agreement with North Korea that collapsed during the Bush Administration, while Bolton was the Undersecretary of State for Arms Control and International Security. "It was the opposite of what Bolton would do."
Wit said that comparing this summit to the 1994 agreement one was "apples and oranges," and that a better comparison would be the agreement made by Trump and Kim to previous joint statements in 1993 and in 2005. "What comes now is what's important," he said.
Wit was referring to the negotiations that are to follow: Trump told reporters in Singapore that he and Kim had "agreed to vigorous negotiations to implement the agreement as soon as possible." Wendy Sherman, who negotiated with North Korea during the Clinton administration and was the lead U.S. negotiator during the Iran talks for the Obama administration, said that the negotiations would be crucial in turning the rapport established between Trump and Kim and the framework document into real results. "If Secretary Pompeo, who is [Trump's] lead on this, puts together a robust team—and we'll find out who the team is going to be with North Korea—perhaps the personal relationship that occurred in these few hours possibly could pay off," she said. "All hope is not lost, but the starting gate feels like a false start."
Former New Mexico Governor and U.S. Ambassador to the UN Bill Richardson, who has conducted several hostage negotiations with the North Koreans, said on a call with reporters on Tuesday that he hoped it would be only Pompeo leading the negotiations.
"My hope is, one, that Secretary Pompeo and not other members of the White House staff lead the negotiations," Richardson said. Later in the call, Richardson said there were "too many cooks in the oven, too many messengers right now within the administration."
Asked if he had been referring to Bolton, Richardson said he had been referring to Bolton and Pence, "both of whom made unfortunate statements on the Libya issue," as well as Press Secretary Sarah Sanders and the president himself—"I wish he would stop tweeting."
"What I don't want to see is what happened in Quebec, in Canada, where staff members of the White House were actually criticizing a head of state, Justin Trudeau, an ally, a friend, the Canadian prime minister," Richardson said.