The FBI's Reckoning
An upcoming report from the Department of Justice inspector general is expected to criticize the leadership of the bureau for its conduct during the 2016 presidential election.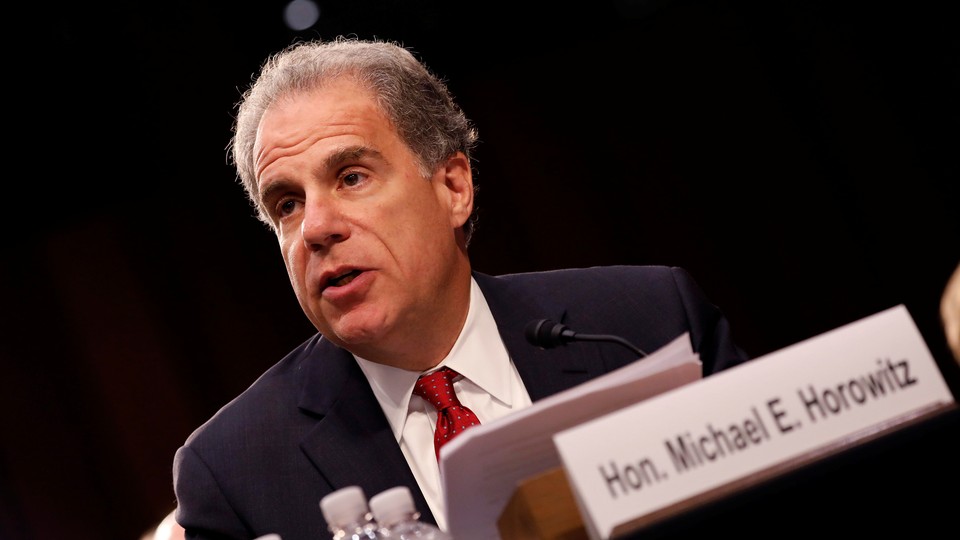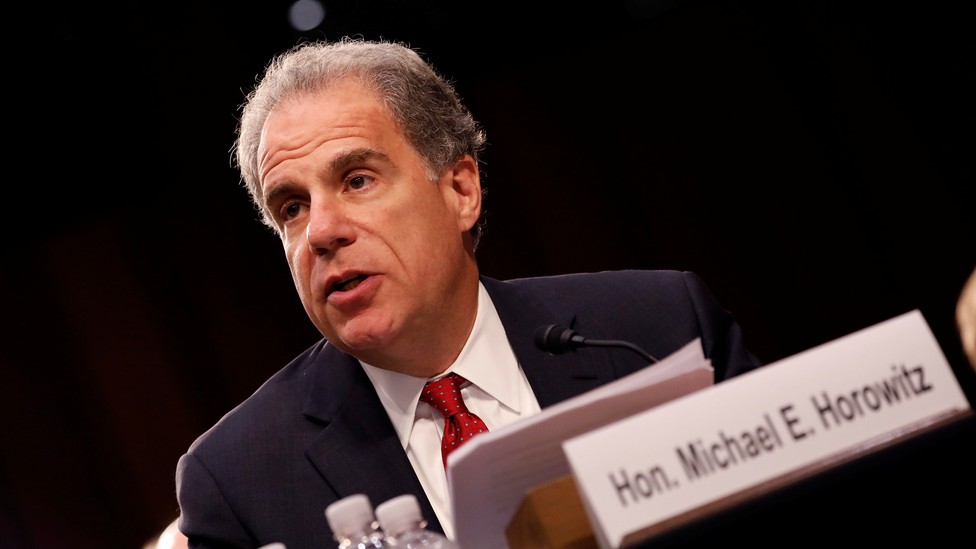 The Justice Department's Office of the Inspector General is rarely in the spotlight. But a highly anticipated report by the department's internal watchdog will finally be released this week, ending a nearly 18-month investigation into whether the FBI acted improperly in the run-up to the 2016 presidential election.
The inspector general, Michael Horowitz—commonly referred to as the DOJ's internal watchdog—announced in January 2017 that his office would examine allegations of misconduct surrounding former FBI Director James Comey's handling of the probe into Hillary Clinton's private email server. The news was welcomed by both Democrats—who felt that Comey had shattered Clinton's chances of winning the election by effectively reopening the email probe just days before the election—and by Republicans, who felt that Comey, after deciding not to charge Clinton with a crime, had let her off easy.
President Trump, who frequently attacks the FBI and DOJ for investigating his campaign team's ties to Russia, has also taken an interest in Horowitz's forthcoming report: "What is taking so long with the Inspector General's Report on Crooked Hillary and Slippery James Comey," Trump wrote in a tweet last week. "Numerous delays...Hope Report is not being changed and made weaker! There are so many horrible things to tell, the public has the right to know. Transparency!"
It is not clear where Trump got the idea that Horowitz, known as an even-handed professional among current and former Justice Department employees, would deliberately weaken the report. Horowitz served as a prosecutor in the office of the U.S. Attorney for the Southern District of New York, and in the Justice Department's criminal division, and was appointed to the inspector general's job in 2012 by former President Barack Obama.
"Horowitz is an extremely experienced and capable lawyer and former prosecutor," said David Kris, a founder of Culper Partners who served as the assistant attorney general for the DOJ's National Security Division from 2009 to 2011.
Horowitz's power is fairly limited—in a noncriminal review such as the one Horowitz has been conducting into the FBI's conduct, the inspector general's office cannot compel testimony from former or non-DOJ employees, for example.* "While current employees have to cooperate with the investigation or face discipline, employees who have left DOJ can refuse to talk, as can everyone else who does not work for DOJ. That makes this kind of review far less authoritative than a criminal investigation," said William Yeomans, a former deputy assistant attorney general who spent 26 years at the DOJ. "The standards for including something in an IG report are lower than that for proving a fact in a criminal case. I also know from personal experience that the IG gets facts wrong sometimes."
A spokesman for the OIG declined to comment on the record.
Even so, the IG's findings and recommendations are broadly viewed as credible by DOJ leadership, and will inevitably be leveraged by Trump and his allies in their efforts to undermine Comey, who was fired by Trump last May and subsequently became an important witness in Special Counsel Robert Mueller's probe. In addition to investigating Russian interference in the 2016 presidential election, Mueller is looking at whether Trump attempted to obstruct the Russia inquiry.
"The IG has considerable discretion in making recommendations," Yeomans said. "There are times when management disagrees with the IG's recommendations and it can disregard them, but it's safe to assume (or has been in the past) that Congress will expect an explanation for why a significant recommendation was not followed." The DOJ, moreover, has historically taken the inspector general's work "very seriously," said Kris, the former assistant attorney general. He pointed to the reforms made a decade ago following the IG's report on the FBI's use of national-security letters.
Matthew Miller, a former Justice Department spokesman who served under Attorney General Eric Holder, agreed that the inspector general's findings "are taken incredibly seriously by DOJ leadership, even when they disagree with the findings, as they occasionally do." He noted that attorneys general and FBI directors will "often" implement new policies or reforms "in direct reaction to things the IG uncovered, as well as discipline people who are found to have engaged in wrongdoing. For better or worse, the IG is usually the final word on what happened, who was at fault, and what needs to be done to fix things when there is a DOJ scandal."
It is not clear what Horowitz will recommend. But the report will reportedly describe Comey as "insubordinate," according to ABC, and is expected to criticize him for going around DOJ leadership and announcing the end of the Clinton email probe with his decision to hold a press conference in July 2016, in which he explained the decision not to charge Clinton but excoriated her as "extremely careless" with classified information. Comey has said he made that decision because of a highly publicized meeting between then-Attorney General Loretta Lynch and former President Bill Clinton on the tarmac at Phoenix's Sky Harbor International Airport in 2016.
Nearly a dozen GOP lawmakers have already asked the Justice Department to investigate Comey for "potential violations of law" related to his "improper investigative conduct" vis-à-vis Clinton and Trump. (The FBI, under Comey, began investigating potential links between Trump's campaign team and Russia in the summer of 2016.) Democratic lawmakers slammed Comey following the election for what they described as a double standard: The former FBI director had been willing to publicly discuss the Clinton investigation, while keeping secret the ongoing counterintelligence investigation focusing on members of Trump's campaign team.
A draft report written by Horowitz and described to ABC also criticized Comey and his deputy at the time, Andrew McCabe, for allegedly dragging their feet on examining emails relevant to the Clinton investigation that were uncovered nearly six weeks before the election. Comey did not alert Congress to the emails' existence until October 28, 2016, when he effectively reopened the investigation only to close it days later—again without recommending criminal charges against Clinton. Horowitz has also been investigating whether DOJ or FBI employees leaked information about Clinton's emails in the weeks leading up to Comey's announcement.
The White House's initial explanation for firing Comey was his conduct in the Clinton email probe, described in a memo written by Deputy Attorney General Rod Rosenstein as unfair to Clinton and a violation of Justice Department standards. Trump later said in a television interview that he was thinking of the Russia investigation when he dismissed Comey, undercutting the public rationale for his firing.
Yeomans predicted that Congress would likely be "all over this report to exploit its criticism of Comey." But, he added, "what should never be lost in the responses is that Comey's errors in handling the Clinton investigation all helped Trump."
---
* This article originally misstated the inspector general's subpoena power.