The Invisible Melania Trump
The first lady's behavior isn't what people today are used to.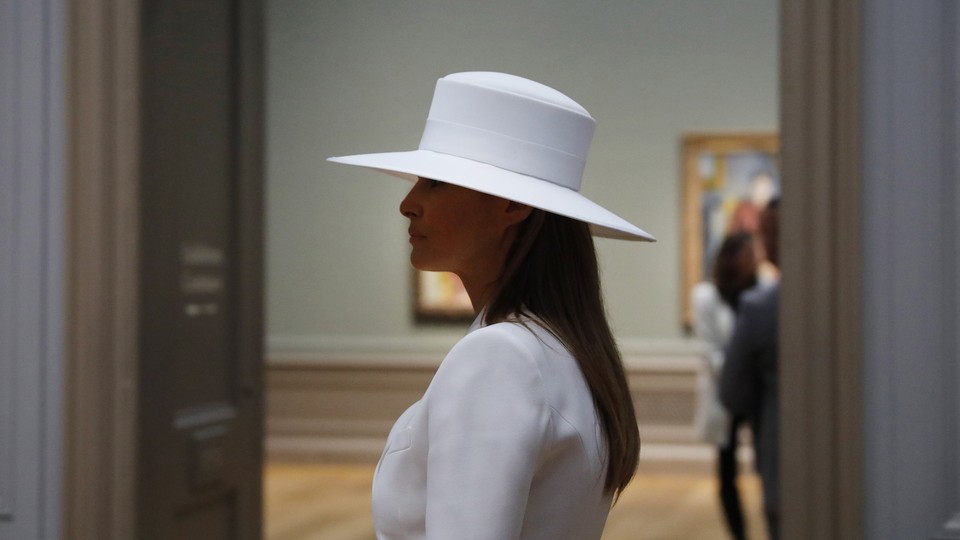 First Lady Melania Trump may have spent 24 days out of the public eye, but it was the 33rd first lady, Bess Truman, who said: "I am not the one who is elected. I have nothing to say to the public." Truman gave exactly one press conference as first lady, during which she replied "no comment" to each policy question.
But things were different in 1945. Public figures were seen differently, quite literally, because they were seen less frequently. The mid-century media landscape offered fewer opportunities for citizens to peer directly at the presidency.
Trump, meanwhile, entered the office following several decades of first ladies who each expanded the role in her own way; by these standards, Trump's absences are a big and noticeable departure from the behavior of her recent predecessors. Her latest hiatus started after she accompanied Donald Trump to welcome home three American hostages from North Korea on May 10. Four days later, on May 14, her office announced that she had been admitted to Walter Reed National Military Medical Center to undergo a surgery for what they described as a benign kidney condition. Her absence stretched through June 4, when she attended a ceremony for families whose loved ones died on military duty.
Trump's spokeswoman, Stephanie Grisham, has said that the first lady is "doing really well." In an email to NPR late last month, Grisham said, "We've been going over her initiatives and other long-term planning for events such as the congressional picnic and 4th of July." On Monday, Grisham announced that Trump won't travel with the president to Canada, for the G-7 summit, or to Singapore, where he'll meet with North Korea's Kim Jong Un.
But while Trump's appearances have been few and far between, her behavior isn't actually all that unusual in the context of the country's broader presidential history. Former first ladies like Truman, and the very first, Martha Washington, occupied quiet offices—and they were afforded the freedom to shape them as they pleased.
"There's an expectation that first ladies will build upon and enlarge what previous first ladies did," said Stacy Cordery, a professor of history at Iowa State University. "But in fact we only feel that way because the first lady has no job description." As our colleague Alex Wagner reported, Melania Trump doing things "her own way" has led to the left creating fantasies about her—ones that eclipse the far more likely possibility that Trump, like many first ladies past, simply wants to be left alone.
But following years of public-facing first ladies, can Melania Trump take her own approach to the role and still be deemed successful? Or have America's expectations of the first lady grown into something so immutable as to render any deviation from recent precedent a failure?
---
A few weeks before Donald Trump won the presidency, Betty Caroli, the author of First Ladies: From Martha Washington to Michelle Obama, took up the question: "What kind of first lady would Melania be?" She wrote that "Melania Trump's idea of a first lady is much like the one Americans embraced in the 1950s," which was allowed to be a more private role. Well into the second year of her husband's presidency, Caroli wrote in an email to The Atlantic that she believes her prediction has come true.
Reports have indicated that the first ladyship wasn't something Trump wanted. It wouldn't be an unusual sentiment. First ladies, particularly throughout the early 20th century, expressed similar feelings of discontent with the role. "Melania's not at all unprecedented looking at the long term, if you're talking about women who felt dragged into this role unwillingly," said Cormac O'Brien, the author of Secret Lives of the First Ladies.
Martha Washington famously compared being first lady to being a "state prisoner," though she did eventually embrace official duties, such as hosting foreign dignitaries. Trump recently garnered praise for hosting French President Emmanuel Macron and his wife, Brigitte, at a state dinner this past April.
There may be no more apt comparison for Melania Trump than Bess Truman, who, like Trump, followed a well-liked and politically engaged predecessor. Eleanor Roosevelt was the first to give regular press conferences, and was highly involved in humanitarian issues and women's rights; a 2014 survey conducted by Siena College and C-SPAN deemed Roosevelt "America's Best First Lady."
Truman's approach to the role stood in stark contrast to Roosevelt's. When Truman first took office, she asked then-Labor Secretary Frances Perkins about whether she needed to continue holding conferences, saying,"I don't know what I am going to do … I'm not used to this awful public life." When Perkins told her she didn't have "the slightest obligation," Truman stopped giving public comments.
That seems not to be an option for Trump. Today, the office of the first lady is very much a public-facing communications role. O'Brien credits our "media-frenzied" society for thrusting first ladies into the spotlight, in which every appearance or absence—in real life, on TV, or online—is scrutinized. "These women, whether happily, like Hillary Clinton, or hesitatingly, like Nancy Reagan or Pat Nixon, have had to do something politically or socially," he said. "It's a trap, in many ways."
---
If today's first ladyship is a communications role, then it's no surprise that Melania Trump's inconsistent messaging is throwing the American public off. In her first year, she's delivered far fewer speeches than her recent predecessors—eight, compared to Michelle Obama's 75 and Laura Bush's 42. And she announced her "Be Best" campaign 16 months into her husband's presidency, whereas Laura Bush launched her initiative, "Ready to Read, Ready to Learn," six months in, and Michelle Obama kicked off her "Let's Move" campaign 13 months in.
Trump might also possess the greatest power to boost her husband's low approval ratings. Lauren Wright, lecturer in Politics and Public Affairs at Princeton University and author of On Behalf of the President, explained, "All first ladies have the ability to transcend partisanship. But the difference between those past first ladies and Melania Trump is that she's not doing it." Wright added that her research suggests Trump could become a celebrated figure among independents and Democrats if she made more consistent public appearances.
But involving herself in party politics or boosting her husband's image doesn't seem to be the goal. She's stayed silent on the 19 allegations of sexual misconduct waged against Donald Trump and targeted cyberbullying, even though she was warned it could look hypocritical. "[Criticism] will not stop me from doing what I know is right," she said.
Ultimately, Trump's break with modern expectations seems to be a result of her insistence on doing the role according to what suits her. In this way, she is embracing a legacy of the first ladyship—it just doesn't look like the one that we're used to.