How Some Immigrant Families Are Avoiding Separation
Space constraints are preventing the government from keeping everyone who crosses the border in detention, allowing some to make it out of McAllen, Texas.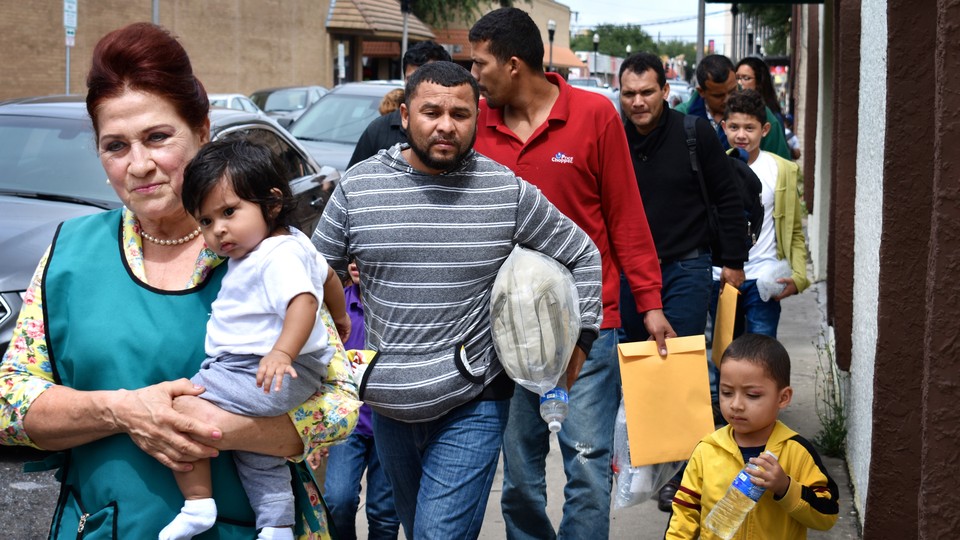 MCALLEN, Tex.—Angel Bonilla spent eight days in an immigrant-detention facility with his five-month-old daughter, Selene Alanis, after trekking for nearly a month through Mexico from his home in Honduras. Like so many others, he was caught by the Border Patrol crossing the Rio Grande in a raft. Right now, they're in McAllen. Soon, they'll be on their way to Dallas, where Bonilla will stay with friends while awaiting a court hearing that could result in his deportation back to Honduras.
In McAllen these days, Bonilla counts as a lucky one. He was not separated from his infant daughter, nor did the federal government charge him with the crime of illegal entry into the United States. When he shows up at court next month, he may receive asylum and be allowed to stay.
Bonilla, 43, was one of several dozen immigrants who arrived at the Catholic Charities Humanitarian Respite Center on Wednesday afternoon. The shelter is a way station of sorts for the roughly 75 to 100 undocumented immigrants who manage to slip through the Trump administration's new "zero tolerance" policy on a daily basis. After releasing them from the cavernous Border Patrol Processing Center in McAllen, ICE deposits these immigrants at the nearby bus station, where Catholic Charities volunteers escort them in vans to the respite center.
They are nearly all families who have been allowed to stay in the U.S. at least temporarily and proceed to points north to await deportation hearings. They arrive at the shelter usually tired and hungry, carrying plastic bags with their belongings and tan folders that contain their paperwork. Unlike Bonilla and his daughter, many of the families at the respite center were separated during their detention before being reunited upon their release. That they make it out of detention at all is evidence that, despite the Trump administration's stated intent to prosecute and deport all illegal border crossers, gaps in the system remain.
"We speculate that one of the reasons we're still receiving people is because they don't have the capacity to hold them," said Brenda Riojas, a spokeswoman for the respite center who has spent much of the last week corralling the crush of national media eager for a glimpse inside one of the only immigrant shelters that grants regular access to the press.
Capacity is clearly becoming a major challenge to the administration's zero-tolerance border policy. Last week, McClatchy reported that the government was looking to build a series of "tent cities" around Texas to house children separated from their families. On Thursday, The Washington Post reported that thousands of unaccompanied migrant children could be temporarily housed in military bases. And in his executive order ending family separations, Trump directed the Department of Defense to provide "any existing facilities available for the housing and care of alien families, and shall construct such facilities if necessary and consistent with law."
Days before Trump signed the order, the Border Patrol received instructions not to separate children under the age of 12 because the Department of Health and Human Services, which runs the shelters for unaccompanied minors, had no more room to house them, a Border Patrol agent told me on Tuesday. Customs and Border Protection declined to comment on the policy. An HHS official, speaking on the condition of anonymity in order to talk freely, said space was not the issue. "We have not been in a position where we have run out of space at any of our shelters," the official said.
The Post reported Thursday that the Trump administration planned to temporarily stop prosecuting adults with children altogether until they could find more space to detain families.
The respite center is the work of Sister Norma Pimentel, who for the last 15 years has been the executive director of Catholic Charities of the Rio Grande Valley. She first opened the shelter at the nearby Sacred Heart Catholic Church in 2014, during the surge of unaccompanied Central American children across the border. They ran out of room there and are renting space at a storefront a few blocks away. It's about the size of a modest daycare center, and the organization is hoping to raise $3 million for a permanent home in McAllen.
Amid the tumult at the border, Pimentel has emerged as both a religious leader in McAllen and perhaps the city's most prominent advocate for the hundreds of undocumented immigrants that pass through each day. When I spoke to her on Wednesday, Trump had signed his executive order on family separations just a few minutes earlier, and she was reading through the news on her phone.
Her reaction was measured.
"It's a step in the right direction," Pimentel told me. "I think stopping the pain of children is definitely something good. I hope that he continues moving in that direction. The whole zero-tolerance policy is not helpful. It's really a process for immigration that is more hurting than helping."
Trump administration officials and Border Patrol agents paint a more complicated picture of how immigrants and asylum seekers arrive in the country. The new policy is designed to deter Central Americans from coming north through Mexico, where they usually have to pay or work their way up toward the border. Drug cartels closely manage crossings over the Rio Grande, they say, coaching immigrants to surrender willingly and instructing them on what to say to seek asylum in the U.S. Trump alluded to this practice—and the strains his policy was placing on federal resources—in a tweet on Thursday morning. "We shouldn't be hiring judges by the thousands," he wrote, "as our ridiculous immigration laws demand, we should be changing our laws, building the Wall, hire Border Agents and Ice and not let people come into our country based on the legal phrase they are told to say as their password."
Pimental takes a more compassionate view, and the purpose of her respite center is just that—to provide respite. Immigrants typically only spend a few hours there, occasionally staying overnight, before they board buses that will take them to friends or family members elsewhere in the country. Volunteers give them a meal and a shower, and they help them prepare for the next step of their journey.
After an arduous trip north followed by days in confinement, the immigrants often arrive bewildered, Riojas said. She told me of one woman who showed her the paperwork she was carrying and asked her what she had signed. "It broke my heart when I saw she had signed her own deportation release," Riojas said.
When they leave, the immigrants have white pieces of paper stapled to their tan folder with the following message in large black letters: "Please help me. I do not speak English. What bus do I need to take? Thank you for your help."
When each new batch of immigrants arrives, the volunteers greet them with a boisterous "Bienvenido!"
"Many times this is the first place that's actually welcomed them," Riojas said.
Inside the center, there's a play area for children and large mats where people lay down to rest. Over the last few days, a child psychiatrist from Los Angeles, Amy Cohen, has been treating the children for trauma they experienced either in the detention facility—which is often referred to as "Ursula," or simply "the freezer"—or while they were separated from their families, in addition to providing basic medical care.
"You can see it in their faces," Pimentel said of the children that arrive. "They're withdrawn. There's a sense of trauma that they've experienced with the separation."
While Pimentel was pleased to see Trump's executive order on family separation, she said the alternative of keeping immigrant families together in detention facilities was only marginally better. "Of course they're still together, but you see the child and the mother in distress," she said. "Because they're not just there for one day, or one week, or one month. They're there for a long time."
Pimentel has called for the Trump administration to renew and expand a pilot program that began under the Obama administration, in which undocumented immigrants were allowed to travel but were assigned case managers who ensured they showed up to court hearings. The program had a nearly perfect record of immigrants showing up, but the Trump administration ended it last year.
"It's less expensive than having a detention center," Pimentel said.
For immigrants like Angel Bonilla, arrival at the respite center brought, if not exactly happiness, at least relief. When he spoke to a few reporters on Wednesday, his daughter bounced and gurgled in his arms. "I left because there was no future for me over there," Bonilla said of his home in Honduras, explaining that he was separated from the child's mother and was better able to care for her.
Bonilla said he saw another man who was separated from his child in the detention facility and that he knew that the same thing could happen to him. "I've always had faith in God," he said. "I heard that when I was detained that I might be separated from my child, but my faith was keeping me going forward."
It'll be up to an immigration judge to decide whether Bonilla can stay in the U.S. But for now, he's lucky to have made it this far—into and soon out of McAllen, with his small family intact.