The Great Moderate Republican Flameout
The internal GOP revolt over a bill to protect young undocumented immigrants ends with a whimper.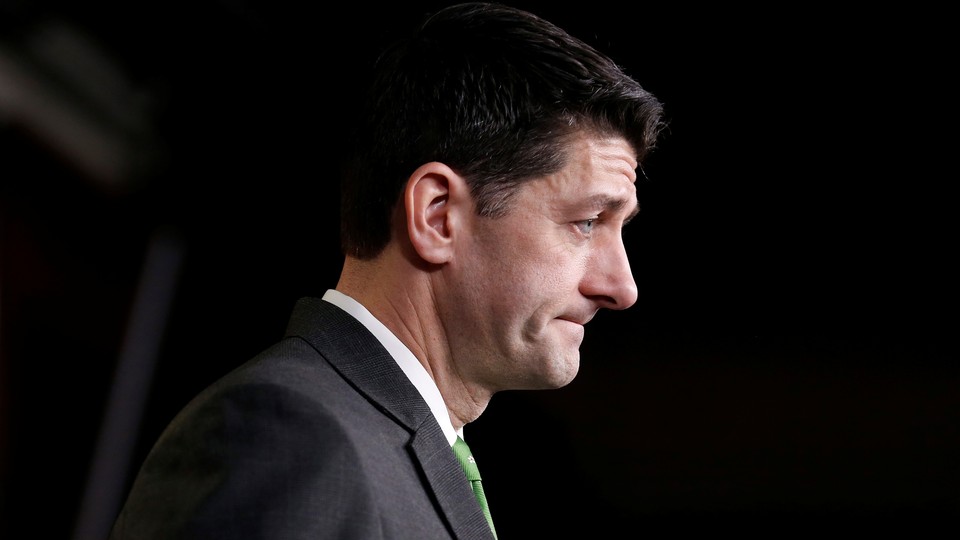 The narrative that moderate House Republicans had shaken up the lower chamber lasted 35 days.
In the last month, the usually go-along, get-along group of moderates adopted the mulish tactics of their conservative colleagues to try and finally break the impasse on immigration. Their effort to sidestep House leadership and bring passable immigration legislation to the floor, through what's called a "discharge petition," was viewed as a major step forward in addressing the fate of undocumented immigrants brought to the U.S. as children. Last September, President Trump canceled the Obama-era Deferred Action for Childhood Arrivals program (DACA), leaving the fate of its some 600,000 recipients to Congress.
Yet on Tuesday evening, the newly minted rebels reverted to accommodation. Unable to secure the last two votes needed for their discharge petition, moderates agreed to Speaker Paul Ryan's new proposal: to vote next week on two immigration bills. First, a conservative measure by Judiciary Chairman Bob Goodlatte, and then a so-called "compromise" bill, the details of which have not been agreed upon. Whereas a successful discharge petition likely would have resulted in the passage of bipartisan legislation by the end of June, multiple House GOP sources agree that neither Goodlatte's bill or Ryan's proposal will pass.
One House Republican source joked about the moderates' flameout in a comparison to their conservative colleagues. At least when members of the Freedom Caucus "promise to blow things up," the source said, "by God, they blow things up."
The deal is a huge victory for GOP leadership, who feared the potential passage of what staffers called "amnesty lite"—a bill that would effectively grant citizenship to hundreds of thousands of young undocumented immigrants with little to no border-security element. Moreover, they avoided the unpredictability of a free-wheeling immigration debate ahead of midterm elections.
"Members across the Republican Conference have negotiated directly and in good faith with each other for several weeks, and as a result, the House will consider two bills next week that will avert the discharge petition and resolve the border-security and immigration issues," said AshLee Strong, a spokesperson for Ryan. "The full conference will discuss tomorrow morning and we'll have more to share at that point."
Conservatives also claimed victory on Tuesday night, securing a deal in which legislation they've lobbied for for months—Goodlatte's—would see floor time. The bill, which includes a narrow path to legal status for undocumented immigrants and tougher enforcement measures, won't pass muster with a majority of the conference. But conservatives will get their vote with the assurance that leadership's "compromise" package is also unlikely to pass.
Democrats reacted to the news that moderates had "caved" with resignation. "We got played," said one Democratic member who signed the petition, and requested anonymity to speak candidly. "Now they're back to show votes. We're done trying to help."
Republicans will meet Wednesday morning to continue ironing out the details of consensus legislation, the kind of bill that has bedeviled them for months now, but will ostensibly reach the floor in its final form next week. Yet with fewer Democrats willing to offer assists, and conservatives placated by a vote on their own legislation, it's largely unclear just whom this compromise bill will be designed for.
The evening capped yet another tumultuous turn in Republicans' quest to pass immigration reform. Although the issue has haunted the party for years, President Donald Trump injected new urgency into the debate by making provisions such as a wall along the U.S.-Mexico border a staple of his campaign. In his State of the Union address in January, he implored lawmakers to assemble legislation that addressed his chosen "four pillars" of reform: a path to citizenship for 1.8 million "Dreamers" and those undocumented immigrants who would otherwise qualify for the DACA program; a $25 billion trust for a wall along the Mexican border; ending the visa lottery in favor of a merit-based immigration system; and limiting family reunification to sponsorships for spouses and minor children only.
Since then, Republicans have struggled to bridge a major intraparty gap with DACA. Conservatives in both chambers have balked at the introduction of a so-called "special pathway" to citizenship, arguing for a tailored path to legal status instead. Yet moderates and others view an accelerated path to citizenship as nonnegotiable.
When government funding bills came and went this spring with no agreed-upon immigration measure attached, Republicans appeared to reach a stalemate, especially as their leaders looked to keep their heads down ahead of midterm elections. Such is why Curbelo and others launched the discharge petition. "We're just frustrated that we're now into year two of the Trump presidency and nothing has been done on immigration," New York Representative Chris Collins said. "I signed it so we can at least get a vote."
"We were sent here to get things done," New York Representative John Faso told me on Tuesday of his decision to sign it. "Endlessly debating and not doing things on an issue of national importance is not what I prefer."
In their bold attempt to "get things done," however, moderates ultimately acquiesced to a deal that will likely accomplish nothing. It's unclear whether the politics will reward them regardless, whether voters will regard a vote on impassable "compromise" legislation as comparable to a vote on a bipartisan bill that can pass the House. Whether they will credit them with simply forcing the issue, one way or the other.
However, when it comes to the ultimate goal—getting immigration legislation on President Trump's desk—House Republicans remain none the closer. As a senior Republican aide told me recently of leadership's strategy, "They are not going to do anything until the Senate finishes doing nothing, and then they will do nothing."