The Coming Battle to Overturn Roe v. Wade
Anthony Kennedy's retirement could have a huge effect on a number of issues. Abortion may be the biggest.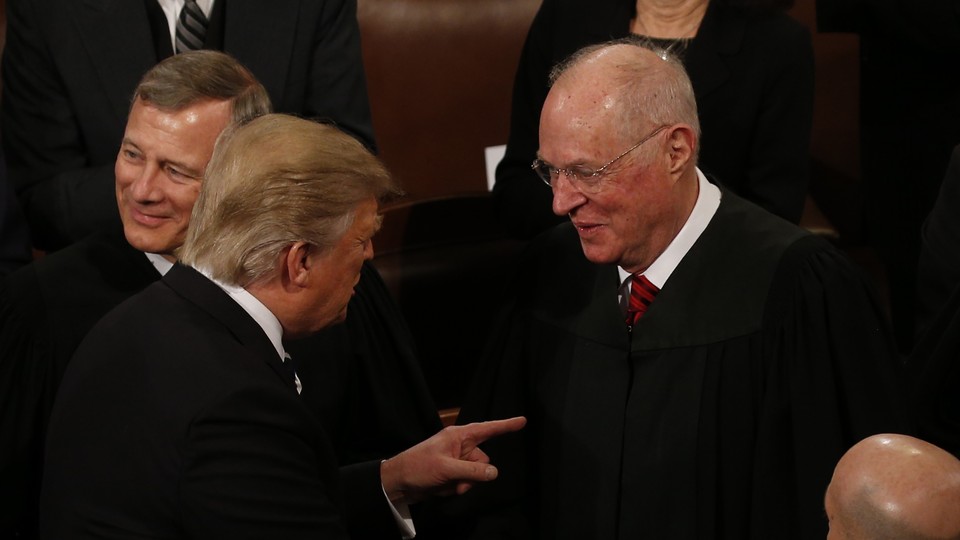 This has been a heady week for the pro-life movement. First, the Supreme Court handed down a favorable decision in NIFLA v. Becerra, agreeing that pro-life crisis-pregnancy centers shouldn't have to post information about abortion. Then, Justice Anthony Kennedy, the Court's long-time conservative swing vote, announced his retirement. This has opened the way to what will inevitably be an intense battle over his replacement, along with the core principles Kennedy helped to defend. Above all, advocates and legislators seem to have one word in their minds as they prepare for this fight: Roe.
Over the past 45 years, Roe v. Wade, the 1973 Supreme Court decision that upheld a woman's right to obtain a legal, pre-viability abortion, has become infamous—loved by pro-choice feminists, reviled by the pro-lifers who see themselves as defenders of the unborn. At many points throughout his long career on the Court, Kennedy provided the decisive vote in cases that dealt with controversial cultural questions, including LGBT rights and religious freedom. He has been particularly influential in abortion-related cases, in part because his views have been mixed: While he has generally voted to uphold the fundamental principles outlined in Roe, he has at times expressed a deep moral ambivalence about abortion itself. Without him on the Court, pro-life advocates see an opportunity to secure a firmly anti-abortion majority.
Overturning Roe v. Wade is not a straightforward political maneuver achieved in a few easy steps. But now that Kennedy has stepped aside, pro-life advocates see an opportunity to tilt the Court toward their cause—and they have a clear strategy for making it happen. "We know what we've got ahead of us. It's the fight of our lives, literally," said Marjorie Dannenfelser, the head of the pro-life advocacy group Susan B. Anthony List. "If this is the Roe vote, then it is the most consequential battle since 1973."
The story that has been told about Kennedy and abortion is one of indecision and persuasion. According to a 1998 book by a former Supreme Court clerk, Edward Lazarus, Kennedy had been open, three decades ago, to casting a vote in a case that would have returned the question of abortion to the states. But in 1992, Kennedy—a devout Roman Catholic and Ronald Reagan appointee—joined Justices David Souter and Sandra Day O'Connor in authoring Planned Parenthood v. Casey, which upheld Roe while allowing for certain regulations and limits on abortion.
Not all critics have considered the book's account trustworthy, but its larger story about Kennedy's posture on abortion is evident in his judicial record. His vote was essential in Casey, but he also wrote the opinion that upheld Congress's ban on so-called partial-birth abortions. In 2016, he joined the Court's liberal justices in Whole Woman's Health v. Hellerstedt, a decision that pushed back against abortion restrictions in Texas. But just last week, he also joined the conservative majority in NIFLA v. Becerra; in his concurring opinion, he compared California's requirements for crisis-pregnancy centers to the free-speech restrictions imposed by authoritarian regimes.
As a result, Kennedy has not won many ardent admirers among advocates and scholars with firm positions on abortion. "He has not adhered to conservative, constitutionalist principles when it comes to the issue of abortion," said Catherine Glenn Foster, the president and CEO of Americans United for Life. Her group, along with other conservative legal organizations like the Federalist Society, are looking for a replacement who is "originalist [and] textualist," she said—someone "who would recognize that when it comes to flawed precedent … there should be room and space for re-argument."
Under President Trump, pro-life groups have held a lofty place in Washington. Kellyanne Conway, who serves as counselor to the president, has close ties to the pro-life advocacy world because of her past career in conservative polling. Vice President Pence has spoken at the March for Life, an annual gathering of pro-life advocates and organizations, and makes regular appearances at luncheons and dinners hosted by pro-life groups. In May, Trump was the keynote speaker at SBA List's annual gala.
That means pro-life groups have had a strong influence on the White House's thinking about potential judicial appointments—including the names on Trump's short list for Kennedy's replacement. "There's no daylight between the administration's position and our own," Dannenfelser said. "What I don't worry about is being heard."
For its part, SBA List is already thinking about the next step in the process: confirmation. The organization is focused on mobilizing local activists in states with more moderate U.S. senators, who will be crucial swing voters in the confirmation process ahead. A number of groups in Washington are working together to pool resources and collaborate strategically. But their model is already in place: These groups also pushed hard for the nomination and confirmation of Neil Gorsuch, the latest justice to join the Supreme Court. "We'll do what we did with Gorsuch, but it will be a far more resourced fight, because it's a far more consequential fight," Dannenfelser said.
Other pro-life groups have focused on priming the legal landscape for the eventual court battle that could challenge Roe. Americans United for Life is one of several groups that offers model legislation on abortion: carefully crafted texts that help pro-life state legislators push the boundaries of legal abortion restrictions in their areas. This kind of legislation is designed "to protect women now, to save lives now, to have that immediate, on-the-ground effect," Foster said. But it also has the advantage of queuing up court challenges and seeding cases that could eventually make their way to the Supreme Court. If that body eventually overturns Roe, their legislative work will have created a framework so that "there will be life-affirming state laws already in place," Foster hopes.
Advocates on the other side of this issue are also focused on the confirmation process. Democratic senators from Kamala Harris to Chuck Schumer have called on Senate Majority Leader Mitch McConnell to delay the hearings until after the midterm elections. This could partly be read as a form of revenge: McConnell successfully put off hearings on President Obama's pick for the Supreme Court, Merrick Garland, for nearly a year in the hopes of securing a Republican White House victory and a conservative alternative. But pro-choice advocates have also argued that any delay would be for the sake of democracy. "We want [the] American people to be an arbiter if any of [their] major civil rights are somehow going to be ended or diminished forever," said Faiz Shakir, the national political director of the American Civil Liberties Union.
Shakir named five Republican senators who might be swing voters in a confirmation process, and who will probably be the target of a lot of ad spending and lobbying in the weeks to come: Lisa Murkowski of Alaska, Susan Collins of Maine, Dean Heller of Nevada, Jeff Flake of Arizona, and Rand Paul of Kentucky. Because Republicans hold only a slim majority in the Senate, party leaders can't afford to lose even a single vote without imperiling a potential confirmation. Shakir said he is also focused on helping Americans understand the potential consequences of this vote on issues from LGBT rights to free speech—and, of course, abortion. "We should start envisioning and conceptualizing a world without Roe," he said. Ultimately, "our objective, here at the ACLU and elsewhere across the movement, is to make this about the record, and to make this about the merit."
The confirmation process is still a ways in the future. Trump has named two dozen potential nominees to replace Kennedy, and advocacy groups all over Washington are currently working to compile dossiers on each person, gathering evidence for the next few weeks of horse-trading and behind-the-scenes campaigns. For its part, Americans United for Life has already picked out a few favorites: Foster named Allison Eid, Diane Sykes, Bill Pryor, and Thomas Hardiman as top picks, along with Amy Coney Barrett, the former Notre Dame professor who recently faced a tough federal appellate-court confirmation process. Although a couple of men made her short list, she is hoping for "one of those outstanding female candidates, to provide some ideological balance on the Court."
Whomever Trump chooses, the likely outcome for the Court is clear, said Caroline Mala Corbin, a professor at the University of Miami School of Law. "You're replacing a mostly conservative justice with someone who will probably be consistently conservative," she said. "It will embolden challenges to all kinds of rights that we thought had been settled and established, including, of course, the right to abortion."