'This Election in California May Make All the Difference'
Political confusion reigns in the battleground districts of Orange County as the state's primary approaches. How local is politics, anyway?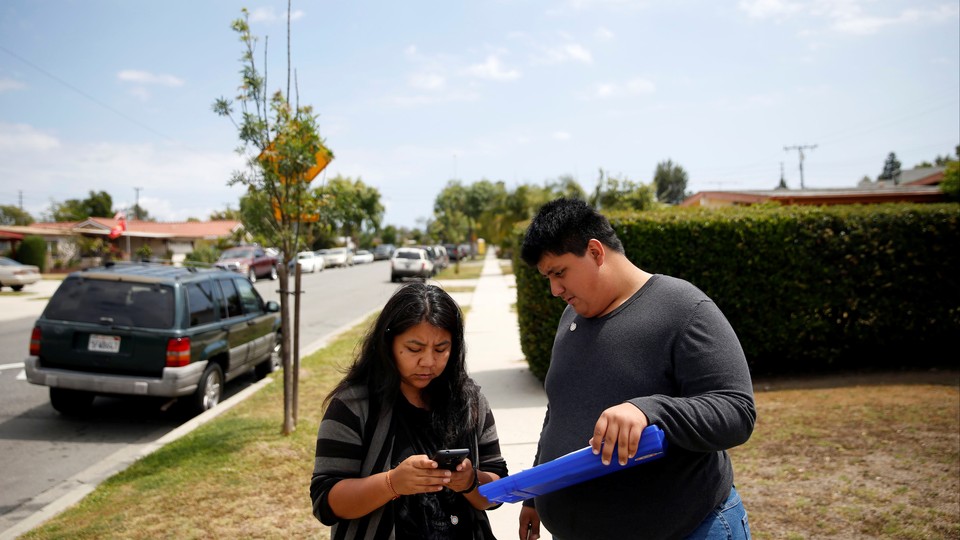 HUNTINGTON BEACH, Calif.—Scott Baugh stood on soft carpet inside the Meadowlark Golf Club before the monthly meeting of the Huntington Harbour Republican Women Federated. Golfers whacked at balls outside under a gray sky. A couple dozen older women and a few men had loaded their plates with fried chicken, coleslaw, and mac and cheese from the buffet and returned to their tables, and now applauded as Baugh began with a paean to the president.
"Don't you like what's going on in this country? Do you like what President Trump is doing?" They did. "Do you like, uh, the tax cuts? Okay, do you like the regulations that he's slackening? How about the Supreme Court appointment, you like the Supreme Court appointment, right?" They did.
Baugh, a Republican, had been given exactly five minutes to speak—club rules—and wrapped up right on time. In the time he had, he praised Trump, blasted Nancy Pelosi, but avoided direct mention of the man he is is running to unseat here in the 48th congressional district: Dana Rohrabacher. Except to make an oblique remark about Rohrabacher's idiosyncratic lone-wolf career in Congress: "You need fresh blood, you need new vision. You need problem solvers to come into the Congress and build coalitions. One man, one vote isn't gonna get it done."
The women of the Huntington Harbour Republican Women Federated were surprised that a photographer on assignment for The Wall Street Journal and I had shown up at their gathering; they don't get a lot of press at these events. On the night I attended, the third speaker was a man who wanted to discuss the school board.
The club's vice president, Annette Eliot, was decked out in a light-up red-white-and-blue necklace; she's in the midst of planning the annual Fourth of July parade, which will include horse-drawn carriages. She stressed that the Huntington Harbour Republican Women Federated does not endorse candidates, and demurred when I asked who she herself was supporting. But she acknowledged that for Republicans around here, the current situation is a bit awkward. "It pits people against each other that are usually on the same side, on the same page," she said. "This jungle primary I don't think helps anyone."
For 30 years, this district along the coastline of Orange County has reelected Rohrabacher in a nearly automatic fashion. He has never faced a serious challenge until this year, from several Democrats as well as Baugh, the former chair of the Orange County Republican Party and his former ally. The sleepy, chilled-out communities have not seen this much attention from the national media since the heyday of the classic teen television drama The O.C. in the mid-2000s. It's not just Rohrabacher's district: The congressional districts that comprise the county have been thrown into relative political chaos as the June 5 primary approaches, as Democrats contest two seats being vacated by their representatives at the end of this term—Ed Royce's and Darrell Issa's—as well as two where they'll face incumbents: Rohrabacher's and Mimi Walters's. These are districts where Hillary Clinton won in 2016, and where, the Democrats' thinking goes, are ripe for a change: Orange County is increasingly diverse, Republican voter registration in the state of California has fallen behind not just Democratic registration but no party affiliation at all; and the backlash to Trump's election has energized the Democratic base and inspired first-time candidates for office nationally.
Except as it turned out, it was much more complicated on the ground level. California's primary system, in which the top-two finishers make it to the general election regardless of party, has translated to chaos. The surge in activism and candidates getting involved may have actually backfired: So many Democrats are running in a couple of these districts that they might get shut out of the general entirely, even though the national party apparatus is throwing millions of dollars at the problem.
"All politics is local," Tip O'Neill famously said, but ever since politics became all about Trump, local politics is national too. These races, which when you peel back the top layer reveal a convoluted tangle of local alliances, resentments, and personalities, have become a synecdoche for the macro trends in our politics. How should Democrats combat Trump? How can Republicans stay relevant in rapidly changing areas? Is the burst of anti-Trump enthusiasm on the left enough to win it all for the Democrats, and is it being translated effectively into electoral politics?
If Rohrabacher loses, for example, is it because of Trump? Or because of local issues, like airplane noise?
---
Every Tuesday for the past year, activists organized by the local chapter of the national anti-Trump progressive group Indivisible have gathered outside Rohrabacher's district office in Huntington Beach. They call it "Tuesdays Without Dana." On the last Tuesday before the primary, a gaggle of people appeared on the corner of Orange and Main in downtown Huntington Beach, a shopping stretch that leads to the beach. Most wore shirts bearing the name of Harley Rouda, one of the top Democratic candidates in the race. Rouda would be joining that day.
The marchers made their way down Main Street, stopping in front of Rohrabacher's office above a surfboard shop. "This is what democracy looks like!" they chanted.
Maggie Williams from Huntington Beach held a sign bearing Rohrabacher's face over the words "Dump Dana." She had been to so many Tuesdays, Williams said, she had gone through two likenesses of Rohrabacher. Brenda Glim, a performer and writer in her 60s, used to be an independent, but Trump's election pushed her to become an activist. She thought: "I can't change the election there but I can help change this, I hope. Get Dana out, and change the House."
Glim said she was "scared to death our votes are gonna be split," and wishes Hans Keirstead, the main Democratic opponent of Rouda, would drop out.
But Rouda is part of a glut of Democrats trying their luck in the Orange County districts this cycle—a dizzying array of candidates across the districts that is difficult for anyone to keep track of, let alone the voters, who are receiving a barrage of mail from various campaigns, PACs, and outside groups. Clearing the field and uniting Democratic votes around one candidate would help, but it hasn't happened.
Or at least it hasn't happened enough. Three candidates dropped out of the 48th district race after the filing deadline, but their names are still on the ballot; the Democratic Congressional Campaign Committee has launched an effort to remind voters not to vote for those candidates, and that two of them have endorsed Rouda. Those two, Laura Oatman and Michael Kotick, were both at the latest Tuesday Without Dana, out to support Rouda.
Rouda himself, a real-estate and tech businessman, is slick, handsome, but shows a kind of surfer-dude crinkliness around the eyes. Like Keirstead and many of the other candidates running this year, he has never held office before. I had seen him earlier that morning at an office in Newport Beach.Though Rouda was once a Republican, his policy positions now lean progressive; he supports Medicare for all and free college, and is open to the idea of impeaching Trump. Though the California Democratic Party chose to back Keirstead, the DCCC added Rouda to its Red to Blue list; the Los Angeles Times reported in May that the DCCC had seen favorable internal polls for Rouda. And Keirstead had been accused of hitting a female graduate student at the University of California, Irvine, though an investigation in 2009 cleared him of the allegations. But the charge has dogged his campaign, and he told The New York Times he thought the national party had been "spooked" by it.
A DCCC aide who spoke on condition of anonymity said that the committee had conducted polling in the Orange County districts back when it first became clear the top-two primary put the party in danger of a shutout, and showed the polling to candidates in an effort to get them to drop out, resulting in two key dropouts in the 39th district. But in the 48th, Democrats were caught off guard by the entrance of Baugh into the race, who waited until just before the filing deadline, making it too late for other candidates to get off the ballot and leaving Democrats in the unenviable position of fending off a strong Republican challenger to a vulnerable Republican incumbent, in a district with more Republicans than Democrats.
Rouda's challenge is to try and cut through the confusion for voters about the number of candidates, including those still on the ballot who aren't campaigning. "Through canvassing we're making it very clear that those three individuals are no longer running, and to support our campaign instead," he said. DCCC fliers being handed out to voters also show the former candidates' names crossed out, noting that two of them endorsed Rouda.
But "we're still dealing with Keirstead actively out there campaigning, Omar Siddiqui actively campaigning out there, and you only have two Republicans active out there with the proper resources," Rouda said. Siddiqui is another Democratic candidate who has resources and is complicating matters. "They have been repeatedly encouraged to drop out and withdraw from campaigning" by his political allies, Rouda said. But still they remain.
Hans Keirstead is also slick and handsome, and plays the nerd to Rouda's jock. His differences with Rouda are not over policy; their platforms are largely the same. The stem-cell researcher, who has never held office before, is running the most science-y campaign imaginable; there's a double-helix underneath his logo, and his ads and mail pieces often show him in a lab coat or peering into a microscope. In his campaign headquarters in Costa Mesa, helix-like ribbons hung from the walls, and a sign on the wall said: "Science is his superpower! Voting is yours!"
At a meet and greet at the home of supporters in Westminster, Keirstead arrived in a suit with no tie, his silver hair coiffed. He speaks in clipped tones.
"The concern of a Dem lockout is real," Keirstead said. "I'm disappointed in those candidates that dropped out after the registration for candidacy."
"And frankly I'm disappointed in Omar and Harley," Keirstead said. "I view Harley as a spoiler, frankly, for the Democratic Party." Keirstead called it a "minor irritation" but "confusing for the voter base" that the national party is backing Rouda while the state party is backing him.
What Keirstead isn't doing: saying much about Rohrabacher or about Baugh. Instead, his message is focused on Trump. "The scientist who will take on Trump," one of his slogans goes. "Hans is running for Congress because Trump is dividing our country and rigging the system for those at the top," a piece of campaign literature states. And besides, as Keirstead acknowledges, the DCCC is taking care of the anti-Baugh messaging for him.
In the 45th district, Walters's district, similar nastiness has erupted among the the Democratic candidates, with the party-backed Dave Min feuding with two of his opponents, Katie Porter and Brian Forde, as the contenders scramble to be the one to face off against Walters. But in the 39th, where another possible shutout looms, the state party struck a truce between two of the top candidates, millionaires Andy Thorburn, a health-insurance executive, and Gil Cisneros, a lottery winner and former Navy officer. That race is complex on the Republican side as well, with multiple candidates duking it out amongst themselves. In effect, these have become closed primaries.
At a get-out-the-vote rally in the 39th district at California State University, Fullerton, on Wednesday, Representative Adam Schiff, who represents Burbank and who has become a leading antagonist of the Trump administration as the ranking member on the House Intelligence Committee, spoke to activists gathered in the university's arboretum and encouraged them to "throw the bums out." In the audience were at least three of the candidates: Thorburn, Cisneros, and Sam Jammal.
"Californians feel they're in the backseat in national elections, there's not much that can be done," Schiff said. "This is not true today. This election in California may make all the difference, and Orange County may make all the difference." But: "We are all pulling our hair out obviously with this cockamamie jungle primary we have, and it's a law of unintended consequences."
"We should give a serious rethink to whether this makes sense," Schiff told me of the jungle primary. "It's very possible that these races will be decided by a handful of votes in terms of who goes on to the general and that people will be deprived of the opportunity of a choice between parties, and that would be I think tragic not only for the Democratic Party but tragic for voters in not having a choice in November."
Fran Sdao, the chair of the Orange County Democratic Party, downplayed the chaos when I spoke to her after the event.
"It's settled down a lot," she said. "Each one has their army of supporters. And if each one brings their army of supporters to the polls, all Democrats will benefit from that."
As for the confusion between which party apparatuses were supporting whom in which districts, Sdao said the state party's endorsement was important, and that every day her office gets calls asking who they've endorsed. The endorsement "means something," she said. "And it should."
"The California Democratic Party has been an invaluable partner as we have worked to flip these districts," said Drew Godinich, a DCCC spokesman. "Ultimately we share the same goal—to beat Republicans and win House seats in California in November."
For Republicans, the messiness on the Democratic side has been a relief.
"National Democrats were forced to spend many millions of dollars to avert a catastrophe in three of their must-win districts," National Republican Congressional Committee spokesman Jesse Hunt said in an email. "Whichever candidates emerge on the Democrats' side will be unelectable in a runoff after all of them adopted extremely progressive policy positions in order to win and had their personal dirty laundry aired out by members of their own party."
---
Paul Martin's mistake was thinking all politics were more national than they really are. I met Martin, who wore a hip oversized jean jacket and black-framed glasses, at a bougie shopping plaza called The Camp in Costa Mesa. Martin is running as a Republican challenger to Rohrabacher, but really he's a protest candidate.
He thought that voters would respond to a message based around Rohrabacher's embrace of Russia and his ties to people embroiled in the Mueller investigation. But it didn't quite pan out that way. "He is closely related to all of these players, some of whom were indicted," Martin said. "It wasn't necessarily a strategy, but I would have thought by now Rohrabacher would have been more implicated in one way or another, and so far he hasn't been, as far as we know."
"I've spoken a lot about it often and many are concerned, but it seems a little bit obscure" to voters, Martin told me.
In the race with Rohrabacher, Scott Baugh argues, the Russia issue only matters insofar as it affects Rohrabacher's ability to deliver for his constituents. Baugh sees it as just one of the pet issues, like marijuana advocacy, that he believes Rohrabacher has prioritized without thinking of his constituents. "I don't think the Russia stuff by itself is a big deal," he said. "I think this preoccupation with Russia, with Julian Assange, with marijuana to the exclusion of things that matter to the district are a big deal."
I met with Baugh for an interview at his office in Newport Beach for which he was close to 30 minutes late. Down the hall works Jon Fleischman, a well-known conservative political blogger here, who wandered into Baugh's office wearing a Hawaiian shirt and baseball cap that said "Maui" on the side while I waited for the candidate. Fleischman is supporting Baugh, and the two of them say Rohrabacher gave his blessing for Baugh to raise money for a congressional campaign and indicated he wouldn't run in 2018 in a meeting in that very office. (Rohrabacher later said he'd never made such a promise.)
Baugh finally entered and sat down. He bears more than a passing resemblance to Secretary of State Mike Pompeo. Though Baugh is running against his party's candidate—as an incumbent, Rohrabacher enjoys the support of the NRCC and the backing of the California Republican Party—Baugh says there's been little fallout from his decision to run, and that no one from the NRCC called him to encourage him not to.
"We've made it clear that we stand behind Dana Rohrabacher but unlike the DCCC, we don't torch members of our own party who want to be involved in the political process," Hunt said.
Baugh repeatedly talked about how he wants to work with his Republican colleagues in Congress, and he says things like "President Trump has done a tremendous job. When I say tremendous job, I mean a job no other Republican president has ever tried to do with respect to dismantling the administrative state"—a reference to a favorite line of Steve Bannon's. It's ironic, in a way, that whatever is changing in Orange County that is leading to all this political turmoil and opportunity for the left has also made an opening for Baugh, who as a congressman would be a much more stalwart handmaiden of the Republican agenda than Rohrabacher has been.
Rohrabacher, for his part, has been mostly staying off the radar. His spokesman evaded me, and Rohrabacher hung up when I called his cellphone, though he held a fundraiser with House Intelligence Committee chairman Devin Nunes on Sunday and is holding a public election-night event at his campaign headquarters above Skosh Monahan's bar in Costa Mesa. His most news-making incident lately was a comment to the Orange County Association of Realtors that people should have the right not to sell homes to LGBT people. He has no use for a high profile during the primary; the real test of his durability will come in the general. That's when we'll see how much Orange County has really changed.