When the Supreme Court Locks Arms With Republicans
From voting rights to the travel ban, GOP-appointed justices rubber-stamped the party's agenda this term. Anthony Kennedy's retirement will only further boost its prospects.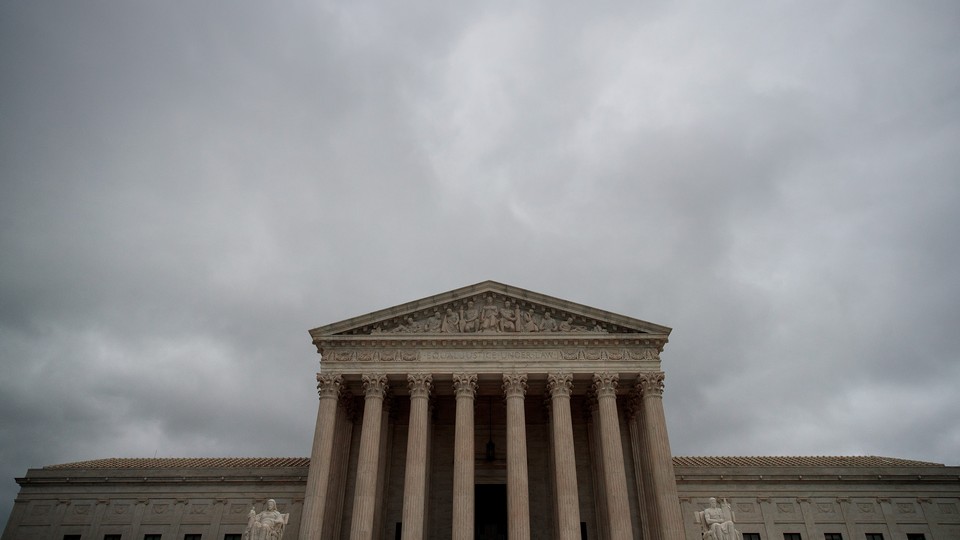 This term, the five Republican-appointed Supreme Court justices locked arms with their GOP counterparts in the White House and Congress against the unstinting forces of demographic change.
In muscling through a series of 5–4 decisions on voting rights, redistricting, and President Trump's travel ban over the unified objections of the Court's Democratic-appointed justices, the Republican majority sent an unmistakable signal: that it is unlikely to meaningfully dissent from a Trump-era GOP agenda that systematically targets white anxieties about a rapidly diversifying country. Justice Anthony Kennedy, a Ronald Reagan appointee often described as a swing vote, took another huge step to bolster GOP prospects on Wednesday when he announced his retirement, which could both allow Trump to confirm a successor and boost Republican turnout in the midterms.
Two of the Court's critical race-related decisions came this week: In the travel-ban ruling, the justices upheld Trump's actions on national-security grounds, and in the redistricting case, they overturned a lower-court verdict that Texas's latest congressional and state House maps were biased against minorities. Earlier this month, they upheld an Ohio law that quickly purges voters from the rolls when they don't vote in successive elections or respond to notices. Critics had argued the law disproportionately disqualified minority and low-income voters.
Although the timing was coincidental, it was telling that this week's rulings came just days after more than 80 percent of House Republicans voted for legislation that would have imposed the largest reduction in legal immigration since the 1920s. (Earlier this year, almost three-fourths of Senate Republicans voted for comparable reductions.) The rulings also dropped amid the firestorm over Trump's policy of methodically separating children from their undocumented parents at the border—an initiative now suspended by his own executive order and a lower-court injunction, but not definitively abandoned.
Against that backdrop of Republican executive and legislative actions, the flurry of 5–4 party-line decisions made the Supreme Court look like just one more front in the widening cold war between what America has been and what it is becoming—what I've called the Republican "coalition of restoration" and the Democratic "coalition of transformation." "For the public to have confidence in the Supreme Court, we want to feel the justices are fairly and independently wrestling with the cases before them," said Kristen Clarke, the president and executive director of the Lawyers' Committee for Civil Rights Under Law, in an interview. "And, sadly, these last few weeks have felt both predictable and polarizing."
The election-related decisions will most immediately affect other cases involving voting rights. Since the GOP sweep in the 2010 midterms, legislators in 23 states, almost all of them Republican-leaning, have imposed new restrictions on access to voting, according to the Brennan Center for Justice at New York University. The most common of these limits has been stringent voter-identification laws that tend to disqualify more minority than white voters, but they have also included constraints on registration, early voting, and absentee voting.
So far, voting-rights advocates have held their own in litigation, with lower federal courts striking down many of the most egregious state restrictions. But this month, the Supreme Court not only upheld the Ohio purge law and Texas's map, but also avoided substantive rulings on cases from Wisconsin, Maryland, and North Carolina that advocates had hoped would limit partisan gerrymandering. "When you add them all up, there is a scrupulous deference on the part of the [Supreme Court] majority for the most malevolent motives of state legislators," said Michael Waldman, the president of the Brennan Center. "And there is far greater concern for the dignity of state legislators than the dignity of voters."
This month's decisions will curtail the legal options for contesting red-state voter restrictions. When the conservative Fifth Circuit upheld Texas's latest voter-ID law in April, civil-rights advocates immediately talked about appealing to the Supreme Court. But now it appears more likely they will let the decision stand—for fear of allowing the five Republican-appointed justices to set a permissive standard that encourages other states to impose similar requirements. Even that tactical retreat may encourage Republican state legislatures to pursue more voting restrictions.
Kennedy's decision to join each of these rulings was especially revealing, in that it echoed the congressional Republican dynamics under Trump. In his concurrence in the decision upholding the travel ban on primarily Muslim-majority nations, for instance, Kennedy insisted: "An anxious world must know that our Government remains committed always to the liberties the Constitution seeks to preserve and protect." Yet he voted to uphold a policy that sends precisely the opposite message.
In these decisions, Kennedy displayed the same ineffectual ambivalence as the House Republicans from swing seats who, earlier this month, abandoned their effort to force a vote on protecting the so-called Dreamers, young people brought to the country illegally by their parents. The moderates backed down after House Speaker Paul Ryan promised to fold some limited protection into a more comprehensive immigration bill. But that legislation, amid mixed signals from Trump, was resoundingly rejected in the House on Wednesday. Kennedy and the moderates alike may as well have bought a billboard telling Trump, "I don't like your descent into nativism and xenophobia, but I won't do much to stop it." To the contrary: With a retirement timed to boost Republican electoral prospects, Kennedy appears intent on providing his party the means to continue it.
With these decisions, the Supreme Court majority has broadcast that, like the Republican majorities in Congress, it is unlikely to seriously restrain Trump. (And the Court will be even less likely to do so, of course, if Trump can confirm a successor to Kennedy.) If nothing else, that prospect ought to dispel any illusions for Democratic voters that the courts might derail this president. The Supreme Court's real message for Democrats this term is that if they want to change the country's direction, they must mobilize to beat Trump and congressional Republicans at the ballot box.