Mark Sanford's Unforgivable Sin
The former South Carolina governor survived a sex scandal, but not his criticism of President Trump. GOP voters ousted him in a House primary on Tuesday night.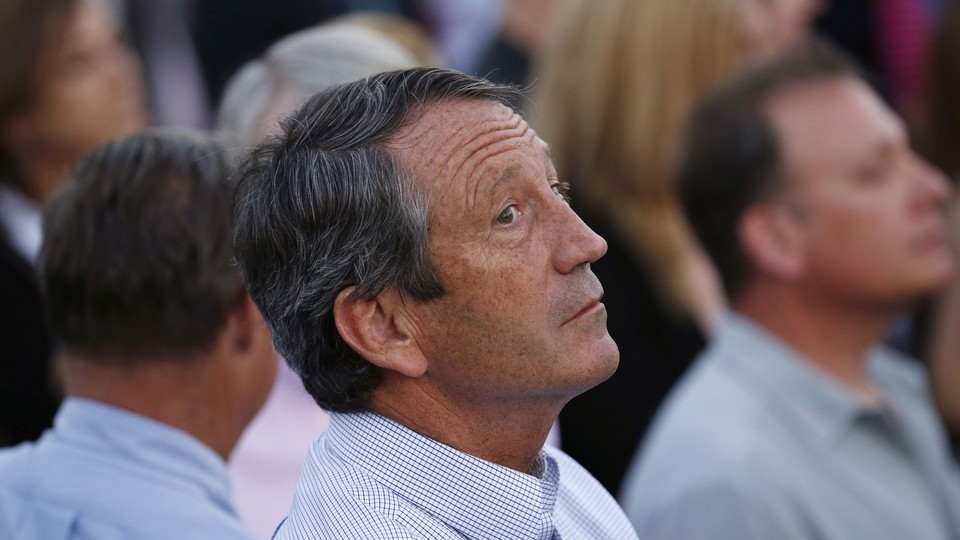 Republicans in South Carolina eventually forgave Mark Sanford after he deserted the state they elected him to govern to carry on a love affair in Argentina.
They would not forgive him, however, for deserting President Trump.
Sanford, who stunned the political world in 2013 by reclaiming his seat in Congress after his scandal-plagued stint as South Carolina's governor, lost on Tuesday night in a Republican primary for his House seat.
Katie Arrington, a first-term conservative state representative, defeated Sanford by nearly four points in South Carolina's first congressional district, narrowly clearing the 50 percent threshold she needed to avoid a runoff. It was Sanford's first electoral defeat in his nearly 25-year political career. He is now, along with Representative Robert Pittenger of North Carolina, the second House Republican to lose a primary this year. Combined with Corey Stewart's victory in the GOP Senate primary in Virginia, Sanford's defeat was another signal of the tight grip Trump has on the modern Republican Party. Stewart had run as an unapologetic backer of the president and defender of the state's Confederate monuments.
Arrington capitalized on Sanford's tepid support for Trump and his willingness to call out the president when he saw fit. "It's time for a conservative who will work with President Trump, not against him," she said in her closing television ad. Arrington earned the most last-minute of endorsements from Trump, who tweeted in her favor at 4:12 p.m. ET on Tuesday—less than three hours before the polls closed.
"Mark Sanford has been very unhelpful to me in my campaign to MAGA. He is MIA and nothing but trouble. He is better off in Argentina," the president said—a reference to the scandal that nearly led to Sanford's impeachment as governor. "I fully endorse Katie Arrington for Congress in SC, a state I love. She is tough on crime and will continue our fight to lower taxes."
Sanford had initially served eight years in the House before winning election as South Carolina governor in 2002. He rose to national stardom in his second term as a frugal and unrelenting spending hawk, drawing him mention as a possible 2008 running mate for Senator John McCain. But that stardom turned to infamy in 2009, when he disappeared from the state for a week, his whereabouts unknown. His spokesman initially said he was "hiking the Appalachian trail," but it turned out the married governor was carrying on an affair in Buenos Aires.
Sanford spent the rest of his tenure fighting calls for his resignation and impeachment proceedings in the state legislature. He escaped with a censure and left office at the end of his term in 2011. Two years later, he mounted an improbable comeback, winning his old House seat in a special election despite being abandoned by national Republicans in the closing days.
Back in the House, Sanford seemed to pick up where he left off a decade earlier. He aligned with conservatives in the then-newly formed House Freedom Caucus, fought for lower spending, and didn't always stick with the party leadership.
Sanford was no leader of the Never Trump movement, but he was a rare House Republican willing to criticize the president without apparent concern for the political consequences. He bemoaned the "cult of personality" surrounding Trump and his misunderstanding of the Constitution, and he joined Democrats in calling for Trump to release his tax returns. Unlike many GOP lawmakers, when reporters would ask his opinion of the latest Trump controversy, tweet, or proposal that flouted conservative principles—such as tariffs—he wasn't shy about breaking with the president.
Sanford knew early on that his differences with the president might be his undoing, but after his unlikely political resurrection, he didn't much care. "I'm a dead man walking," the congressman told Politico's Tim Alberta in 2017. "If you've already been dead, you don't fear it as much. I've been dead politically." And in losing on Tuesday night, he evinced no regrets: "It may have cost me an election," Sanford told his supporters, "but I stand by every one of those decisions to disagree with the president because I didn't think they would be concurrent with the promises I made when I first ran for office and for the very voices of the people of the 1st District that I represent."
Trump's Election Day endorsement of Arrington probably came too late to swing many votes. But because she only cleared the 50 percent threshold needed to avoid a runoff by a couple hundred votes, it's possible the presidential tweet made a difference. True to form, Trump took credit anyway. "My political representatives didn't want me to get involved in the Mark Sanford primary thinking that Sanford would easily win—but with a few hours left I felt that Katie was such a good candidate, and Sanford was so bad, I had to give it a shot," he tweeted on Wednesday morning. "Congrats to Katie Arrington!"
Arrington will now face Democrat Joe Cunningham in a district Trump carried by 13 points in 2016. "We are the party of Donald J. Trump," she said as she claimed victory on Tuesday night. Given the result, it was a statement with which even Sanford, the defeated incumbent, could not disagree.