Purgatory at the Border
Families fleeing gang violence are stuck at a pedestrian bridge between the U.S. and Mexico. They're hungry, exhausted, and scared for their lives.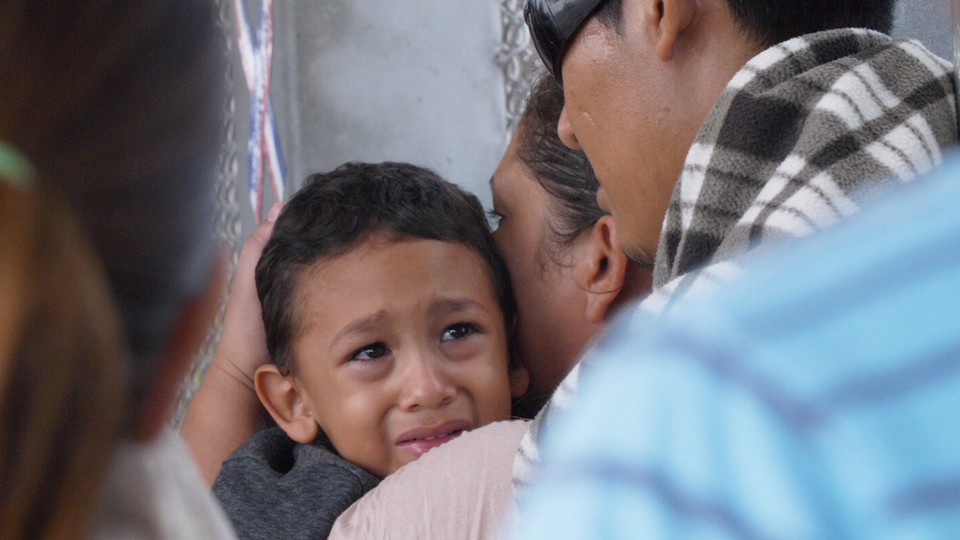 MATAMOROS, Mexico—When drug traffickers shot Wayner Berduo seven times last year, they didn't stop there. The men nearly beat him to death with their pistol grips, police reports say. One bullet pierced Berduo's eye socket, so after the attack, surgeons removed his left eye and stitched back together his face and his right arm, which now hangs limply by his side.
For days, Berduo has waited hours at a time in the long line of day-trippers, shoppers, and commuters headed for Brownsville, Texas. When I met him, he was clutching a plastic bag of medications he hoped to bring with him—if the agents at the front of the line ever allowed him to legally enter the U.S. to apply for asylum protection. So far, they have not.
Like hundreds of others stuck at the border in recent weeks, Berduo stands in a kind of purgatory spanning the Rio Grande. Agents have repeatedly turned him around, telling him to "wait in Mexico" and check back every few hours. I watched as they turned him back for the 20th time in four days, the agents explaining that they didn't have enough room in the port of entry to process Berduo.
The United States government has separated more than 2,300 children from their parents at the border since May, a tactic that top officials in the Trump administration have described as a form of deterrence. Delaying asylum seekers on the bridge appears to be part of this larger effort. Fleeing dangerous conditions to seek refuge in America is getting more difficult for people like Wayner. Last week, Attorney General Jeff Sessions overturned more than a decade of jurisprudence to rule that asylum claims based on gang violence or domestic abuse generally will not qualify.
The Trump administration encourages migrants to seek asylum at bridges—"You are not breaking the law by seeking asylum at a port of entry," Homeland Security Secretary Kirstjen Nielsen tweeted Sunday—even as it has made it more difficult for them to do so.
I grew up here in the Rio Grande Valley, and on this trip back home, I noticed a new feature of cross-border pedestrian travel. Border agents used to check documents once travelers reached an air-conditioned office on the Texas bank of the river. Now, agents stand in the precise middle of the bridge, careful to hold the imaginary line that bisects the Rio Grande. A small plaque marks the international boundary there, and the concrete underfoot changes from the textured Mexican variety to smooth American. Under U.S. law, asylum seekers have the right to ask for protection once they're on U.S. soil, so if they cross the line, border guards are obligated to process them. Last week, journalist Debbie Nathan documented a father and son being admitted after repeated denials when the pair took a small but important step into the United States—but only after border guards became "flustered" by her presence filming the encounter and stepped backward into the U.S.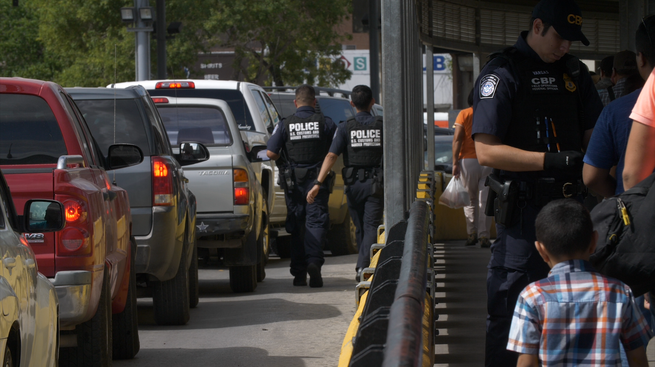 Back in Matamoros, Wayner and his family—his 11-year-old brother, Elian, and his mother, Estefania—have been sleeping on the ground at the foot of the bridge for several nights. "It's dangerous where we are in Mexico," Elian says, "we can't go far" from the bridge. He is glum and antsy, so Estefania walks him to a nearby corner store to buy a coke. They live off donations from people stuck in sweltering cars waiting to get through customs. "They sell meat here, but we can't afford it," Elian says. "We barely eat anymore."
Another brother sent Elian a voice message, trying to sound encouraging. "Don't be scared, and don't leave Mom's side," he said. "Don't get separated from her."
If Elian and Estefania lose patience and attempt a river crossing, they risk being separated under President Trump's "zero tolerance" policy. If they stick to the bridge, they should have a better chance of staying together, although there are reports of asylum seekers who entered legally still being separated from their children.
I stood with Wayner as agents checked IDs up ahead, and he inched forward on the bridge. He'd followed instructions agents gave him that morning almost to the minute: Return at 4 p.m. and try again, they had said. Still, the officers turned him down. When I asked why, they brought out a supervisor who referred me to a spokesperson who declined to comment. An email the spokesman forwarded said the wait times are a product of balancing different responsibilities.
That day, Wayner stood next to an asylum-seeking woman from a cartel-riven area of southern Mexico. Agents denied her too, and her child's face crumpled.
The following day, border guards did allow the Berduo family into the U.S. to make their asylum claim, relatives told me. But because of the Sessions ruling on June 11—the day the Berduos arrived at the Matamoros bridge—their asylum claim may ultimately fail.