How Post-Millennial Voters Could Change America
The newest voters in the 2018 midterm elections are less cynical about politics and more progressive than the young adults who came before them.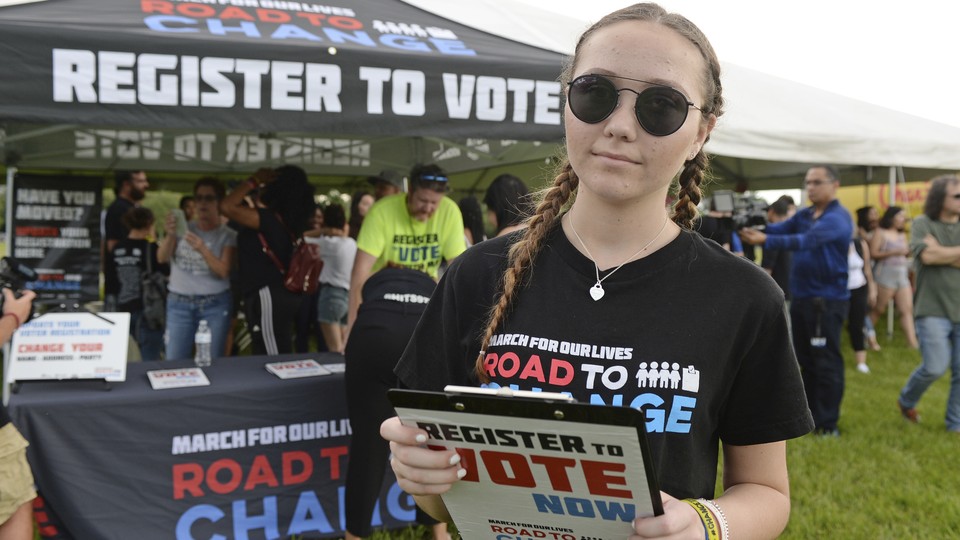 For years, pundits have fixated on what the influx of Millennial voters will mean for American democracy. But now they're getting old. Not the takes—though those are getting old, too—but the Millennials themselves. As that cohort ages into maturity and becomes the nation's largest voting bloc, the next generation of voters will become important to watch.
That could be especially true in November's midterm elections.
"There's some X factors in 2018 that are unique and may present a perfect storm," Republican pollster Christine Matthews said Monday at the Aspen Ideas Festival, which is co-hosted by the Aspen Institute and The Atlantic. "I'm interested in the young generation: 18-year-olds, people turning 18 years old. Students at Parkland galvanized these kids."
Matthews noted that since the shooting at Marjory Stoneman Douglas High School in Florida, students have launched an activist movement. The most visible manifestation of that effort has been marches, walk-outs, and speeches, but the most tangible impact could come at the polls. Students have set a goal to register 4 million new voters this year—and given that total turnout in 2014 was roughly 83 million, that many new votes could be influential. And these students don't necessarily have the same views as older young adults—either in terms of their partisan affiliation, or their faith in the system to change policy.
"They're not Millennials. They don't have the attitudes of Millennials," Matthews said. "They are angry, but they think they can do something. They think they can effect change, so that increases their likelihood to vote."
Young people are often more liberal than older voters, but there are still some emerging differences between tranches of young adults. Around four in 10 Millennials voted for Donald Trump in 2016, but the younger cohort is more liberal. While first-time voters have tended to follow the party affiliation of their parents, Matthews and Celinda Lake, a Democratic pollster, both said post-Millennials show a greater willingness to break with their families' views, and to support the Democratic Party more.
Even if voters become more conservative as they age, early decisions about politics have a lasting impact, both on individuals and on politics more broadly. Once an affiliation is set, Lake noted, a voter is "more likely to change spouse than party ID."