Pledging Allegiance to Trump in the Sunshine State
At the Florida Republican Party's annual summit, pundits and public officials competed over who loves the president most.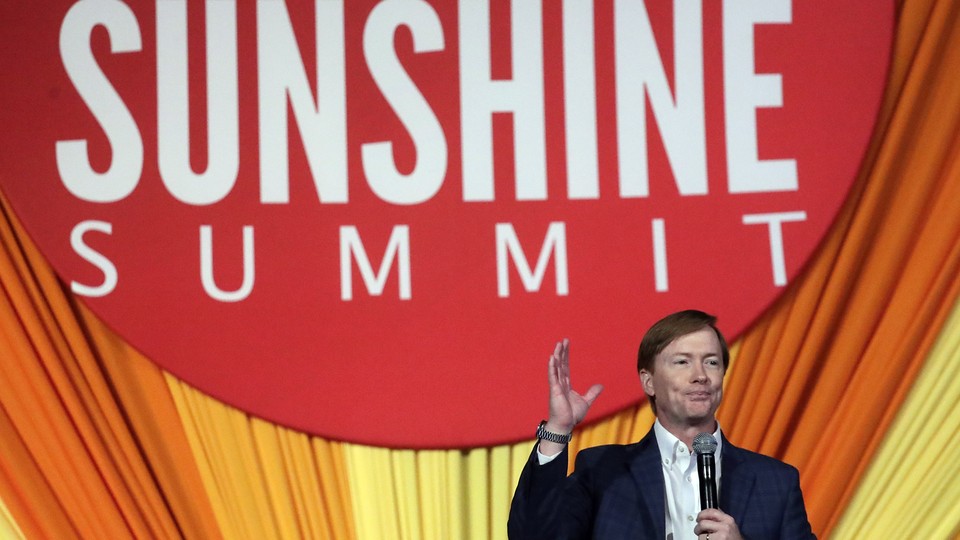 KISSIMMEE, Fla.—Even the Wi-Fi password made reference to President Trump: "bigredwall."
Speaker after speaker at the Florida Republican Party's Sunshine Summit on Friday focused on the same set of issues, a useful snapshot of what is on the mind of the GOP: how great it is that Donald Trump is president and Hillary Clinton is not. The Supreme Court. The "fake news" liberal media. Representative Maxine Waters. The deep state.
But as with other Republican events these days, it always came back to Trump, the conversation existing within a closed epistemic loop. The list of speakers was a mishmash of the kind of people who have been fixtures at conservative gatherings over the years, like tax-cut advocate Grover Norquist, combined with those who owe their political celebrity to Trump's rise—think Republican National Committee spokeswoman Kayleigh McEnany, who during the 2016 election became a prominent pro-Trump commentator on cable news.
But in a sign of how much Trump has made the party his own, the message coming from this eclectic roster of voices was basically the same.
"Isn't Donald Trump great?" said Dick Morris, the '90s-era Bill Clinton adviser who has pivoted to the right. "And we are not afraid to say that out loud. In fact, we're coming out of the closet: We're Trump supporters. And if we have to choose another restaurant to have lunch in, we will."
"Boy, do we have a politician who has kept his promises, and that is President Donald Trump," McEnany said during her remarks.
If your first introduction to Republican politics was this event, you wouldn't know that these kinds of conservative gatherings used to carry more of an undercurrent of conflict, between ideological activists and the Republican establishment. Now that Trump is the establishment—and now that Republicans who opposed him have either been rendered irrelevant or brought onboard—that kind of fractious talk has dissipated. In its place is feel-good rhetoric about Trump's greatness and all the "winning" allegedly taking place.
Former Utah congressman Jason Chaffetz was once one of those opponents, but he, too, has joined the Trump train. Chaffetz dramatically withdrew his endorsement of Trump after the Access Hollywood tape's release in October 2016, before reversing course a few weeks later and saying he would vote for him after all. "I can't say I was the first person to adopt Donald Trump for president, but I'm a believer now, because he's the only person who could have done what he's done," Chaffetz told the crowd. "I'm absolutely amazed and proud of what this president has been able to do." In a show of dedication, he at one point advised the crowd to look in the mirror and say, "I'm so happy Hillary Clinton is not the president of the United States" when they wake up each morning.
One voice of measured dissent was Kentucky Senator Rand Paul, who criticized Trump's trade tariffs, saying he thought they were "making the markets skittish and may put a hamper on economic growth." But even he tempered that criticism with praise, giving his full-throated endorsement to the Trump-backed tax cut Republicans passed in December and praising the president for being a better golfer than he is.
Controversy had surrounded the Sunshine Summit this year due to organizers' invitation of Dinesh D'Souza, the conservative provocateur who pled guilty in 2014 to making an illegal campaign contribution and recently received a presidential pardon from Trump. D'Souza had tweeted an attack on Parkland students that was widely condemned, and some Republicans, including Florida Governor Rick Scott, criticized the state party for welcoming him to the event. (D'Souza later apologized.)
But the summit's attendees didn't seem to mind his presence. D'Souza took the stage after a long day of speeches and was greeted with a standing ovation. Stacks of his latest book sat on tables in the back of the ballroom, and he signed them after speaking. D'Souza gave a nearly 45-minute-long stem-winder on some of his favorite themes, like his contention that Democrats inspired the Nazi regime. He also referred to Hillary Clinton as a "crooked hag."
In an interview afterward, D'Souza said he had reached out to the organizers after reading about the controversy over his invitation, and had been assured they were sticking with him. "It seemed to be a temporary ripple in the water that quickly dissipated," he said.
There was also talk of the media—a lot of it. But not in the form of condolences for the journalists of the Annapolis Capital Gazette, five of whom were killed in their office on Thursday by a gunman who had a longstanding feud with the paper. Even though Trump, who regularly riles up his supporters against the press, has ratcheted down his rhetoric in the wake of the shooting, speakers at the Sunshine Summit carried on as though nothing had happened. McEnany, for example, spent the first several minutes of her speech mocking CNN, where she used to be a contributor, and accusing journalists of being "rewarded if you're part of the Trump resistance."
"I am not applying for the job of the president's communications director, but when the media so unfairly and viciously attacks the president, it's only reasonable to expect him to respond," said Florida congressman Matt Gaetz, a freshman who has made his mark in Washington as one of Trump's biggest congressional supporters, in an interview. Gaetz joked onstage that the roster of speakers reminded him of a Fox News green room; he and Representative Ron DeSantis, who's running for Florida governor, are holding a rally with Sean Hannity in Pensacola next week. The race is hotly contested, and the top Republican candidates, DeSantis and former congressman Adam Putnam, both spoke on Friday and faced off in a debate on Thursday night.
During the event, held at a Gaylord resort, a group of Hurricane Maria survivors held a protest just across the street, and they'd assembled a small group of tents with "SOS" painted on their sides. The protesters tried to call attention to the plight of displaced Puerto Ricans, many of whom have been living in hotels or motels in the region. Because special funding from the Federal Emergency Management Agency runs out this weekend, their housing is now in danger.
"We are on the verge of probably the biggest humanitarian crisis that the state of Florida has faced," said Maria Revelles, the organizing director of Faith in Florida, a group that is helping assist the storm's survivors. "And our elected officials are there having a party, and not here talking to the people." Indoors, it was a party—a party of Trump.