Nine Days of Agony
From behind bars, a father searches for one of the 2,000 kids still separated from their parents at the U.S.-Mexico border.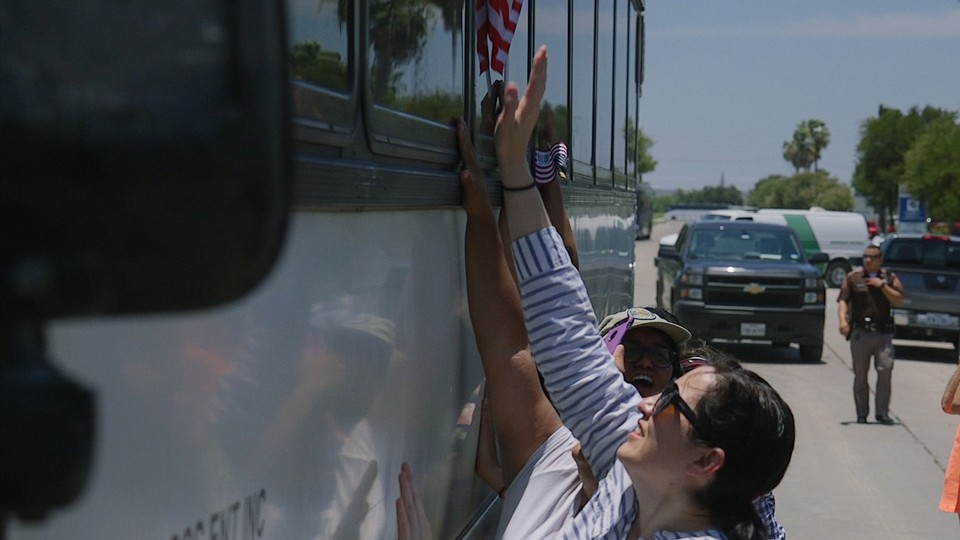 LOS FRESNOS, Tex.—For the ninth day in a row, a Honduran man named Cristian pleaded with officials inside the immigration jail here to tell him where his 7-year-old son is. The government separated them after they crossed the border illegally in mid-June, and Cristian has been asking for his whereabouts ever since.
When we spoke by phone Saturday morning, Cristian sounded frantic. He said they fled Honduras because crooked cops beat him and threatened to kill him in retaliation for informing on them. But after more than a week inside this Immigration and Customs Enforcement detention center without news from his child, he said the separation has created "much greater suffering" than the original violence. Now, Cristian told me, if he could speak to his son, he would say "forgive me."
In the last five days, a team of attorneys interviewed more than 150 detainees here who have been separated from their kids. According to the lawyers, about 90 percent of these parents do not know where their children are. More than 2,000 children remain separated from their parents as a result of the Trump administration's zero tolerance policy.
Almost a week after Trump scaled back his family-separation policy and called instead for detaining families together indefinitely, the government still has no clear plan for reuniting parents with their children. To Trump's apparent frustration, indefinite family detention is so far not an option because of a 1997 court ruling known as the Flores settlement that requires the government to release children after 20 days.
The president has begun to attack the due-process rights of immigrants seeking asylum protection at the border. "When somebody comes in, we must immediately, with no Judges or Court Cases, bring them back from where they came," Trump tweeted Sunday, the day after the Department of Homeland Security designated Port Isabel as "the primary family reunification and removal center for adults." But the facility is designed as an adult lockup, and doesn't have the requisite accomodations for kids. So while it has long functioned as a "removal center," lawyers and visiting lawmakers said the facility is not a suitable place to reunify families behind bars.
"They're not running a reunification process here," Senator Elizabeth Warren told reporters on Sunday outside Port Isabel after speaking with nine detainees. "In every case, they were lied to. In every case, save one, they have not spoken with their children. And in every case, they do not know where their children are."
The prevailing confusion is why a team of pro bono attorneys is mounting a kind of DIY reunification effort. The first wave of legal volunteers began visiting the jail last Wednesday, writing detainees' names and their children's names on yellow legal pads, then attempting to locate the kids and funnel the information back to the parents. It's not high-tech: On Friday, one of the attorneys started an Excel spreadsheet in the backseat of a rented SUV while driving out to remote Port Isabel.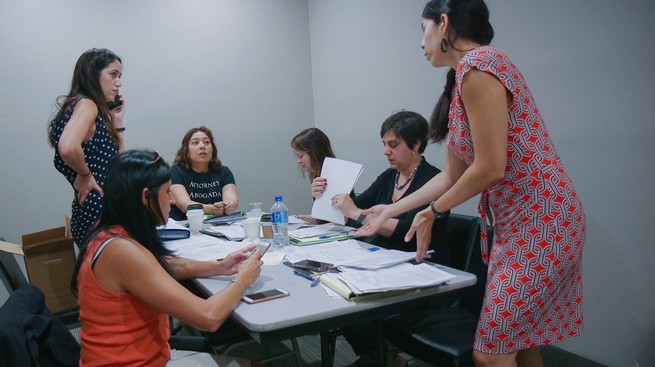 Because family separation is so difficult to bear, some detainees have already reported taking voluntary deportations on the promise they'll be reunited with their children more quickly—meaning they're forfeiting their right to due process even if they have a viable claim to asylum. Local immigration attorneys Jodi Goodwin and Sarah Vidal had been interviewing detainees for weeks before the volunteers arrived, and at lunch on Wednesday Goodwin seemed relieved to have the backup. "I call you guys the 'due-process army,'" she said.
Virginia-based immigration attorney Eileen Blessinger spoke with Cristian. He gave her his information, then asked her to deliver a letter to his son. In small handwriting, he tried to strike an upbeat tone. "I want you to play a lot while we can't see each other," he wrote. "Don't think that I abandoned you," Cristian went on, "be strong, don't cry, and behave yourself."
He addressed his son's caseworker on the second page. "Please take care of my child, I beg you," he wrote, "you have no idea how hard this is."
Beyond the walls of the detention center, protests this weekend escalated. In McAllen, demonstrators gathered at the Border Patrol station that immigrants call the perrera, or "dog pound," because of the tall chain-link fences that subdivide the warehouse into cells. A crowd of about 100 people urged agents there to "liberate" the children, chanting, "El pueblo, luchando, a los niños liberando." In the withering heat, a woman wearing a stars-and-stripes hijab took cover in the shade of a palm tree. A man with a leather Lone Star yarmulke waved an American flag.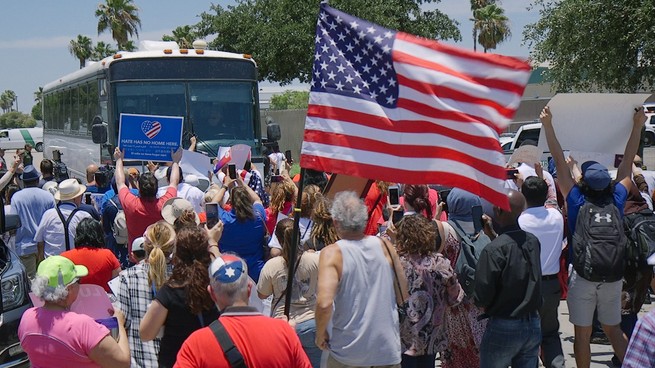 Then, demonstrators noticed a bus full of children departing the station and the crowd rushed the street. Some sat down in front of the bus, screaming "free the babies," while others reached for the tinted windows as if they could touch hands with the children within. I spotted a boy inside, maybe 5 years old, waving to me from behind bars. With the bus blocked, McAllen police, in military fatigues with semi-automatic rifles, joined Border Patrol to disperse the crowd. The standoff ended when the driver reversed, turned around, and receded into the distance.
Meanwhile, some 65 miles away, the volunteer attorneys continued interviewing detainees at Port Isabel. Each day they returned, word of their presence spread through the pods. As their list of separated detainees grew, so did their stack of letters. One mom even folded hers into a little origami boat to amuse her son. The starboard side reads "mi niño guapo," my handsome boy.
On Monday morning, three days after I spoke to Cristian, Blessinger sounded ecstatic about two small victories: It turns out his son is being held just 30 miles away in Harlingen, and ICE even promised him a phone call. But the hours went by, and by 2 p.m., Cristian was still waiting.