New York Goes After the Trump Foundation
A new lawsuit from the state attorney general claims the president's charity engaged in a years-long pattern of illegal behavior.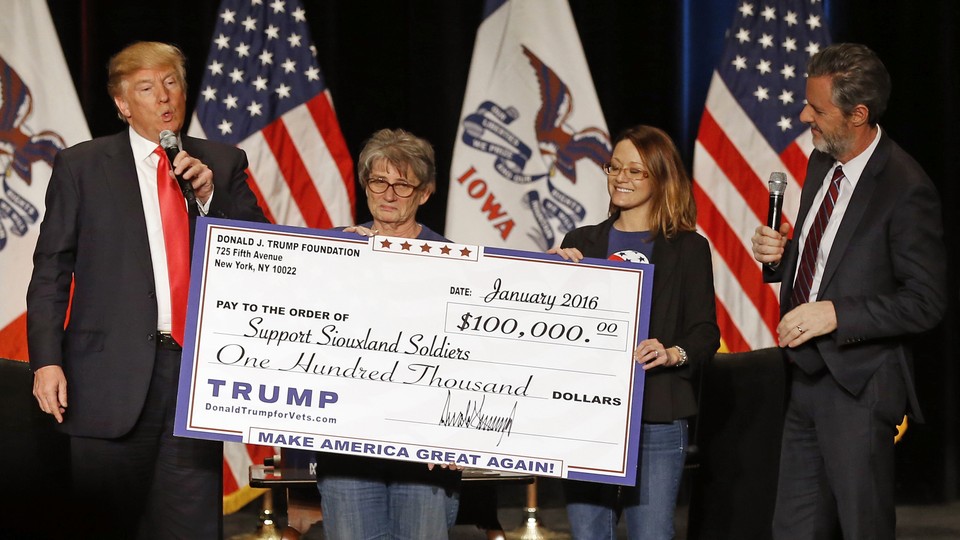 The New York attorney general filed suit against the Donald J. Trump Foundation and its board of directors on Thursday, including the president and his three eldest children, alleging a years-long pattern of illegal behavior, including self-dealing and unlawful coordination with Trump's presidential campaign.
The suit, filed on the president's 72nd birthday, brings back to the foreground a series of allegations and revelations regarding Trump's charitable foundation during the 2016 presidential campaign, which showed the foundation engaging in behavior that was illegal at worst and misleading and dubious at best.
"As our investigation reveals, the Trump Foundation was little more than a checkbook for payments from Mr. Trump or his businesses to nonprofits, regardless of their purpose or legality," Attorney General Barbara Underwood said in a statement. "This is not how private foundations should function and my office intends to hold the Foundation and its directors accountable for its misuse of charitable assets."
Underwood took over the AG's office last month, after the abrupt resignation of Eric Schneiderman amid charges of sexual misconduct, but the office has long tangled with Trump, most notably in the case of Trump University. The Trump University case ended in a $25 million settlement for students who said they had been defrauded, which was finalized in April. The current investigation into the Trump Foundation dates to June 2016, according to the petition.
The lawsuit is a civil action, seeking the dissolution of the Trump Foundation and a prohibition on Trump and the other directors serving on the boards of other charities. Underwood also asks that the foundation's $1 million in current assets be distributed to other charities, and that Trump pay at least $2.8 million in restitution. The AG's office does not have criminal jurisdiction over charities, but it also sent referral letters to the Internal Revenue Service and the Federal Election Commission laying out potential violations of federal criminal law for future investigation.
Throughout his business career, Trump has often bent or broken the rules, trusting that if he is caught, he can pay a fine or that it will simply be too late for any repercussions. For the most part, he has been right. His administration has, so far, been an interesting test to see whether the same approach can function for him as president of the United States as well. But the New York filing shows that past incidents can still cause at least an annoyance and perhaps more serious troubles.
Many of the allegations in the petition are familiar to readers of Washington Post reporter David Fahrenthold's Pulitzer Prize-winning coverage of Trump during the campaign. They show a brazen scheme of self-dealing and coordination between the charity and the campaign, with the foundation serving as a kitty for Trump's legal travails and political ambitions.
"For more than a decade, the Donald J. Trump Foundation has operated in persistent violation of state and federal law governing New York State charities," the petition states. It alleges that the foundation made false statements in filings with the AG; violated federal tax law by spending to influence an election, which is prohibited for tax-exempt charities; and wasted charitable money.
The Trump Foundation was always unusual. Many wealthy people establish charitable foundations, either to give back to the community or to boost their own public image or both. Trump's foundation was unusual in that it relied primarily on money from other sources, which it then donated as though Trump had given it himself. In fact, the petition says that Trump has not donated his own cash to the foundation since 2008. The largest donors since 2007, Fahrenthold notes, are Linda and Vince McMahon. Linda McMahon was appointed to lead Trump's Small Business Administration, a Cabinet-level post.
This was not the only atypical element of the charity, according to Underwood: "The Foundation's Board existed in name only. Board members failed to exercise their fiduciary duty to provide oversight and control of the organization for at least nineteen years, from 1999 through the present … In the absence of a functioning board, Mr. Trump ran the Foundation according to his whim, rather than the law."
One of those whims, the AG alleges, was backing his presidential campaign. In 2016, Trump skipped a GOP primary debate in a fit of pique, counter-programming with a rally to celebrate veterans. It was a campaign rally, and it solicited donations from the public for veterans' organizations. Roughly half of the $5.6 million raised went to the Trump Foundation, but the foundation allowed the Trump campaign to direct how funds were spent.
The petition includes communications between then-Trump campaign manager Corey Lewandowski and the Trump Foundation's treasurer, Allen Weisselberg. "[W]e should start thinking about how you want to distribute the funds collected for the Vets," Weisselberg wrote Lewandowski, who replied that he wanted them made just before the Iowa caucuses: "Is there any way we can make some disbursements this week while in Iowa? Specifically on Saturday."
When Trump presented oversized checks with the funds, the props were labeled with his campaign's logo and slogan as well as the name of the foundation. In some cases, the props were given before the foundation had actually cut any checks. The petition cites Trump as saying on the trail that his donations aided his political standing.
"Mr. Trump was aware of the prohibition on political activities and the requirement of restrictions on related party transactions," the petition says, noting that he had to sign statements under penalty of perjury acknowledging that.
The foundation was also either surprisingly sloppy with large sums of money or else sought to mislead the government about its donations. In a 2013 case, the Trump Foundation made a $25,000 donation to And Justice for All, a political organization led by Florida Attorney General Pam Bondi, a close Trump ally. Yet when the foundation filed its tax returns, it reported a $25,000 donation to Justice for All, a similarly named but entirely separate charity located in Kansas, rather than Florida. The foundation then claimed, falsely, in its tax return that it had not contributed to any political organizations.
Finally, Trump also used his foundation to settle his own personal legal troubles and to promote himself. In 2007, the Trump Foundation made a $100,000 donation to settle a suit brought by the city of Palm Beach against Mar-a-Lago, his estate there. It made donations in exchange for promotion of a hotel. It also paid $10,000 to buy a portrait of Trump. Each of these violates rules against self-dealing. The petition even includes a handwritten note from Trump to Weisselberg asking him to donate $100,000 to resolve the Mar-a-Lago suit: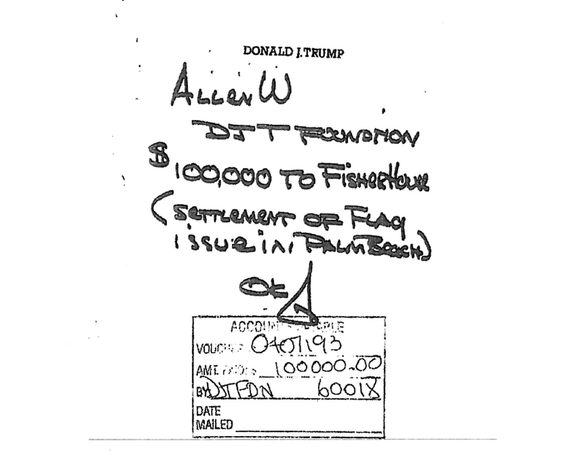 Given how clearly the Trump Foundation was, according to the allegations, breaking the rules, it's surprising how much written documentation officers created, leaving a paper trail for the AG.
Even without the documentation, though, the allegations fit with how the president conducts himself. Throughout his career, he has tended to mix his own personal interests with those of the Trump Organization. As a candidate, that continued: He based his campaign at Trump Tower, and his campaign often paid the Trump Organization or other assets for services rendered. As president, he has not separated himself from his business assets, and has treated the Trump Hotel in Washington as an adjunct of his administration, visiting frequently and using it for fundraisers.
Trump, in a tweet, blasted the suit as politically motivated and vowed not to settle. Of course, he also vowed he wouldn't settle the Trump University fraud case, either, and ended up settling it for $25 million.
Whether Trump could face more legal repercussions is unclear. Even in cases of clear-cut violation of campaign-finance law, the FEC has been extremely unlikely to act, thanks to partisan deadlock. The likelihood of IRS action is harder to forecast. Trump has said in the past that he is frequently audited by the IRS, though he has not produced any evidence to back that up, so it's possible he is already under IRS scrutiny. Special Counsel Robert Mueller is also believed to have Trump's tax returns.
During the presidential campaign, when Trump's chances at the presidency seemed slim, his frequent self-dealing at the Trump Foundation seemed like just another element of his shamelessness and corruption. Since he won the election, many of this personal foibles have shrunk from public attention, overshadowed by the circus-like atmosphere of his presidency. Thursday's lawsuit demonstrates that though these stories may be getting less attention, Trump cannot outrun them altogether.