Mueller's Warning to Trump: The Cover-Up Is Also a Crime
Paul Manafort's jailing is the latest example of Trump associates learning the hard way that there are consequences for lying to federal agents.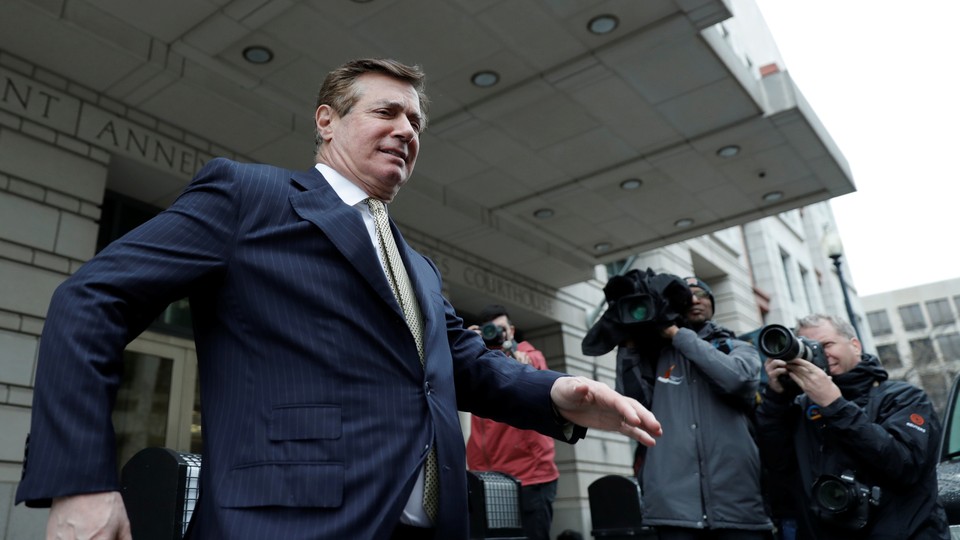 George Papadopoulos. Michael Flynn. Alexander van der Zwaan. Paul Manafort. Some of the most high-profile men caught up in the Russia investigation all have one thing in common: They've learned firsthand that the cover-up can also be a crime.
All four men have either decided to cooperate with Special Counsel Robert Mueller or have been sent to jail—not because it was proven that any of them colluded with Russia or attempted to obstruct justice, but because they lied to the FBI or tried to influence the outcome of the investigation in some significant way. Their fates could send a clear signal to the president, who is weighing whether or not to sit down with Mueller for an interview: If you lie to federal agents, there will be consequences.
Papadopoulos, a foreign-policy adviser on President Trump's campaign, and Flynn, a top campaign surrogate who went on to serve as Trump's national-security adviser, both pleaded guilty within months of one another to lying to the FBI about the nature of their contacts with foreign nationals. Van der Zwaan, a lawyer who helped produce a report friendly to Ukraine's ousted President Viktor Yanukovych at Manafort's behest, went to jail for a month after pleading guilty to lying to the FBI about his contact with two former Manafort associates. And Manafort, Trump's campaign chairman, was sent to jail on Friday—not as a result of the original charges against him, which included money laundering, bank fraud, and tax fraud, but because he engaged in witness tampering and tried to obstruct justice, according to prosecutors.
It was strike two for Manafort, who had tried to clear his name months before via a ghost-written op-ed in violation of a court gag order. And "judges have no patience for witness tampering," Jacob Frenkel, a white-collar criminal-defense attorney, told me last week. As such, Manafort cost himself not only his bail agreement but any of his remaining credibility with the judge overseeing his case, Amy Berman Jackson. In a hearing on Friday, Jackson said she had no choice but to detain Manafort because she had not been able to craft a release order that would prevent him from witness tampering in the future. "This is not middle school, I can't take his cellphone," she quipped.
Trump has in recent weeks been leaning against a sit-down interview with Mueller, who is investigating whether Trump tried to obstruct the investigation into his campaign team's ties to Russia. In an interview with Fox on Friday morning, Trump said he "would like to talk" to Mueller, but the probe "seems to be very biased." Giuliani told The Hill that, as Trump's attorney, an interview with Mueller is "off the table."
"It's never off the table for the president, because he feels he's done nothing wrong, which he hasn't, and he wants to explain himself," Giuliani said. "For me as his lawyer it's off the table until they can show me what happened." He was referring to reports that the FBI used an informant to approach the members of the Trump campaign during the election.
In another interview, Giuliani hinted at a presidential pardon for Manafort. "I don't understand the justification for putting him in jail," Giuliani, a longtime federal prosecutor, told the New York Daily News. "You put a guy in jail if he's trying to kill witnesses, not just talking to witnesses. When the whole thing is over, things might get cleaned up with some presidential pardons."
Trump has mused about his ability to pardon himself: "As has been stated by numerous legal scholars, I have the absolute right to PARDON myself, but why would I do that when I have done nothing wrong?" Trump tweeted earlier this month. But political experts, including some of Trump's allies, have said that Trump could be impeached if he tried to pardon himself. It "would be tough," Giuliani told NBC last month. "Pardoning other people is one thing. Pardoning yourself is another." Giuliani added that it would "probably lead to immediate impeachment." "If the president were to pardon himself, he'll get impeached," said Chris Christie, a former New Jersey governor who briefly led Trump's transition team.
Trump is facing increasing pressure to sit down with Mueller now that he has completed his meeting with North Korean dictator Kim Jong Un in Singapore, according to Bloomberg. Manafort's fate could serve as a warning to the president on two fronts: The special counsel is not afraid to charge witnesses and subjects of the probe with lying, and he takes any attempt to obstruct justice—the precise thing Trump has been accused of in his firing of former FBI Director James Comey—very seriously.