The Fight Over Medicaid Begins in Kentucky
A federal court's decision to vacate newly-implemented restrictions on the state program challenges the GOP strategy across the country.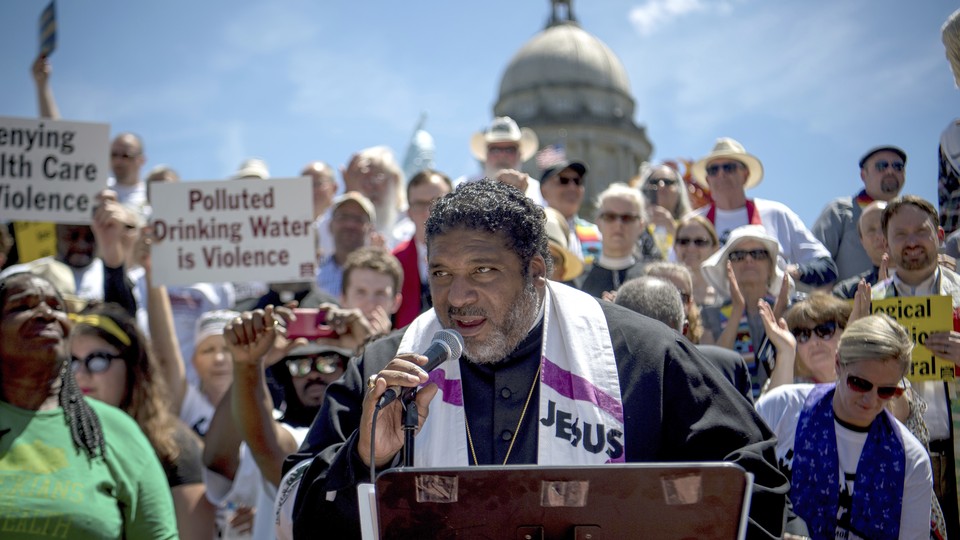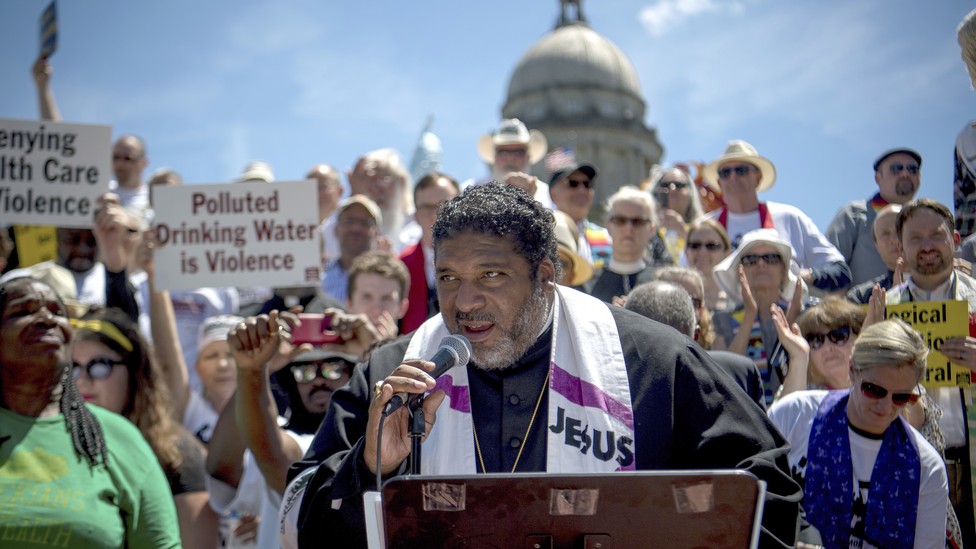 This hasn't been a good week for Democrats and progressives in federal courts. President Trump got his travel ban in the Supreme Court, despite his documented intent to make it a Muslim ban. The Court also dealt a serious blow to labor in Janus v. AFSCME, curtailing the ability of unions to raise funds. And then there was the retirement of Justice Anthony Kennedy, whose departure will mean an unbreakable arch-conservative majority in that same body.
But on Friday, Democrats received a sliver of daylight. A federal district court decided to vacate a plan from the Kentucky government to implement work requirements for able-bodied adults in the state Medicaid program. That decision calls into doubt an initiative strongly favored by the Trump administration and several Republican governors across the country. It also challenges a larger administration plan to refashion all federal welfare and means-tested poverty programs, and should kick off a flurry of court activity on the issue.
Kentucky created the work requirement in its Medicaid program back in January, after the Centers for Medicare and Medicaid Services issued official guidance encouraging "state efforts to test incentives that make participation in work or other community engagement a requirement for continued Medicaid eligibility." Formerly, federal administrations had never approved state restrictions in Medicaid like work requirements or drug-testing that constrained base eligibility for the program. After expanding Medicaid to all low-income adults in participating states, President Obama's CMS was particularly stringent about this, approving state waivers that restructured elements of Medicaid programs and even reduced benefits, but never approving a waiver from a state involving work requirements.
But then Donald Trump got elected. He hasn't yet been able to fulfill his main promise of repealing all of Obamacare, but under CMS administrator Seema Verma, the White House has been able to work toward slowly a piecemeal destruction, sloughing away the number of people covered when and where possible. A key part of the strategy has been approving more and more conservative-leaning Medicaid program waivers that reduce the number of covered or eligible people. The most prominent of those piecemeal reductions was the unprecedented decision to allow state Medicaid programs to make people have to work in order to qualify.
Kentucky was the first state to have its work requirement waiver approved by CMS, but its program is roughly indicative of the other states that came after it. The regulation only applies to able-bodied non-elderly adults, and requires them to complete 80 hours per month of work or work-related programs. People who meet those requirements also have to pay an income-adjusted premium. Violation of either provision means they can lose coverage for six months. Four other states, including New Hampshire, Arkansas, Kentucky, and Indiana, have had similar work requirements approved by CMS. Seven more states—all of them led by Republicans—have applied.
From their inception, these requirements have garnered significant criticism. Most able-bodied people on Medicaid work, and the program itself is a highly successful work support, keeping potential workers well enough to stay on the job. To the extent that joblessness is even a problem for the people on Medicaid, punitive work requirements don't work. But what work requirements should do very well is reducing overall spending and enrollees by freezing people—many of whom face unreported disabilities or other barriers to work—out of the program for months at a time.
In Kentucky's case, district court Judge James Boasberg did not see these effects as a compelling case for work requirements. In fact, he argued that Kentucky's own projections that it will "reduc[e] its Medicaid population by an estimated 95,000 persons" run counter to the purpose of Medicaid. "At bottom, the record shows that 95,000 people would lose Medicaid coverage, and yet the Secretary paid no attention to that deprivation," Boasberg wrote. "By doing so, he 'failed to consider adequately' a salient purpose of Medicaid and, thus, an important aspect of the problem."
The decision has clearly displeased Kentucky Republicans, including Governor Matt Bevin, who has issued an executive order claiming the state cannot afford its Medicaid expansion without work requirements and directing the state to dismantle the entire expansion if courts strike down the work-requirements waiver. Bevin doesn't need the executive order to terminate the program, but the text of the order does indicate that he may wait until the state runs out of appeals in order to strip away the expansion.
Those potential appeals and the escalating debate in Kentucky matter nationally. Not only does the court decision against Kentucky put four other existing plans and seven potential plans in jeopardy, it also has implications for both the broader prospects of the Medicaid expansion and for the state of the national agenda for all poverty programs. Conservative support for state Medicaid expansions has hinged on waivers that control costs and eligibility. But in more and more GOP-controlled states such as Utah, citizens have pushed for full expansions without restrictions, using protest and direct democracy to force the issue. In Kentucky, the successful plaintiffs were residents and health-care activists, and the decision came on the heels of Poor People's Campaign protests in the state against the work requirements.
Additionally, work requirements, drug-testing, and budget cuts across Medicaid, welfare, and subsidized housing programs have characterized a White House policy agenda that has crystallized in recent months. The White House favored work requirements for food assistance in this year's farm bill, and it has proposed restructuring the executive branch to locate many of the federal government's anti-poverty programs under one umbrella—presumably, so it can more efficiently reduce the welfare budget.
The Trump administration's ambitious long-term plan to dramatically scale back federal commitments to fighting poverty was bound to run into a challenge. It starts in Kentucky.