Ivana's Turn in the Trump Show
At the Plaza Hotel on Wednesday night, the businesswoman tried to promote a new weight-loss plan—and avoid talking to reporters about her ex-husband.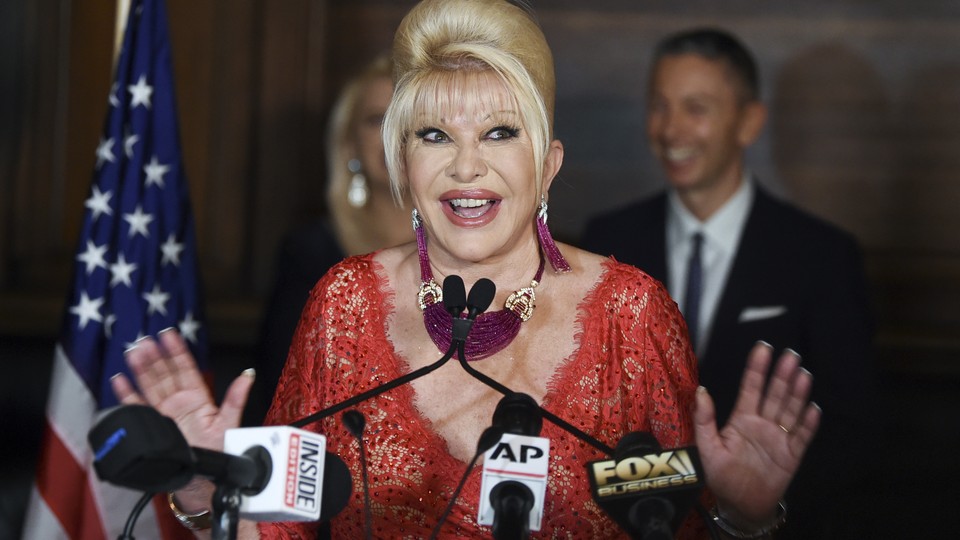 NEW YORK CITY—"'Which kinds of herbs do you use?'" the man said, apparently a question that means something. "Everyone wants to know!"
We are not here for the herbs.
We are here for Ivana Trump—and exclusively Ivana Trump. An amalgam of reporters, photographers, disgruntled cameramen, women with lips like small plush toys who would just love another glass of the white, thanks!, and others had gathered in the Plaza Hotel's Oak Room on Wednesday night to see the president's first ex-wife. She was there to promote a weight-loss plan, Italiano Diet, with its visionary, the herbs-hyping man, Gianluca Mech, a slight Italian businessman in a polka-dot tie. They stood side by side at a plexiglass lectern, flanked by American and Italian flags, to explain to the attentive crowd how to "eat pasta, cookies and lose weight!"
We had to pretend to care about this for the chance to elicit some new insight into the president of the United States, and thus the future of the free world. Such is American politics in 2018: reporters tailing a president's former partner for the slightest bit of news—and her, in turn, reveling in the attention for the chance to sell her wares. The reporters know she isn't likely to reveal the secrets they crave, and the reporters likely won't give her goods the coverage she wants. But it's a relationship that, no matter how unfulfilling, neither party seems willing to end.
"I'm really not going to go into politics," Trump clarified repeatedly throughout the event in her thick Czech accent. The evening's emcee also reiterated that the questions have to stay on the topic, everybody.
The Plaza was an appropriate location for the weight-loss plan's unveiling. It was once Trump's playground, after all—in the late 1980s and early '90s, after her then-husband bought the famed hotel, she designed floral arrangements and imported chandeliers from Italy to fill its rooms. "A number of staff I was speaking to were raving about her and so excited she was coming back," the emcee gushed to the audience about the choice in venue.
The evening kicked off in perhaps the Trumpiest way possible, with Trump sitting cross-legged in a gold chair for an interview with Fox Business, while the rest of us craned our necks to see beyond the very large and dour-looking security guards who surrounded the set.
After a few minutes, I abandoned the struggle to hear and turned to the open bar, where waiters whose names were stitched in cursive on their button-downs served wine and champagne. I met a young man named George, who described his line of work as "brand experience." "I love Ivana," he said, when I asked why he'd come to the Plaza. "She's, like, the best thing about the world. She has an integrity of character." Ivana was wearing a lace-and-sequin red dress and a burgundy necklace and earrings with her signature bangs and bouffant. George said that her decision to wear red with burgundy was "bold" and "so fun."
Moments later, everyone's internal news sirens blared: Ivana Trump had allowed her first mention of the president. "He's a health nut," she revealed. "He takes care of himself. He has a trainer." (Trump's diet is reported to be cheeseburgers, but with just half the bun. Those close to him, according to CNN, can't discern a workout routine beyond weekend rounds of golf.)
Nourished by this quote, however dubious, attendees flocked to the red-carpet portion of the event, where photographers, after politely snapping shots of Trump and Mech together, asked for her to pose alone. They photographed her as though we were at, well, literally any event more newsworthy than this, shoving at each other for the best angle. "Oh, my God, you'd think we weren't here just to talk about pasta," a man next to me carrying a notepad muttered only, I believe, to himself.
Which, of course, we weren't. The press conference itself offered the best opportunity to try to push Trump into talking about the White House. But she held herself on message in a way her former husband would do well to study. We learned that Ivana stays fit by taking the elevator up to the gym each morning in her Upper East Side townhouse. That mashed potatoes with sour cream are her favorite "cheat" and "comfort food." That Ivana is promoting this diet—whose $749 "luxury kit" includes such items as dark-chocolate cookies and crunchy berry bars and fusilli pasta—because the world is steeped in an "obesity crisis," but she herself has always been slim.
Even her introduction, in which the emcee touted Trump as a "very talented" "household name for the last five decades," was awkwardly scrubbed of the president, the man whose marriage to her helped make her a household name. The emcee described her as a former top executive at some of the nation's "most desired hotels," and noted that Trump had birthed "three very successful public figures," each of whom "are regularly on television."
The only presidential morsel she dished out during the press conference was a total of two words. "We speak," she said.
That was it. They speak. He's a health nut. He takes care of himself. I looked around at the other reporters as the event ended, most of whom seemed to have long stopped listening and were instead chatting with each other, swirling wine. Absent context, it felt like a party. Some may have entered the event with ironic detachment—content! Hilarious tweets!—but by the end seemed happily tipsy, all the while having listened to Ivana talk about precisely what she intended to talk about. I'm not sure anyone noticed her leave.
This is the future of the free world, or the near future, at any rate: We are all eager pawns of the Trump show, in whatever proximity we can manage.