Why Is Trump Protecting Scott Pruitt?
How has the head of the EPA withstood a deluge of corruption scandals? It all comes back to the president.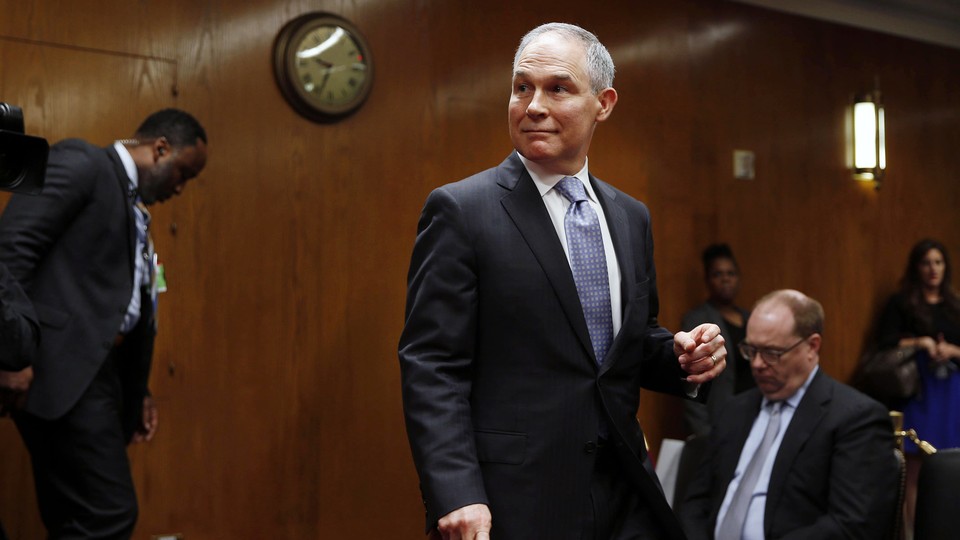 Wednesday morning, The Washington Post reported that EPA Administrator Scott Pruitt had a top aide at the agency call Republican donors to try to get his wife a job. For most Cabinet officials in recent American history, such a revelation would likely be a career ender.
For Pruitt, it was just Wednesday morning.
This is not the first case of Pruitt appearing to use his position in the government to get his wife a job, a clear conflict of interest. Previous reports revealed that Pruitt asked an aide to arrange calls with Chick-fil-A executives about securing a franchise of the fast-food restaurant for his wife. In the end, Marilyn Pruitt, who previously worked as a school nurse, didn't complete the application process for a Chick-fil-A, but she did end up with a job at the Judicial Crisis Network, having been referred there by the head of the Federalist Society, the influential conservative legal foundation whose chief traveled overseas with Pruitt.
The impropriety of using government employees, paid by taxpayer money, to seek a job for one's spouse seems self-explanatory: Pruitt is using public funds and resources to seek a profit for himself and his family. The latest revelation did garner some new surprise. Laura Ingraham, the influential pro-Trump Fox News host, called for Pruitt to resign or be fired. Republican Senator James Inhofe of Oklahoma, Pruitt's home state, also said the latest news might demand Pruitt's departure.
Perhaps this episode will be different, but Pruitt has seemingly successfully adopted the model that worked for his boss, President Trump: When everything is a scandal, nothing is a scandal. There are so many stories of corruption and abuse of power swirling around the administrator that the public becomes numb to them, relieving pressure for accountability.
So let's review the record, just to recall the various Pruitt stories. In addition to using taxpayer resources to try to get his wife a job, Pruitt also asked aides to do a variety of personal tasks for him, including acquiring a used mattress from the Trump International Hotel, finding him an apartment in D.C., and buying him a ticket to the Rose Bowl. He insisted on a 24/7 security detail, which cost $3.5 million in his first year, almost double what his predecessors spent. He also upgraded his official car to a heavier, more expensive, bulletproof model. He said he needed to fly first-class because of security threats, and the EPA said he'd received a blanket waiver to do so—only to reverse the claim when informed that federal law only allows for case-by-case determinations. All of this came even though the an internal report concluded,  "EPA intelligence has not identified any specific credible direct threat to the EPA administrator." Indeed, Pruitt apparently had other uses for his security detail beyond safety, including hoping they could use lights and sirens to more easily transport him to the hot D.C. restaurant Le Diplomate. Though he was turned down on that, he did press the detail into service picking up his dry cleaning and a very specific kind of Ritz-Carlton moisturizer he likes. Nino Perotta, Pruitt's head of security, was forced out of the agency earlier this spring.
Early in his time in Washington, Pruitt engaged in an ethically dubious rental of a room from the wife of an energy lobbyist, in which he paid $50 per night for a room, but only on the nights when he used it. (His daughter also sometimes used a room in the house.) The rental raised new ethical questions about conflict of interest, because the EPA regulates the energy industry. Eventually, the landlord kicked Pruitt out and even changed the locks.
Although he initially claimed that he had not lobbied the EPA while Pruitt was renting from his wife, the lobbyist's former employer says that was not true. At work, Pruitt insisted on the installation of a $43,000 soundproof booth, for privacy reasons, in his own office, violating expense limits. He also spent nearly $10,000 on redecoration and office furniture. As my colleagues Elaina Plott and Robinson Meyer first reported, Pruitt doled out fat raises to two close aides, defying White House orders not to do so, by finding a loophole. Pruitt said he didn't know about the raises, but emails that Plott acquired suggest he personally approved it. (Pruitt's spokesman, Jahan Wilcox, also called Plott "a piece of trash.") Pruitt also spent heavily on travel, both domestically and overseas—those first-class tickets aren't cheap. One trip, to Morocco, was arranged by a lobbyist, and it's unclear what government purpose the journey served. Pruitt also worked to conceal a meeting, during a trip to Italy, with a cardinal accused of sexual abuse.
This roster of scandals is exhausting, but it's not exhaustive—in the interests of space, I have condensed many of these stories, and have probably omitted others unintentionally. The New York Times counts 12 separate federal inquiries into Pruitt, and new revelations are emerging on an almost daily basis, as reporters get their hands on fresh documents. And as Dino Grandoni writes, the flow is unlikely to stop, since many of the scandals being uncovered now stretch back months ago. Is there any reason to believe that Pruitt has completely cleaned up his act since then?
Early on in the drip of Pruitt stories, it seemed likely that he'd soon be out of a job, following other toppled Cabinet members Tom Price, the former secretary of health and human services, and David Shulkin, the secretary of veterans affairs, both of whom were forced out after revelations about profligate travel spending on the public dime. The White House was said to be (understandably) miffed about the public-relations damage done by the Pruitt stories.
That was months ago. Pruitt's still around, and the stories keep flowing, adding up to a far more damaging slate of news than what took down Price and Shulkin. And yet Pruitt seems unsinkable. He's not even bothering to offer denials or contrition.
Pruitt offered this non sequitur when confronted about the Chick-fil-A story:
I think with great change comes, I think you know, opposition. There's significant changes happening not only at the EPA but across the administration and it's needed. Look, My wife is an entrepreneur herself, I love, she loves, we love Chick-fil-A as a franchise of faith and it's one of the best in the country and that's something we were very excited about and we need more of them in Tulsa and we need more of them across the country. So anyway, it's an exciting time.
Pruitt has done well for himself in the past using other people's money, so it stands to reason he'd keep at it. The question for the time being is why Pruitt seems so impervious to the scandal.
The answer seems to come down, ultimately, to Trump. The president must see in Pruitt's travails an echo of what he views as his own persecution by the press. Regardless of the scandals, Trump approves of the job Pruitt is doing at EPA. And perhaps most importantly, the president may see Pruitt's fate as a bellwether for his own.
"Scott Pruitt is doing a great job within the walls of the EPA," Trump said Friday. "I mean, we're setting records. Outside, he's being attacked very viciously by the press. I'm not saying that he's blameless, but we'll see what happens."
Price and Shulkin were both forced out for lesser offenses, but the circumstances were somewhat different. Price's downfall came in September 2017, much earlier in the administration. The administration may simply have been more concerned about its public image then than it is now. Since then, however, it has become clear that Trump will never recover his standing with the press and elite opinion, so he has less incentive to be responsive.
Besides, Price appeared at the time to be an outlier. Since then, the public has learned of loose spending by Pruitt, Interior Secretary Ryan Zinke, HUD Secretary Ben Carson, and Treasury Secretary Steven Mnuchin. Firing Price in the fall seemed to rid the Cabinet of a bad apple. Trump can't fire Pruitt without having to explain why half of his Cabinet remains employed. In Shulkin's case, there was also a damaging inspector general's report. There's no IG report about Pruitt—at least not yet.
Beyond that, Trump didn't like the jobs that Shulkin and Price were doing anyway. Price was fired in the midst of a long and ultimately futile quest to repeal Obamacare. Shulkin was a holdover from the Obama administration, and following his ouster wrote a column for the Times alleging he was fired for opposing privatizing the VA. Given the scathing IG report, that's a self-serving excuse, but it's clear that he and Trump had real disagreements about policy.
By contrast, Pruitt is one of the most dogged Cabinet members at executing the Trump agenda, and sometimes an effective one, despite numerous court setbacks. In fact, Pruitt's scandals may serve as an effective smokescreen for his work in rolling back environmental regulations and protections, many of which are not popular. (Just look at the preceding 1,500 words, which focus on the scandals to the exclusion of deregulation!)
Members of Congress, and especially Democrats, have questioned Pruitt sharply when they have the chance. But Republicans have generally not exerted maximum pressure on the White House to get rid of Pruitt, which offers Trump cover. Consider the difference between muted reaction to Pruitt and the House GOP's dogged pursuit of information about the Russia investigation from the Justice Department. In remaining passive about Pruitt, they are also helping Trump.
The president, of course, is facing his own set of scandals. As with Pruitt, there's no official documentation yet—no indictments, no report from the special counsel—and yet there's no real question about ethical lapses, either. As I have written, collusion happened. Whether Trump's actions rise to the level of obstruction of justice for criminal purposes, it is undeniable that he attempted to meddle with FBI investigations to help himself and Michael Flynn, in part because Trump has said so himself. If dogged reporting from the press topples Pruitt, or if Congress rises up in protest, it might spell trouble for Trump down the road. But if Pruitt can withstand a barrage of revelations about corrupt behavior, and Congress remains supine, it's a heartening sign for an otherwise precarious president.