How Trumpworld Is Spinning the FBI Report
The president and his allies have seized on newly revealed text messages between two agents to justify their war on federal investigators.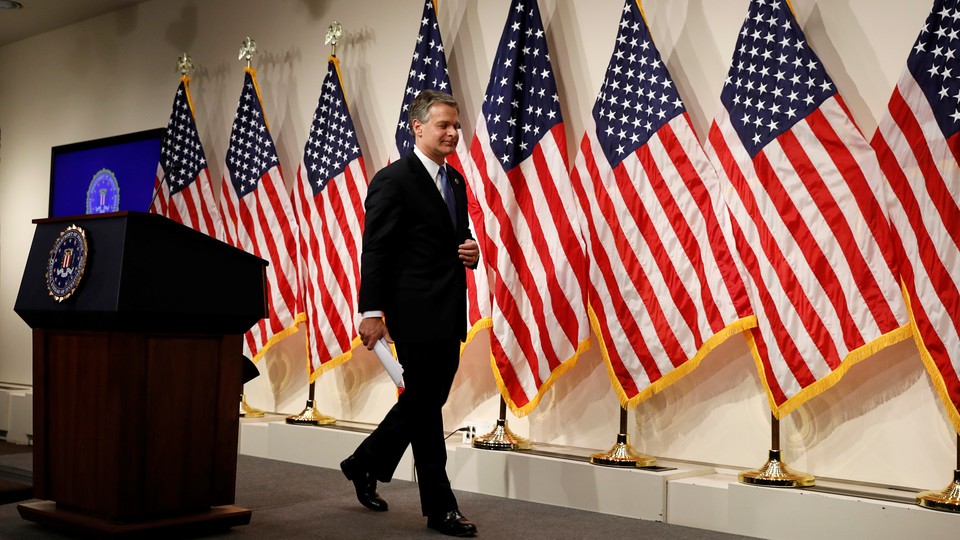 In a long-awaited report, the Justice Department's inspector general concluded that the FBI's handling of the Hillary Clinton email investigation was not influenced by political bias, and that any hostility certain officials may have felt toward then-candidate Donald Trump didn't affect their handling of that probe.
But for Trump and his allies, that may not matter: While the overarching report undercut key parts of their conspiracy theories around the email probe, they've seized on one finding to fuel unfounded suspicions of a "deep state" scheme to undermine Trump's candidacy. By focusing on this one aspect of the report, they're able to keep arguing that the FBI has had it in for Trump from the start—no matter what the IG says.
Trump allies have homed in on a text-message exchange between two FBI officials that was revealed for the first time in the report. In the messages, FBI agent Peter Strzok told former FBI lawyer Lisa Page that "we'll stop" Trump from becoming president. "[Trump's] not ever going to become president, right? Right?!" Page wrote to Strzok in August 2016, according to copies of their texts that were included in the report. "No. No he won't. We'll stop it," Strzok replied. At the time, both were working on the investigation into Russia's election interference, and Strzok would later join Special Counsel Robert Mueller's team. Both had also worked on the Clinton email probe.
Strzok told investigators that he did "not mean to suggest that he would do something to impact the investigation," and the IG itself concluded that no such impact registered. Trump and his supporters, however, have fixated upon Strzok and Page's communications ever since they were first released to select reporters by the Justice Department's Office of Public Affairs in December. The texts, which included multiple negative comments about Trump, have repeatedly been used as evidence of a plot by law-enforcement and intelligence officials to undermine—and potentially even overthrow—Trump's administration, even though Strzok was removed from Mueller's team in July and Page has left the FBI altogether.
In January, Republican Representative Matt Gaetz of Florida described their texts as evidence of a "palace coup," and Fox News host Jeanine Pirro tweeted that Strzok and Page needed "to be taken out in cuffs." Amid his attacks on the FBI as a "criminal deep state," Trump has used Page and Strzok's messages to bolster his claim that the FBI was improperly spying on his campaign, and has referred to the agents as "the incompetent & corrupt FBI lovers"—a reference to their extramarital affair.
Shortly after the report's release on Thursday, the newly revealed Strzok text began to take on a life of its own, giving Trump's allies another excuse to question the integrity of federal investigators. Trump lawyer Rudy Giuliani told Fox News's Sean Hannity on Thursday night that Strzok, who has not been charged with a crime or accused of criminal wrongdoing, "should be in jail by the end of next week." He also said that Mueller "should be suspended," and "honest people should be brought in … to investigate these people like Peter Strzok."
Trump's first comment responding to the sprawling IG report was about the Strzok text. "FBI Agent Peter Strzok, who headed the Clinton & Russia investigations, texted to his lover Lisa Page, in the IG Report, that 'we'll stop' candidate Trump from becoming President," Trump tweeted on Friday morning. "Doesn't get any lower than that!" He followed up with a tweet arguing the report was a "total disaster" for the FBI, among other parties.
Some GOP lawmakers, meanwhile, accused the DOJ of purposefully keeping the text from congressional investigators. "This Peter Strzok text about 'stopping' Donald Trump was hidden from Congressional investigators. We never had it. Absolutely unreal," Representative Mark Meadows of North Carolina tweeted on Thursday. "Why didn't Rosenstein disclose this to Congress when we asked for the texts?" Representative Ron DeSantis of Florida wrote, referring to Deputy Attorney General Rod Rosenstein. A footnote in the report says that the IG did not obtain the texts in question until last month because of a glitch in the FBI's text-message-preservation software. It was eventually recovered through a "forensic analysis of a folder found on Page's and Strzok's Samsung S5 devices" and was provided to the DOJ, a spokesman said.
While the IG report found that Strzok's politics did not affect his handling of the Clinton email probe, it did not downplay the significance of the text. The message was "not only indicative of a biased state of mind but, even more seriously, implies a willingness to take official action to impact the presidential candidate's electoral prospects," the report concluded. Still, the IG "did not find documentary or testimonial evidence" that Strzok acted on that bias, at least with regard to the Clinton email investigation. (The IG did not review the handling of the Russia investigation, which is ongoing.)
Contrary to conspiracy theories that Page and Strzok were part of a deep-state conspiracy to damage Trump's campaign using the Russia investigation, Strzok once said, according to the new texts, that he wasn't convinced there was any "there there" to the allegations that Trump's campaign colluded with Russia. "I hesitate in part because of my gut sense and concern there's no big there there," Strzok told Page in May 2017, after working on the investigation for nearly a year. He was at that point still weighing whether to join Mueller's team.
Former FBI agents who knew and worked with Strzok have acknowledged to me in the past that both officials should have been more circumspect with their comments to each other, given the highly politicized nature of both the Clinton and Russia probes. On the new "we'll stop it" text, a person familiar with Page's thinking, who spoke on the condition of anonymity in order to speak freely, said that Strzok's message was "unfortunate" and "hard to defend." But the former agents have broadly characterized the duo, and Strzok in particular, as professionals who never expressed political opinions when conducting investigations. And they emphasized that one agent does not have the power to change the course of an entire investigation, no matter what Trump's allies might continue to argue.
Even if "there was something he could actually do, he was one gear in a big machine," former FBI agent Frank Montoya Jr. told me on Thursday night. "He could make recommendations, he could advocate for different courses of action, but he was just one among many in a team that could do that. He was not the senior decision-maker." Montoya made a similar point to one that Strzok and Page made to investigators, according to the report: While the Trump investigation was kept a secret, the Clinton investigation was effectively reopened just days before the election. "If Strzok really wanted to 'stop' Trump before the election, why not leak the Russia investigation?" Montoya asked. Still, he said, "while everyone, even FBI employees, have right to an opinion, his texts were dumb. No other way to color it."