Senate Investigators May Have Found a Missing Piece in the Russia Probe
An ex-congressman allegedly has ties to the Trump campaign—as well as to powerful figures in Russia and Ukraine. Finding out what he knows is crucial, a top Democrat in the Senate says.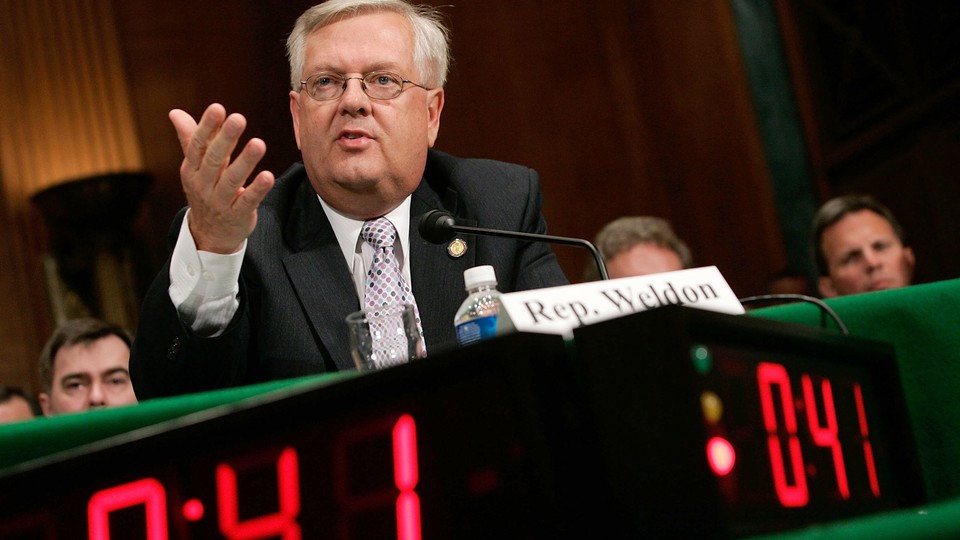 Updated June 8, 2018 at 5:28 p.m. ET
An ex-congressman has attracted scrutiny from the Senate Judiciary Committee, as it continues to investigate whether President Donald Trump's campaign conspired with Moscow to sway the 2016 presidential election.
Curt Weldon, a Republican and former Pennsylvania congressman, lost his reelection campaign more than a decade ago following an FBI probe into his ties to two Russian companies. He has "connections to both Russia and the Trump campaign" that are raising suspicions among senators, a spokeswoman for Democratic Senator Dianne Feinstein said. Feinstein is the committee's ranking member, and wants to interview Weldon, the spokeswoman said.
The reasons for the committee's interest in Weldon are murky, but his ties to Russia are significant. Members of Congress believe, for example, that Weldon may lead to answers about why the Trump administration sought to lift sanctions on Russia in the aftermath of the 2016 election despite a public statement by intelligence agencies that the Kremlin tried to help Trump win. Weldon may also have information about the role a Russian oligarch may have played in trying to influence the Trump administration—though Weldon denied this when I asked him about it.
Additionally, Weldon appears to have knowledge of a key instance in which a foreign national sought to influence the president through one of his closest advisers—a central theme of Special Counsel Robert Mueller's ongoing investigation into Russia's election interference.
At issue is the question of whether the president and his associates have sought to trade favors with foreign entities for personal gain. Mueller has been investigating, for example, whether Paul Manafort, Trump's former campaign chairman, tried to use his position to repay old debts to a Russian oligarch, and whether Ivanka Trump and her husband, Jared Kushner, have influenced Trump's foreign-policy decisions based on their business interests. Mueller is also investigating foreign-linked donors to Trump's inauguration fund.
Asked how Weldon was connected to the campaign, Feinstein's office would not elaborate, citing the sensitivity of the Judiciary Committee's ongoing investigation. Weldon declined multiple interview requests. But a letter Feinstein sent last year to Trump's longtime personal attorney, Michael Cohen, may provide a clue. In it, Feinstein asked for all of Cohen's communications "to, from, or copied to" Weldon, as well as correspondence "related to" Weldon, along with nearly two dozen other people.
Weldon's name stuck out—he had served as a member of Congress and had not been mentioned previously in relation to the Russia investigation. But his connection to Cohen may lie in a mutual acquaintance who has since testified before Mueller's grand jury: a former member of the Ukrainian Parliament named Andrii Artemenko.
---
In January 2017, shortly after Trump's inauguration, Artemenko met with Cohen at a New York City hotel to discuss bringing peace to Russia and Ukraine. Also present was Felix Sater, a friend of Cohen's and a former business partner of Trump's. All three men confirmed to me that this meeting took place. When Artemenko pitched the peace plan, which involved lifting sanctions on Russia in exchange for Russia's retreat from eastern Ukraine, Cohen said he would deliver it to then–National-Security adviser Michael Flynn, according to The New York Times. Artemenko told the newspaper that he had received encouragement for his peace plan from top aides to Russian President Vladimir Putin. Artemenko also told me that he had gotten "confirmation" that the peace plan had been left on Flynn's desk. But Cohen walked back his story after the meeting was exposed by the Times, insisting that he had thrown the plan in the garbage. (Flynn has not responded to multiple requests for comment.)
Weldon, who has known Artemenko, the Ukrainian politician, for more than a decade, was furious that The New York Times had learned about the meeting, according to a person who spoke with him at a separate gathering last March, two weeks after the story in the Times had been published. "We were so close," Weldon complained, this source recalled. Then Weldon dropped a bombshell: "He said [he and Artemenko] had already secured funding for the promotion of the plan from Viktor Vekselberg's fund in New York City."
Vekselberg, a Russian oligarch who attended Trump's inauguration, was questioned by Mueller's team late last year, according to The New York Times. The peace plan would have benefited Vekselberg: He has been doing business in the United States since at least 1990, when he co-founded the conglomerate Renova Group as a joint U.S.-Russian venture. Attempts to reach Vekselberg through his business were unsuccessful.
According to the source who allegedly spoke to Weldon in March, Weldon referenced Columbus Nova, a New York City investment management firm, as being involved in the funding of his and Artemenko's plan. After this story was initially published, Columbus Nova denied participating in anything related to a Ukranian peace plan, but acknowledged that Renova Group and Vekselberg are its biggest clients. A spokesman for Columbus Nova said the company is "dumfounded" by the idea that it was "ever approached by anybody to participate in anything related to a Ukrainian peace plan."
When a source first relayed the conversation with Weldon to me earlier this year, it had not yet been reported that Columbus Nova gave more than $500,000 to Cohen's LLC, Essential Consultants, over a seven-month period in 2017. Weldon's alleged reference to Columbus Nova, and his comment about Vekselberg's role in funding the plan's promotion, renews questions about what that $500,000 was actually for.
The New York Times has reported that Cohen and Vekselberg met 11 days before Trump's inauguration, and discussed U.S.–Russia relations. Columbus Nova acknowledged in a statement that it hired Cohen "after the inauguration" for consulting work, but insisted that Vekselberg had nothing to do with it. "Columbus Nova itself is not now, and has never been, owned by any foreign entity or person including Viktor Vekselberg or the Renova Group," the statement read. Columbus Nova did not mention in the statement that its president, Andrew Intrater, is Vekselberg's cousin. The company did acknowledge it had hired Cohen as a "business consultant."
According to the BBC, Cohen has in the past leveraged his relationship with the president to land a lucrative deal with a foreign entity. The outlet reported last month that Ukraine paid Cohen at least $400,000 to arrange a meeting between Trump and Ukrainian President Petro Poroshenko in June 2017. (Poroshenko and Cohen have both denied that money was exchanged.)
Neither Cohen nor his attorney responded to multiple requests for comment regarding the payments Cohen's company received from Columbus Nova in 2017. They also ignored repeated questions about whether the money was connected to the proposed Russia-Ukraine peace plan. Weldon told me in a LinkedIn message: "I have never met Viktor Vekselburg [sic] and am not aware of any peace plan that he would have funded." He then made a reference to his work with Ukraine's Rada, or parliament, during his time in office. "As one of the founders of the Rada/Congress Relationship during my 29 years in Congress, I spent much time on US/Ukraine relations and tried repeatedly to strengthen the US/Ukraine relationship."
Artemenko, the Ukrainian, told me that he and Weldon have known each other for more than 10 years, but tried to minimize the significance of their appearance together at an event, in February 2016, about "how Americans can promote peace and stability in Ukraine." Last year, Weldon asked his colleague Tommy Allen, the founder of Allen Tactical Security Consultants, to vet Artemenko's plan, Allen told me. "We were at a meeting in Washington, and Artemenko walked in because he was meeting with Curt," Allen said. "We tried to warn him off of Artemenko, because you never know who the oligarchs are behind these guys, and the players behind the players tend to stay pretty static." Allen said he did "not recall" Weldon ever asking anyone for money. "The individuals I know of who were providing funding were all U.S. entities."
Fast forward to another meeting in Washington, the one in March 2017, where Weldon told my source about Vekselberg's role in the peace plan. Only four or five people were in the room, and the gathering "had nothing do with politics—it only had to do with Curt [Weldon]'s businesses," this source said. Still, Weldon "couldn't help himself" when the topic of Russia came up. "He started saying, 'Putin is not that bad. The U.S. is much worse in many ways.' He was very cynical." That's when he started complaining about the peace plan's demise, this source said.
Felix Sater, who says he initiated the conversation between Artemenko and Cohen about the peace plan told me he didn't remember Vekselberg's name coming up when they gathered in New York. He also said that, as far as he knew, Columbus Nova hadn't been involved. He noted, however, that Cohen had been looking for new clients around that time. "It seems clear," Sater said, "that the company was paying for access."