House Leadership Is About to Introduce a Family-Separations Bill
On Tuesday night, they plan to offer narrow legislation to address President Trump's most controversial immigration policy.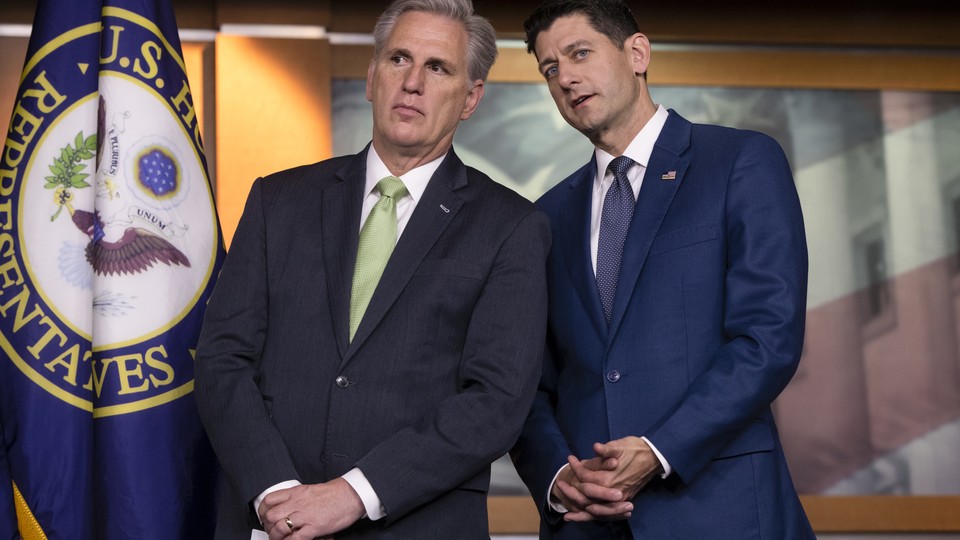 Updated at 4:58 p.m. ET
Ahead of a vote on immigration reform this week, House Republican leaders are planning to file a narrow bill on Tuesday addressing the separation of immigrant families along the U.S.-Mexico border.
According to a senior White House official and two House Republican sources with direct knowledge of the matter, leadership will introduce a standalone measure addressing the family-separation crisis this evening. It's a sign GOP leaders anticipate their so-called "compromise" immigration legislation—which also tackles family separations—will fail. As recently as Tuesday morning, top Republicans maintained the line that they wouldn't formally move ahead with a standalone bill until the fate of comprehensive reform was determined.
None of the sources, who spoke on the condition of anonymity in order to discuss internal deliberations, would elaborate on precisely what the bill will look like. A House Republican member familiar with the plan said the legislation will likely be a simple fix overturning a decree that prohibits undocumented children from being detained for longer than 20 days. Doing so would allow officials to detain families together indefinitely.
One of the sources cautioned, however, that this timeline is subject to change, given ongoing negotiations.
Asked whether the bill will be filed Tuesday night, AshLee Strong, a spokeswoman for Speaker Paul Ryan, said, "I would refer to the speaker's comments on timing and don't have anything to add at this time."
The issue of family separations, a result of the Trump administration's "zero tolerance" policy toward illegal border crossings, has engulfed the GOP in the last week. Facing widespread public dissent, the president last Wednesday signed an executive order allowing undocumented families to remain together during criminal proceedings. But because an existing court order called the Flores decree prevents children from being incarcerated, his maneuver will likely become the subject of legal challenges in the weeks ahead. The new bill House Republican leaders want would circumvent the Flores decree.
Republicans across the conference have expressed their support for a narrow provision to tackle the issue of family separations. But on Tuesday morning, Ryan declined to confirm that such a standalone bill was forthcoming, telling reporters that the leadership would "cross that bridge" should their compromise bill—which contains funding for a border wall and a special pathway to citizenship for those enrolled in the Deferred Action for Childhood Arrivals program—go down this week. "The last thing I want to do is undercut a vote on what is a great consensus bill," he added.
But leaders are nevertheless preparing for its downfall, even as they spent Tuesday scrambling to convince more conservatives to back the bill. Leadership was trying to sell them on an amendment that would require businesses to confirm the legal status of their employees through a system called E-Verify. It's a provision that many conservatives last week argued was necessary for their votes, yet did not seem to sway a significant number of lawmakers. According to a House Republican member with direct knowledge of the matter, the provision won't be included in the final product.
Centrist lawmakers suggested after a GOP conference meeting on Tuesday morning that the conservative House Freedom Caucus was to blame for the stalemate on immigration. California Representative David Valadao told reporters that the group's chairman, Mark Meadows, "doesn't have a reputation of following through" on his agreements.
A Meadows aide, however, told me there was no such agreement on conservative votes in exchange for E-Verify's inclusion. Centrist members, the aide said, "pressured [Meadows] to commit to supporting the bill if we fixed E-Verify, and he flatly told them no."
Which means that when it comes to immigration reform, Republican lawmakers are likely back to square one. The compromise bill is expected to reach the floor Wednesday, after days of delays because of low whip counts.
Republican leaders are now hopeful, at the very least, they can end the week having addressed the family-separation crisis. "Everything is still a dumpster fire," one senior House GOP aide told me. "But if we can swing that, maybe it will be a more contained dumpster fire."