Don't Blame Trump's Advisers for Trump
The tendency to look for a puppet master behind Trump's actions is misguided.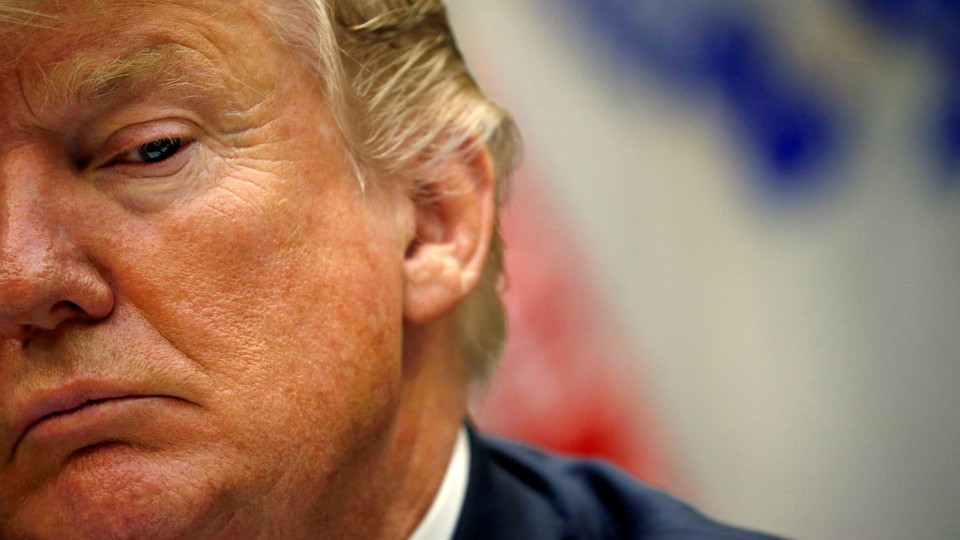 Who can influence President Trump?
Since the days of his presidential campaign, Trump-watchers have sought to explain his behavior by identifying whichever adviser influenced him on an issue. Trump's critics see the president, ill-versed on policy, as an empty vessel for other people's agendas. Liberals have focused on a rotating cast of Trump advisers as the villain of the moment, settling on whomever is deemed responsible for the latest Trump outrage.
But the reality has always been that the director of the Trump Show is Trump, and that there are some issues on which he does have real beliefs. Immigration is not the only issue on which Trump sets the terms despite advisers who might not agree. Despite National-Security Adviser John Bolton's hawkishness on North Korea, Trump pushed ahead with his summit with Kim Jong Un earlier this month and pursuit of a denuclearization agreement. Former White House adviser Gary Cohn famously left the administration over disagreements with Trump's tariffs. In the end, Trump does what he wants to do.
The family-separation crisis offers an instructive example. Trump's senior policy adviser Stephen Miller emerged as the face of the child-separation policy within the White House, even giving an on-the-record interview to The New York Times defending it. Miller has been an influential adviser and is at this point one of the longest-serving White House aides, outlasting several rounds of infighting and avoiding getting on Trump's bad side—avoiding the pitfalls into which others have fallen. But Miller's support for the policy did not prevent Trump from bowing to pressure and signing an executive order he said would end child separations after a sustained public backlash.
"Stephen Miller has power because he reflects Trump's views," said a former White House official who spoke on condition of anonymity. "Same thing with Peter Navarro," Trump's top trade adviser. But regardless of whether what Trump does in the end matches up with what his advisers want, Trump is "willing to listen," the former White House official said.
"People want to convince themselves they're to blame for Trump," the former official said of ideological advisers like Miller or Navarro, or former chief strategist Steve Bannon before them. "They want to convince themselves Trump has no views at all but it's not true." Trump, this person said, "does have firm beliefs on things like trade and immigration," but it "comes from a more emotive place than a philosophical place."
Though some close to Trump did work behind the scenes to change his mind on separations—he told House Republicans that his daughter Ivanka had appealed to him, and First Lady Melania Trump also reportedly encouraged him to end the practice—Axios's Mike Allen reported on Thursday that it was TV that was the "tipping point," quoting a "person who knows Trump's mind" who said Trump saw the nonstop outrage over the policy while watching cable news and "decided, mostly on his own rather than at the urging of advisers, that some action was required to change the narrative." Trump and others in the administration had insisted that only Congress could solve the issue through legislation, despite the separations resulting from the administration's "zero tolerance" policy that requires all people crossing the border illegally to be prosecuted.
"I didn't like the sight or the feeling of families being separated," Trump remarked before signing the executive order on Wednesday.
But if the order was supposed to stop the onslaught of criticism, it hasn't worked in that regard. The order is likely to face a court challenge since it would effectively allow whole families to be detained indefinitely—which goes against a  1997 court order known as the Flores settlement, which mandates that children cannot be detained longer than 20 days. Democrats have said Trump is solving one problem only to create another, and have pointed out that the order doesn't deal with the more than 2,000 children who have already been separated from their parents. "He's still getting the shit kicked out of him on TV," Trump's former adviser Sam Nunberg said.
And Trump is also charting his own course on his Twitter feed, where he can sway the outcome of events without consulting anyone beforehand. House Republican leaders delayed a vote on an immigration bill that would give a pathway to citizenship for the so-called "Dreamers," or undocumented immigrants who were brought to the U.S. as children, while also funding Trump's border wall, after a more conservative bill failed to pass. The move to delay the vote came after Trump, who backs the legislation, undermined it in a tweet on Thursday morning. "What is the purpose of the House doing good immigration bills when you need 9 votes by Democrats in the Senate, and the Dems are only looking to Obstruct (which they feel is good for them in the Mid-Terms). Republicans must get rid of the stupid Filibuster Rule-it is killing you!" Trump tweeted.
"I think the president is a little all over the place when it comes to the legislative process," Nunberg said. "And partly that's the failure of his White House staff.  They tell him one thing and then it's another thing."
If the White House sometimes seems at odds with itself, well, that's partly the president's doing too, the former White House official said. "He loves watching people fight."