'Cult' or Not, Trump's Grasp on the Republican Party Is Stronger Than Ever
An action-packed week in domestic and global politics shows how the president has remade the GOP.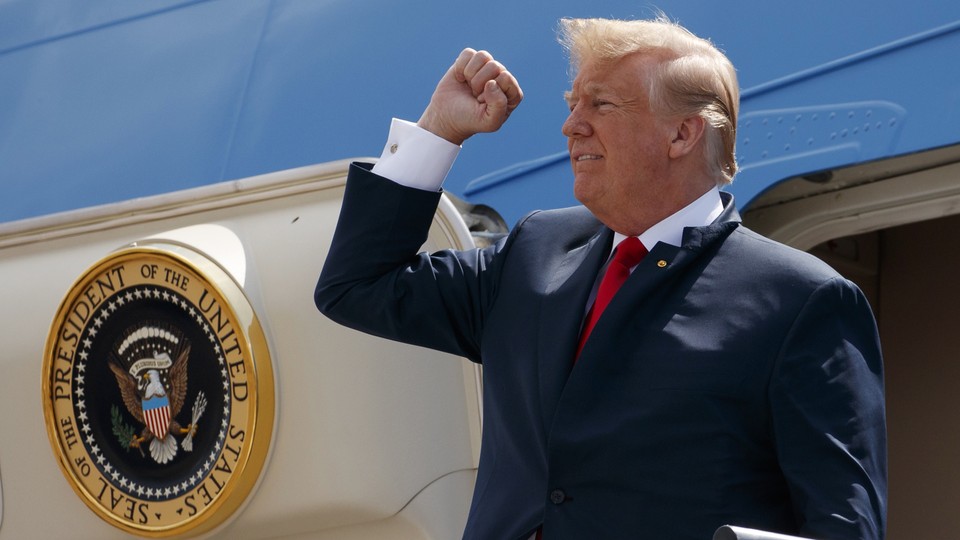 The last week has been one of the most consequential in the Trump presidency. From foreign affairs to the economy, domestic policy to law enforcement, the volume of important developments has been even higher than the standard, already overwhelming flow of news during this administration.
That includes the fractious G7 meeting in Canada; President Trump's summit in Singapore with Kim Jong Un; increasing attention to the separation of families at the southern border; consequential primary-election results in Virginia and South Carolina; the release of a Justice Department Inspector General's report into the Hillary Clinton email investigation; and, finally, the jailing on Friday of onetime Trump campaign chairman Paul Manafort in Special Counsel Robert Mueller's probe.
What unites these moments is that nearly every case shows fresh evidence of how Donald Trump has consolidated his grasp on the Republican Party. While not every Republican official or voter agrees with him on all or every case, these events show how dissenters are marginalized and Trump's vision reigns supreme.
Take each of these episodes in order, beginning with the G7 and North Korea. The GOP spent the Barack Obama years protesting that the president was busy turning his back on America's allies—remember the fracas when Obama dared to even relocate a bust of Winston Churchill?—and naively conferring with America's nemeses, especially Iran. Obama was assailed as a traitor at worst and a bumbling fool at best for bowing to foreign dignitaries (and even a robot).
Some of these critiques are more valid than others, but regardless, nearly all of them apply to Trump this week. At the G7, he deepened a rift with top U.S. allies by refusing to budge on tariffs he's levied on them. As he left the summit, he opted not to sign a joint communique because he was offended that Canadian Prime Minister Justin Trudeau said he would stand up for his country. Trump then flew to Singapore, where he held a one-on-one summit with Kim with no serious preconditions, and beamed as they shook hands. To see how Republicans' tack has shifted, look no further than this old tweet from Trump's current director of strategic communications, Mercedes Schlapp, mocking the idea that Obama might shake hands with Kim:
#Cuba #obama shakes hand with dictator Raul Castro.  next shakes hands with NK dictator Kim Un Jung?

— Mercedes Schlapp (@mercedesschlapp) March 21, 2016
Trump also saluted a North Korean officer and has repeatedly shrugged at North Korea's long record of human-rights abuses.
There are valid reasons for meeting with Kim this way, despite the propaganda boost that Kim receives from it, as my colleague Peter Beinart has written. Yet in the course of the summit, Trump made a major concession—pulling back on joint military exercises with South Korea—while receiving almost nothing in return, beyond a vague promise from Kim to denuclearize, coming with no timetable and no process for verification. When Secretary of State Mike Pompeo was pressed on these matters, he called the questions "insulting and ridiculous and frankly ludicrous."
Trump's decisions, from tariffs to U.S. allies to North Korea, are not only a wholesale reversal of GOP foreign policy since the Eisenhower era, but they also align closely with the prevailing Republican critique of Obama. The anti-Trump conservative pundit Erick Erickson wrote this week:
The whole design of this is offensive. The President pees in the punch bowl of the G7, insists the Russians come back into the organization, then flies off to Singapore to make kissy face with a man who routinely murders his own people. Had Barack Obama done that, Republicans would be demanding his impeachment.
Erickson is right. For the most part, however, Republicans have remained circumspect about Trump, praising the summit as a contribution to world peace, averting their eyes from Trump's kowtowing to Kim, and muting their criticism of the G7 blowup and the protectionism that caused it. One rare exception is Bob Corker of Tennessee, the retiring U.S. senator who veers between harsh critiques and high praise of Trump. At the moment, he's in a critique cycle, and suggested an amendment that would allow Congress to override Trump's tariffs. In doing so, he earned an angry outburst from Senator Lindsey Graham, who also runs hot and cold on Trump.
On the domestic-policy front, there's also been little serious pushback from congressional Republicans on the Trump administration's policy of separating children from their parents at the Mexican border. Instead, they have for the most part adopted the White House's easily disproved claim that the policy, imposed by Attorney General Jeff Sessions in May, is somehow the result of laws passed by Democrats.
There's good reason for all this acquiescence. The greatest danger to congressional Republicans of challenging Trump is not a tongue-lashing from Lindsey Graham—it's incurring the wrath of the president himself. Primary results in Virginia and South Carolina show just how powerfully the president has remade his party at the electoral level.
In South Carolina, Trump offered a late endorsement to Kate Arrington, who challenged Representative Mark Sanford in a GOP primary. Arrington won. Sanford is, by any coherent definition of the term, far more conservative than Trump, but he dared to criticize the president, and in doing so angered the Republican base in a state that has repeatedly elected him, even after his extramarital affair in 2009 when he served as South Carolina's governor. In Virginia, GOP voters nominated for Senate Corey Stewart, who has called himself "Trump before Trump"; supports neo-Confederates; and has praised the open anti-Semite Paul Nehlen, who's running for Congress in Wisconsin. (He later said he was unaware of Nehlen's most inflammatory remarks.)
In an unusual disconnect, Trump remains largely unpopular with the country as a whole, but extremely popular with the Republican base. That means primary voters nominate candidates like Stewart, even though they will struggle to win a general election. Some parts of the Republican Party continue to resist: Senator Cory Gardner, who heads the GOP's Senate-election team, the National Republican Senatorial Committee, says his group will neither endorse nor spend to support Stewart.
Individual candidates, however, will get the message: Allegiance to Trump seems to matter above all else, and criticizing Trump seems a sure way to lose primaries. They are probably right to reach that conclusion. One lesson from Democrats in the 2014 and especially 2010 midterm elections is that congressional candidates cannot successfully win by trying to run away from a president of their own party. Running away from Trump will likely be equally futile, so why bother?
On Thursday, the Justice Department's Inspector General released a long-awaited report into the investigation of Clinton's private email server and account. Here, too, the wholesale adoption of White House talking points shows the GOP's thrall to Trump. The report was scathing about FBI Director James Comey's approach, but as I explained, the watchdog both rejected accusations of political bias at the Justice Department and debunked Trump's major talking points about Comey. As my colleague Natasha Bertrand reports, Trump's allies have ignored the balance of the report and have chosen to focus instead on a surprising text-message exchange between two FBI agents as evidence of bias.
The president's lawyer Rudy Giuliani managed to somehow even argue that the IG report, which does not concern Mueller's probe, meant that Mueller should be suspended immediately. Giuliani is prone to wild comments and hyperbole, but what's remarkable is how many elected Republicans are on a similar page. Politico reported this week that even Mueller-friendly Republicans are growing impatient with his probe, and in an interview with the Washington Examiner published on Friday, Senate Majority Leader Mitch McConnell said, "What I think about the Mueller investigation is, they ought to wrap it up. It's gone on seemingly forever and I don't know how much more they think they can find out."
By the standards of special-counsel investigations, Mueller's probe is not especially protracted; moreover, it has been highly productive, already securing five guilty pleas and multiple additional indictments. As if to debunk McConnell's point that there's nothing more to learn, Mueller on Friday convinced a federal judge to jail Manafort for tampering with witnesses in the case.
The facts aren't really what's at dispute over Mueller, though. The turn on Mueller, along with the support for Trump's broader agenda, is really about Republicans closing ranks as the president solidifies his hold on the GOP. Earlier this week, Corker accused his party of becoming "cult-like" about the president. In an interview with Fox News, Donald Trump Jr. replied, "If it's a cult, it's because they like what my father is doing." That's one way to put it.