Trumpism's Win May Be the GOP's Loss in Virginia
On Tuesday, Corey Stewart won Virginia's Republican Senate nomination on a Trumpist platform—but he still has a long road ahead as he faces incumbent Democrat Tim Kaine.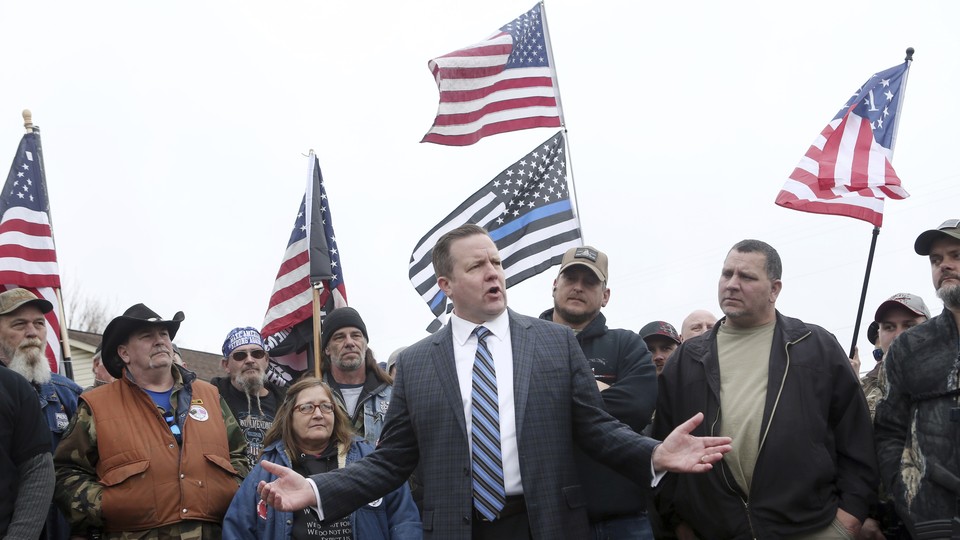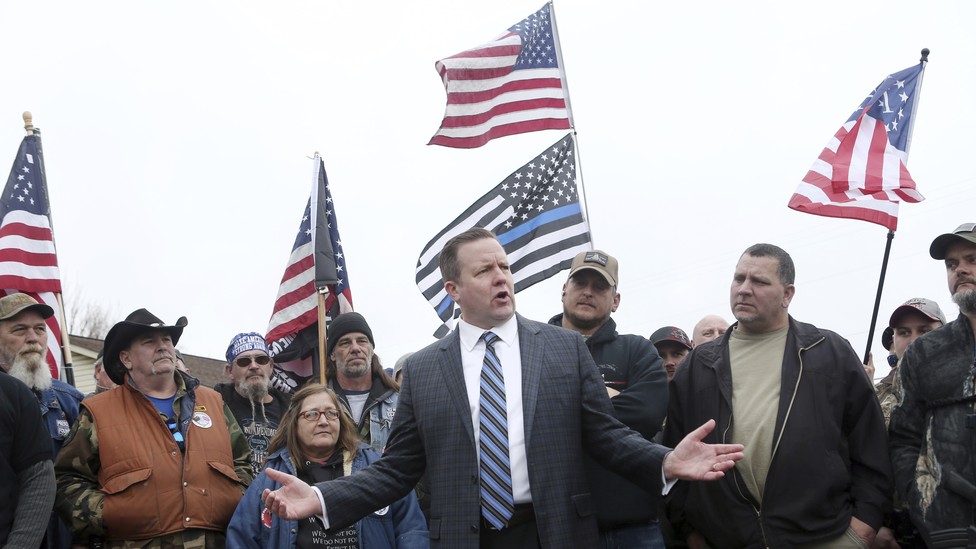 WOODBRIDGE, Va.—It was half past 9 p.m. on Tuesday when Corey Stewart took to the stage at the Electric Palm, a tiki-themed restaurant right off of I-95. Politico had just named him the winner in the state's Republican Senate primary, and it was clear that his victory speech—which focused on the stark contrasts between himself and his opponent, incumbent Democratic Senator Tim Kaine—was building to something big.
"And finally, finally, folks," he said, quieting the crowd with anticipation, "Virginians can choose to continue to elect criminal, illegal aliens like MS-13—and by the way, they are animals—or, we can arrest them, deport them back to the countries where they came from, and build the wall!"
On cue, the crowd—made up mostly of Stewart's supporters, and a handful of far-right activists—burst into "build the wall" chants that drowned out the Fox News blaring from the bar's flat-screen TVs. Stewart, the Prince William County Board of Supervisors chairman who once called himself "Trump before Trump was Trump," had won over Virginia's Republicans. In electing him, they seemed to be affirming they loved President Trump as much as ever.
Early Wednesday morning, the president himself highlighted Stewart's win on Twitter: "Congratulations to Corey Stewart for his great victory for Senator from Virginia," wrote Trump, who just returned from his historic summit in Singapore. "Now he runs against a total stiff, Tim Kaine, who is weak on crime and borders, and wants to raise your taxes through the roof. Don't underestimate Corey, a major chance of winning!"
The relationship between the two men goes back several years. In 2016, Stewart was state co-chairman for Trump's presidential campaign before he was fired for participating in a protest in front of Republican National Committee headquarters weeks before the election. Stewart told me that he attributed his win to "my strong support for President Trump."
Stewart wasn't the only pro-Trump winner on Tuesday night. In South Carolina, state Representative Katie Arrington, who repeatedly attacked her opponent Representative Mark Sanford for his criticisms of the president, won the state's Republican House primary.
In Virginia, it had been Stewart's Trumpian rhetoric that set him apart from the two other candidates, state Delegate Nick Freitas, and E.W. Jackson, a minister known for his conservative and controversial views. When Stewart ran against Ed Gillespie in the bid for the Republican gubernatorial nomination in 2016 and nearly won, he had campaigned mostly on protecting Confederate monuments; in this year's race for Senate, he made illegal immigration his main talking point. In a speech at the election-night event, Virginia Women for Trump founder Alice Butler-Short gave three reasons for supporting him: First, he was committed to deporting "illegal alien criminals"; second, he was against sanctuary cities; and third, he had been with the president from Day 1.
Hours before victory, Stewart's supporters were feeling cautiously optimistic. While Stewart had shown a lead in the polls, a low turnout and a close vote count between him and his main challenger, Freitas, were putting everyone in a subdued mood. The tiki bar's hatched roof drooped above volunteers; a woman wearing a Corey Stewart sticker half-heartedly sipped a piña colada. Even Jack Posobiec, an alt-right media personality known for propagating conspiracy theories, was unsure of how the night would turn out. "Obviously Corey has a huge name advantage from running last year and being part of the Trump campaign," he told me early on in the night, "but Freitas has been extremely aggressive. It wouldn't surprise me if it's a really close race."
And it was a close race: Stewart won by only about 5,000 votes. In the weeks leading up to election night, Freitas, a House delegate, had garnered high-profile endorsements from Senators Mike Lee and Rand Paul, as well as from the National Rifle Association; he became the establishment pick after his campaign released a January 2017 video in which Stewart praised Paul Nehlen, a self-described "pro-white" candidate, as his "personal hero." Stewart has since said that he has cut ties with Nehlen, and no longer considers him a hero.
Robert Miller, a government consultant from Falls Church, told me that he'd been planning to vote for Freitas up until two weeks ago—when he had attended a rally where Freitas twice "wouldn't answer" if he was a Trump supporter. When I asked which policy issues he cared about most, Miller said: "Two words: illegal immigration."
In fact, of the several Stewart supporters that I talked to, every single one mentioned Stewart's approach to illegal immigration as important to their decision. Phillip Joy, a Prince William County resident who works in sales and volunteers for Stewart's campaign, thinks that Virginia picked Stewart because he is "way ahead of the curve when it comes to dealing with criminal, illegal aliens."
Stewart has continued to get pushback for his ties to white-nationalist groups, including appearing with Jason Kessler, the organizer of the "Unite the Right" rally in Charlottesville that ended in a counter-protester being killed last August.* (He has since disavowed Kessler.) His supporters, however, dismissed what they thought was a misrepresentation of the so-called alt-right by the media. Bryanna Altman, a member of Virginia Women for Trump who organized the election-night party and whose phone background is a selfie of her and right-wing provocateur Milo Yiannopoulos, told me that she "doesn't know what 'alt-right' even means." "We get together, we have different events like these MAGA meet-ups, and we are really just looking to make sure that the standard with which we were all raised is really maintained here in the United States," she said.
On Tuesday night, at the same time Stewart and his supporters were celebrating under the glow of multicolored string lights, former Virginia Lieutenant Governor Bill Bolling tweeted: "I am extremely disappointed that a candidate like Corey Stewart could win the Republican nomination for U.S. Senate. This is clearly not the Republican Party I once knew, loved and proudly served."
The results of Tuesday's primary are further evidence that Virginia's Republican Party is in the throes of change. Larry J. Sabato, the founder and director of the University of Virginia Center for Politics, said that Stewart's successful campaign makes sense because many of the loudest voices in the state's Republican Party are "avid" Trump supporters. "As Virginia has turned blue, the state Republican Party has turned scarlet red," he wrote in an email Tuesday night.
Stewart's win in Virginia, coupled with Sanford's loss in South Carolina, is yet another signal that the Republican Party ahead of the November elections is still Trump's—or, at the very least, that Trump-type rhetoric is still resonating.  "This is just the beginning," Miller, the consultant from Falls Church, leaned over to tell me, as the rest of the crowd around us swayed and sang along to Lynyrd Skynyrd's "Sweet Home Alabama."
But for Stewart, his victory is just that—the beginning of what will be a tough general election. Polls before the primary showed Kaine comfortably ahead of any of his Republican opponents. Posobiec hesitated to predict that candidates like Stewart would sweep the states come November. "I don't believe in the 'blue wave' conspiracy theory," he told me, "but I don't think there's going to be a 'red wave' either."
---
* This article originally misstated the name of the rally. We regret the error.