Republicans Are Lost on Immigration
Mixed directives from Trump have left Republicans yet another obstacle in their path to immigration reform.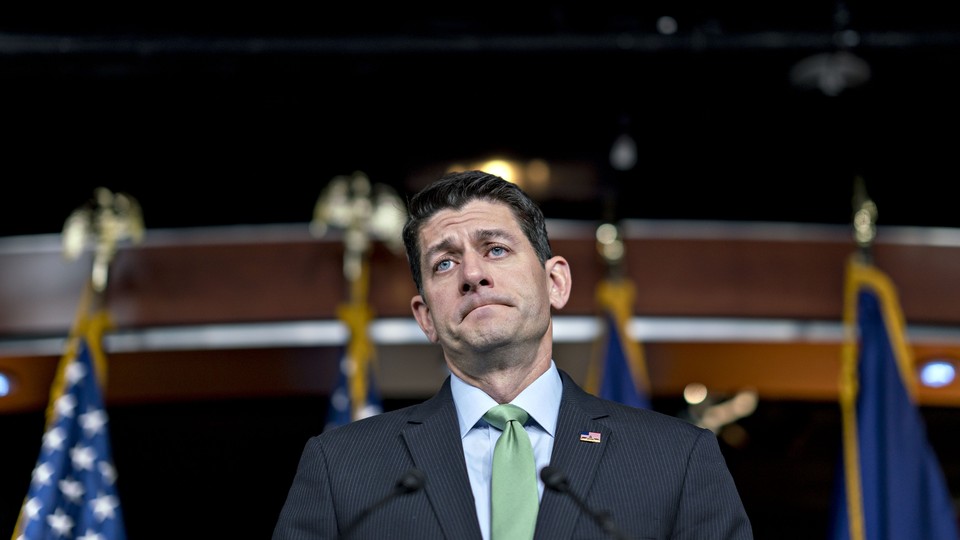 Updated on June 20 at 5:34 p.m.
To be a House Republican leader in 2018 is to accept that every directive from President Donald Trump comes with an unspoken disclaimer: subject to change without notice.
On Tuesday evening, lawmakers spilled out of a closed-door meeting in which the president maintained that they—and they alone—were responsible for solving the issue of family separations at the border, a result of the administration's "zero tolerance" policy toward illegal border crossings. By late Wednesday afternoon, Trump had signed an executive order addressing the crisis on his own.
In that 24-hour window, House GOP leadership scrambled to fine tune a provision in their immigration reform bill that would keep undocumented families together during criminal proceedings. They dodged questions from reporters anxious to know whether a contingency plan was in place, should their so-called "compromise" bill fail. They then suggested there would be no need for one, with Speaker Paul Ryan using much of his Wednesday press conference to sell the legislation as a definitive fix.
Then Trump changed his mind.
Around 3:30 p.m. on Wednesday, Trump signed an executive order titled, "Affording Congress an Opportunity to Address Family Separation" (the text initially spelled as "seperation"). The EO affirms that the administration's zero tolerance policy toward illegal immigration will continue, but that officials will seek changes to the Flores decree—a court order which prevents migrant children from being incarcerated—to allow families to be detained together instead. Trump signed his executive order on the heels of not only his insistence that lawmakers themselves solve the problem, but also remarks from top officials such as Department of Homeland Security Secretary Kristjen Nielsen, who claimed alternately that there was no separation policy, and that the administration's hands were tied.
So on the eve of votes on two pieces of comprehensive immigration legislation, Republican lawmakers find themselves back where they started. On Thursday, they'll vote on leadership's compromise plan, as well as a more conservative bill authored by Judiciary Chairman Bob Goodlatte. The votes were scheduled in large part because of agitation on the part of moderate Republicans, who have been frustrated by their leadership's inaction on the fate of so-called "Dreamers"—undocumented immigrants in the U.S. under the Obama-era Deferred Action for Childhood Arrivals program (DACA). Yet both bills are likely to fail: many conservatives remain steadfastly opposed to a special pathway to citizenship for Dreamers, something that has stymied the conference from progress on immigration for months now, and is unlikely to change by tomorrow.
Trump's visit to Capitol Hill was intended to help assuage such lawmakers. By expressing his support for their bill in person, House leaders hoped, the president could give conservatives the political cover they needed to pledge their support. But Trump hardly discussed immigration during the conference.
As I reported last night, Trump jumped from topic to topic, rhapsodizing about his favorite touchstones of the year, from tax reform to the North Korea summit. It was hardly the granular, policy-minded discussion—the kind that can actually sway votes—that leadership had idealized. Indeed, I didn't talk to a single member who had gone in on the fence and come out having changed their mind. Nevertheless, Ryan and others scored it as a win, if only for the fact that Trump had not lit the bill on fire.
The meeting did, however, force leaders to home in on the issue of family separations. And that was fine: Ryan has expressed both publicly and privately a desire to mitigate the crisis. But it meant that leaders found themselves using their whip time focusing, in part, on an issue that the president would ultimately resolve himself. Which is to say that what sparked these votes in the first place—the fate of Dreamers—continues to hang in the balance. Republicans are no closer to resolving an issue that has bitterly divided their conference since the start of Trump's presidency. Trump's visit, meant to address that fact, instead sent Republicans on a goose-chase for a solution to a problem that, just one day later, would no longer exist.
Thus Republicans will trudge onto the House floor tomorrow and watch two bills—their only serious attempts at immigration reform this year—crash and burn. It will be an embarrassment for Ryan, who once pledged that no bill, on his watch, would reach the floor and fail. And it will be an embarrassment for Trump, who trekked to the Hill for a rare full-conference meeting, for bills that were longshots from the start, and would likely go on to gather dust in the Senate anyway even had they passed the House.
Responsibility for this probable outcome rests with congressional leaders and President Trump alike. The former will likely shoulder it, and the latter will deny it.