'This Is Not a Reform. It Is Terrible.'
Democratic and Republican leaders hate California's jungle primary, which after Tuesday's vote could shut them out of key races. But that's partly the point.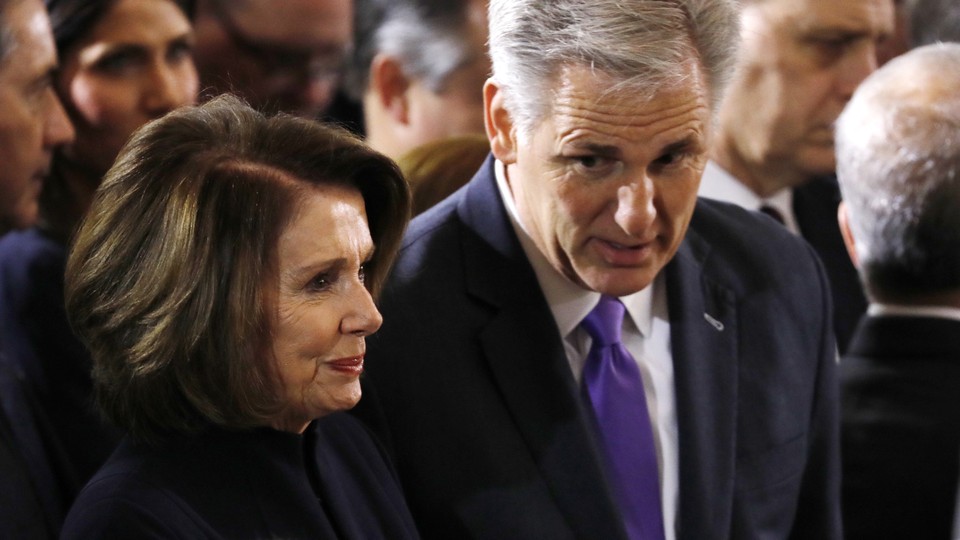 There isn't much that unites Nancy Pelosi and Kevin McCarthy these days, but the two most powerful Californians in American politics agree wholeheartedly on this: They both despise their state's "top two" primary, a system adopted by voters in 2010 that dispenses with party labels and has wreaked havoc for Democrats and Republicans alike.
"This is not a reform. It is terrible," Pelosi, the House minority leader and former Democratic speaker, told reporters last month. She complained that the system costs too much money and shuts out smaller parties in the name of opening up the primary process to a broader population of voters.
"I hate the top-two," McCarthy, the House majority leader and a potential successor to GOP Speaker Paul Ryan, told The New York Times last week.
Both Pelosi and McCarthy have good reason to complain. In the top-two system, which is sometimes called a jungle primary, the two candidates who receive the most votes advance to the November general election, regardless of their party affiliation. And because of those rules, both Democrats and Republicans are at serious risk of being shut out of key races this fall after California voters winnow the field in Tuesday's primary.
National Democrats, however, have much more to lose. Party leaders are scrambling to ensure that at least one of their candidates makes it onto the ballot in a handful of competitive House races in and around Orange County in Southern California. They fear that the top-two nominating system could turn one of the party's 2018 strengths—a burst of anti-Trump grassroots enthusiasm—into a liability: In a trio of GOP-held districts that Hillary Clinton carried in 2016, several viable Democrats are running, raising the possibility of a splintered vote that could allow two Republicans to narrowly capture the general-election slots. With control of the House at stake in November, having only Republicans advance in these districts could jeopardize the Democrats' chances to retake the majority.
The chief GOP challenge, meanwhile, is on the statewide level, where Republicans could fail to advance a general-election candidate in the race for governor, U.S. Senate—or both. The absence of a Republican at the top of the ticket could depress turnout this fall, damaging the party's chances in close contests for Congress, the state legislature, and other down-ballot offices.
Anger at next week's results could spur a push to repeal the top-two system, but supporters of the jungle primary aren't worried about the criticism from party leaders. In fact, they welcome it: A main goal of the change was to reduce the power of the major parties and the insiders that run them. And if nothing else, the complaints from bigwigs like Pelosi and McCarthy are evidence that California's jungle primary has accomplished at least that.
"One of the most positive features of the California system is that both political parties hate it," said John Opdycke, the president of the national advocacy group Open Primaries. "Honestly, I'm not just saying that to be flip. That is an accurate measure of its value as a political reform."
With a push from then-Governor Arnold Schwarzenegger, California voters enacted the top-two, nonpartisan primary system in a statewide referendum in 2010. Proponents sold it as a way to combat gerrymandering and elevate more moderate, centrist candidates over those forced to appeal to the extremes in closed party primaries. In heavily Democratic or Republican districts, general elections were often one-sided contests, and unaffiliated voters were often left out because they couldn't vote in the party primaries that effectively determined who would hold the seats. By opening up the primaries and taking them out of the parties' hands, supporters argued, there would be two competitive elections instead of one, encouraging higher voter turnout in both.
"More and more people are saying, 'I want to vote, I want to participate, but I don't want to be a part of a party to do that,'" Opdycke told me. "And this system responds to that societal change in a way that's very significant and very positive."
Opdycke's group has tried to expand the top-two primary to other states, and while Pelosi is not a fan, the innovation won an endorsement from her counterpart in the Senate, Minority Leader Chuck Schumer. "We need a national movement to adopt the 'top-two' primary (also known as an open primary), in which all voters, regardless of party registration, can vote and the top two vote-getters, regardless of party, then enter a runoff," the New York Democrat wrote in 2014, citing California as a success story. "While there are no guarantees, it seems likely that a top-two primary system would encourage more participation in primaries and undo tendencies toward default extremism." (A spokesman for Schumer did not respond when I asked via email if the senator still supports the system.)
In a recent poll by the Los Angeles Times and the University of Southern California, state voters favored the top-two system over either a return to closed primaries or a modified open primary run by the parties. Opdycke and other top-two backers argue that a large boost in voters' approval of the California state legislature is a direct result of lawmakers' increased productivity, which they say is rooted in the top-two system and a separate gerrymandering reform. "Party leaders might not approve of the system, but the voters do," said Randy Wilson, the coordinator of Independent Voice, a California organization that advocated for the top-two system.
Critics of the top-two primary say it has not delivered on its proponents' promises—not the increase in voter turnout nor the election of more moderate candidates. And they argue the one-party general elections that the system allows are fundamentally unfair and just as disenfranchising to voters as a closed primary.
"It doesn't reflect representative government," said Tom Palzer, a California Republican activist who has tried without success to repeal the top-two system. "I mean, 34 candidates ran for the U.S. Senate in 2016. The top two candidates were members of the same party. That's wrong. The top vote-getter in each party should move on to the general election. That's representative government." Two years ago, Democrats Kamala Harris and Loretta Sanchez emerged from the top-two Senate primary before Harris won that fall.
Palzer, who is making a long-shot Senate bid of his own this year, could not enlist Democrats to join a petition drive that would have placed repeal of the top-two system on the ballot this year. But the state Democratic Party is planning its own repeal push for 2020, the party chairman, Eric Bauman, told me in a phone interview. And that effort could gain steam if Democrats are shut out in key races on Tuesday and fall short of the House majority as a result.
The system has already made Bauman's job fairly miserable—he's spent the last several weeks trying to tamp down intraparty warfare and pleading with candidates to drop out of congressional races for the sake of the party. "I think it sucks," Bauman said of the top-two primary.
The state Democratic Party and the national Democratic Congressional Campaign Committee have spent tens of millions of dollars on Tuesday's primaries alone. Their biggest top-two challenges are in the SoCal seats held by Republican Representatives Dana Rohrabacher, Darrell Issa, and Ed Royce. Issa and Royce are retiring, while Rohrabacher is considered one of the most vulnerable GOP incumbents in the country—if Democrats can get a candidate to the final round of voting. Rohrabacher is known as perhaps the most Russia-friendly member of Congress. His ties to the Kremlin have come under new scrutiny since the 2016 election, including a report that in 2012 the FBI warned Rohrabacher that Vladimir Putin's government was trying to recruit him as an intelligence source. Complicating matters in the Rohrabacher race is the fact that the DCCC and the state party are backing rival candidates.
Bauman told me he had persuaded "six or seven" Democratic candidates to drop out of the congressional races, even though a few of their names will still appear on Tuesday's ballot. Democrats are targeting as many as nine GOP-held House seats in California, and Bauman told me the suggestion that Democrats would get shut out of many of them was "overhyped and overblown."
Yet he said he's bracing for at least a couple of disappointments. When I asked him if he was confident Democrats would advance candidates in all of the key races next week, Bauman quickly replied: "Absolutely not. I am not confident."
"I am confident," he said, "that if we do our job right, we won't get shut out of many of them. Surely we will get cut out of at least a couple of them, I would imagine."
In the statewide races, the top-two system has led to some unusual tactics. Gavin Newsom, the Democratic lieutenant governor who is the frontrunner in the governor's race, has rankled some in his party by trying to elevate a Republican opponent, John Cox, over former Los Angeles Mayor Antonio Villaraigosa. Newsom has argued that a general election between him and Villaraigosa would be unnecessarily divisive for Democrats, but officials like Bauman believe keeping a Republican off the top of the ticket would help in down-ballot races, because it would depress turnout among rank-and-file GOP voters.
The L.A. Times/USC poll found that just 10 percent of California voters want a closed primary system, in which only registered Democrats or Republicans could vote in primaries for their respective parties.* Both Bauman and Palzer said they would support open primaries as long as each party could nominate their own candidates for the general election. "That certainly opens it up to those who don't choose to affiliate," Bauman said. "I could see going that route."
Advocates of ranked-choice voting, which is used in municipal elections in San Francisco and Oakland, are also trying to take advantage of dissatisfaction with the current statewide system. They want to incorporate ranked preferences into the top-two primary. They say that would allow people to vote strategically in a way that would reduce the chances of a major party being shut out. Another proposal is to expand top-two to top-four, so that voters could narrow a large field of candidates in a primary while still having more choices in the general election.
Yet the current system does have some support among elected Democrats, who believe the party is being short-sighted and should embrace a system that forces their candidates to appeal to Independent voters. They are the fastest-growing portion of the electorate, and according to new registration figures released this week, unaffiliated voters now outnumber Republicans in California.
"I believe the future of the progressive movement has got to be a coalition between Democrats and Independents," said Representative Ro Khanna, a Democrat who in 2016 ousted an incumbent Democrat, Representative Mike Honda, after both advanced to the general election. "We want to have them in the fold of the progressive movement. The biggest mistake we could make in the Democratic Party is to be closed to that large, growing segment of [unaffiliated] voters."
Khanna said he would not have won if the primary had been open only to registered Democrats. "This is a matter of principle, of giving voters greater choice in an election, and if it has unfortunate tactical consequences, that means that the Democrats need to compete in even more districts and we need to overcome the one or two seats where we're at a disadvantage," Khanna said of the top-two system. "But it doesn't mean that because of a tactical disadvantage in one election cycle we abandon our principles."
The top-two system may face additional threats depending on the results for each party on Tuesday. But at a political moment when voters are still recoiling from insiders, supporters of the format are fine if the insiders themselves stay opposed. "If the establishment is completely okay with political reform," Opdycke told me, "you have to wonder if it's really shaking things up."
---
* This article originally misstated that prior to enactment of California's top-two system, only registered members of a party could vote in that party's primary. We regret the error.