Who Does the Democratic Party Stand For?
The primary race between two Democratic candidates for governor in Georgia exposes the larger questions facing the party.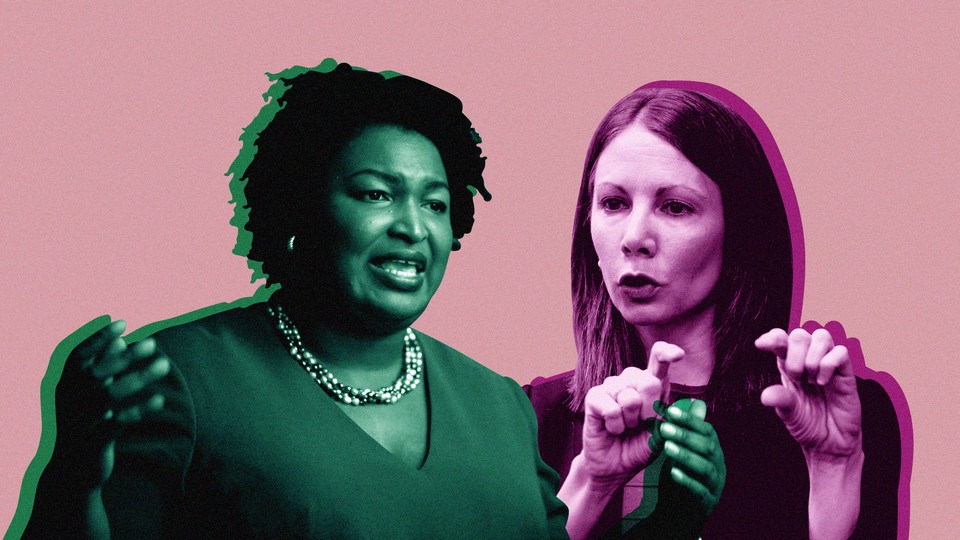 There are two Staceys angling to become Georgia's first woman governor.
One Stacey—Stacey Abrams—is black. She's the former minority leader of the state House of Representatives. The other, Stacey Evans, is white. She founded her own law firm and has represented the state's 42nd district since 2011. Both Democrats have years of experience in the state House, and each has pledged to advance an ambitious, progressive agenda for Georgia. But their approaches have been markedly different. Abrams has structured her campaign around minority empowerment and outreach through a targeted, grassroots-style campaign. Evans, meanwhile, with a promise to Bring Hope Back to Georgia, has sold herself as the candidate who can court independents and swing voters, a self-proclaimed "champion for common sense."
The race for the Democratic nomination will culminate on Tuesday, when Georgians head to the polls for the state primary. But in the meantime, it has been an illuminating vignette, exposing the larger questions facing the Democrats ahead of the midterms—distinct from the tensions between the Bernie and Hillary wings of the party, and different, even, from the question of who can more fairly identify as progressive. Should Democrats focus more on capturing white working-class voters who feel let down by Trump? Or should they mobilize black voters and rally the base?
A local Democratic strategist summed up the state of things this way: "The Democratic Party …" He took a long pause before letting out a dispirited sigh. "If you ask people what the Democratic Party stands for, they can't tell you," he said. "As soon as you get beyond anti-Trump, nobody seems to know." The choice in Georgia is between two different playbooks: an ambitious-but-risky plan of action, versus a careful, more traditional one. More broadly, the Georgia race illustrates the challenges facing the Democrats not just in November, but also in 2020. This primary could help define the party and give it an identity it desperately needs.
Georgia hasn't had a Democratic governor since 2003, and it's never had a female or African American one. In the 2016 election, Trump won the Peach State by five points, a smaller margin than Mitt Romney's in 2012, but still a relatively comfortable one. It'll be difficult for a Democrat to win here, but in the age of Trump, when the left is more motivated than ever before—and neighboring Alabama has a Democratic senator for the first time in a quarter century—the party thinks it has a real shot at replacing retiring Republican Governor Nathan Deal with one of their own. But which candidate, Abrams or Evans, is best positioned to beat one of the five white, male Republican candidates in a statewide race?
Abrams (who also moonlights as a romance novelist) currently has a significant lead in the polls, although roughly one-third of voters are still undecided. "Our goal," a spokesperson for the campaign told me, "is to reach out to a multiracial, multiethnic coalition of urban, suburban and rural voters." It's similar to the coalition of voters former President Obama used to win in 2008—but not quite. "It's people of color with enough whites to be able to win, but it's decidedly more progressive than what Obama put together," said Andra Gillespie, an associate politics professor at Emory University. "[Obama] tried to de-emphasize race. Abrams isn't trying to deemphasize race or her gender at all." In fact, she's stressing it. "People of color will be the center of [this] coalition because they are the majority of the Democratic party," Abrams told MSNBC's Joy Reid after launching her campaign in 2017.
But most people say Evans, although less likely to win the primary, is more likely to win a general election. The lesser-known state legislator has spent the past year introducing herself to voters. Georgians have learned from her campaign ads that she grew up in Ringgold—a small town in northern Georgia with a poverty rate slightly higher than the state's overall—where she moved from mobile home to mobile home. Her mother was in an abusive relationship, and her brother suffered from a debilitating opioid addiction. On the issues, Evans has focused almost entirely on enhancing the HOPE scholarship, a popular 25-year-old program funded through the state lottery that offers students financial assistance for attending Georgia universities and technical schools. Evans herself went to school on the scholarship. "I lived your hardships," her campaign message seems to be. "I get it."
Now a resident of Smyrna, a northwest suburb of Atlanta, Evans has positioned herself as the perfect candidate to unite urban, suburban, and rural whites. "They're looking at her as trying to resurrect the Roy Barnes playbook," Gillespie said. Barnes, the former governor of the state, was a moderate Democrat who, through his passion for education and health-care reform, was able to reach centrist voters. A spokesman for the Evans campaign told me that the Democrat is hoping to form a "coalition that looks like Georgia," combining urban African Americans with rural whites. "You can go talk to the African American base in Atlanta with the same message as you can in … rural white counties, who essentially fled the Democratic Party when Governor Barnes changed our flag." (Barnes minimized the Confederate flag emblem on the Georgia flag in 2001, and the move is widely thought to have led to his 2002 loss to Sonny Perdue.)
Republicans think Evans is the candidate who could give them a real run for their money. Vic Burgess, for example, is a self-identified libertarian who usually votes Republican, but this year, he's leaning toward Evans. "She seems to have a heart for the average person," Burgess said. The 44-year-old child advocate has lived in the small town of LaFayette his whole life. "The way she grew up I think is reflective of a way a whole lot of people in Georgia grew up," he told me, noting that Ringgold is just a 30-minute drive from LaFayette.
Since before the 2016 presidential election, Democrats have been wrestling with exactly how to appeal to the dejected members of the white working class, the concerned retirees living in the suburbs, the wayward souls riddled with cultural anxiety. Party leadership has tried a few things: They announced their 2018 campaign agenda, with a focus on the economy, in the mostly white town of Berryville, Virginia, where Trump won 57 percent of the vote in 2016. They've thrown money at candidates like Pennsylvania's Conor Lamb, whose moderate posture and unwillingness to bash the president led him to victory in a district Trump won by 20 points.
But what if Democrats didn't focus so much on reclaiming Trump voters? What if they dedicated their resources, instead, to reaching the millions who didn't vote—and reaching them early? This is the question Stacey Abrams is asking.
The voting-age population of Georgia, which includes roughly 7.6 million people, is 30 percent black. In the 2012 general election, African Americans made up nearly 30 percent of the vote, but that number declined in 2016, when black voters made up slightly less than 28 percent. For the past two midterm elections, there were roughly 1.1 million registered black voters in Georgia, and about 700,000 unregistered black voters, according to an analysis from the Center for American Progress.
Abrams sells herself as the person who can address these gaps in registration and turnout. In fact, she's been working on it since 2014, when she founded the New Georgia Project, a nonprofit focused on registering voters from the "New American Majority"—people of color, people aged 18 to 29, and unmarried women. These groups make up "62 percent of the voting age population in Georgia, but they are only 53 percent of registered voters," the organization suggests. The project, partly funded by big-time Democratic donor George Soros, aims to register more than 700,000 currently unregistered Georgians. But it has come under fire for an alleged lack of transparency, and for failing to meet its registration goals ahead of the midterms. Georgia Secretary of State Brian Kemp (who is now running for governor on the Republican side) investigated the organization and concluded it had submitted dozens of fraudulent voter applications, although the number was less than 1 percent of total registration forms.
"[Evans] is persuading folks to become Democratic, and our focus is more about reaching folks who do agree with us, and convincing them that voting actually matters," the Abrams campaign spokesperson said. To do this, Abrams has pledged to work for a "fair and diverse economy": tackling poverty and inequality through her proposed "Georgia Economic Mobility Plan." She's also advocating for criminal-justice reform, with goals like the "decriminalization of poverty" and improving community policing.
Abrams has received the endorsement of prominent legislators like Vermont Senator Bernie Sanders, California Senator Kamala Harris, and Georgia Representative John Lewis. And her approach has been championed by dozens of groups, including Our Revolution, an offshoot of Bernie Sanders's 2016 presidential campaign, and Democracy in Color, an organization "focused on race, politics and the multiracial, progressive New American Majority."
Aimee Allison, the president of Democracy in Color, believes that the winning strategy for 2018 and beyond is for Democrats to lean heavily into their core base: black women. Democrats, Allison told me, didn't do that enough in 2016, when the black-voter-turnout rate declined for the first time in 20 years. "Here you have a candidate who speaks to the base in such a deep way," said Allison, whose group advises Americans to "Get in Formation" behind Abrams. "She inspires men and women of all races, and she's deeply reflective of the core base of the Democratic Party."
National Democratic groups and party leaders see a chance to install the country's first African American woman governor—in Georgia, no less—by taking advantage of a time when Democrats are relatively unified in their opposition to Trump. "Stacey Abrams is the perfect anti-Trump. He's white, she's black. Her hair is natural, his hair is … I don't know what," said the Georgia Democratic strategist, who was granted anonymity in order to speak candidly about the race. "She has all these amazing qualities. The problem is, she's never been a Resistance-type person."
As minority leader, Abrams made a 2011 deal with Republicans to raise the GPA requirement for the HOPE scholarship, something Evans was staunchly against. Evans attacked that decision in her most recent campaign ad, where she asserted that 97 percent of African American high-school graduates lost access to full scholarships due to Abrams's dealmaking. "There's an odd disconnect between what Abrams is nationally and what she has historically been in Georgia," the strategist said, also noting that Abrams got early support from national groups like Planned Parenthood and Emily's List, despite Evans's work conducting pro-bono legal work for women seeking abortions. The Abrams campaign called the HOPE charge "not a fair ad," and says Abrams only made the deal to prevent a total collapse of the scholarship. Working with Republicans is something Abrams is proud of, her campaign told me. "As minority leader in the Georgia General Assembly, you have to be able to work across the aisle in order to achieve good for people."
Abrams's supporters have seen the Evans attack ad, which stars a young African American woman, and the people I spoke with think it makes Evans, rather than Abrams, look bad. "Quite frankly, I get the impression that it's pandering," said Tameeka Hunter, a 44-year-old graduate student living in Atlanta. The Evans camp received similar criticism back in January, when it ran an Instagram ad showing the candidate praying alongside black worshippers at a Baptist church—and ending with her face superimposed over an image of Martin Luther King Jr.
"When has [Evans] ever been anywhere in the black community?" asked Atlanta resident T. Renee Crutcher. Crutcher, an ordained minister in her late 50s, then cited a recent report showing that Evans was a lead attorney for Bank of America after the housing crisis, and defended Countrywide Financial, the company that charged African American and Hispanic families higher fees for loans. The report accused Evans of "helping in the greatest theft of black wealth since Reconstruction." A spokesperson for the Evans campaign acknowledged that Evans was assigned the case as a junior associate, but only worked on it for two months.
Hunter and Crutcher both told me they feel like African Americans have been dishonestly pandered to, and taken for granted for too long; that's why they're supporting Abrams. "She'll be everyone's governor, but what I appreciate about her is she's making a concerted effort to connect with those groups," Hunter said. "The Democratic Party cannot rest on its laurels. Don't assume that your historical party base is going to sit idly by and just vote Democrat."
It seems that the Democrats are acknowledging this. When Doug Jones became the first Democrat elected to the Senate in Alabama in 25 years in December, many on the left saw it as a reassurance that appealing to moderate conservatives and persuadable Trump voters was a winning strategy. But exit polls showed that Jones likely won because black voters showed up in historic numbers: 96 percent of black voters backed the Democrat, including 98 percent of black women.
Last week, the Democratic National Committee announced that nearly half of its staff are now people of color, and 51 percent are women. A spokesperson for the DCCC, who asked to speak off the record to talk more openly, acknowledged that people of color often felt "used" by Democrats in elections and said the political committee is making a concerted effort to be more proactive in reaching out to the black community. But when asked more specifically about the intended allocation of campaign funds in red states, the spokesperson said it's necessary for Democrats to target "pretty much all the bases." "I think we should get all the voters who haven't been targeted, but you also have to target the voters who've been voting," the spokesperson said. "You can't cut one off and just depend on that, leaving the other one dry and dead."
This is maddening for people like Allison, from Democracy in Color, and other advocates of the Abrams approach. "It's a weak response to the political reality of electoral politics," she said. "If we look across the aisle, [Republicans are] not trying to win over moderate Democrats." She offered up retiring Arizona Senator Jeff Flake as an example of a consensus-building moderate who couldn't survive the current climate of the GOP. "For Democrats to say, 'Oh we need everyone,' is the kind of middle-of-the-road approach that gets us squashed in 2018."
Georgia Lieutenant Governor Casey Cagle has emerged as the favorite to win the Republican primary, while Abrams has a 19-point lead over Evans, according to the most recent poll. Around 33 percent of Democrats are still undecided. If Abrams beats Evans in Tuesday's primary, it'll be a testament to her success in prodding the base to the polls, as well as her fundraising ability. But the real test will come in the general election. If Abrams becomes the Democratic nominee, can she successfully motivate a "multiracial, multiethnic coalition" to make her the first African American woman governor of Georgia? In a state with over 6 million voters—most of whom are white—will she have to significantly change her strategy?
The Georgia governor's race is about letting Democratic voters choose what they want their party to be. For many Georgians, that possibility is thrilling. "Black folks have been voting for the lesser of two evils all our lives. This is an opportunity to say this is someone who can identify with my interests to a very soulful level," Crutcher, the Atlanta minister, said. "I'm willing to vote for Abrams even if it doesn't happen, for the sake of growing pains."