What Exactly Is Rudy Giuliani's Role?
Brought on to Trump's legal team to negotiate with Robert Mueller and be a public face, he seems to be acting more broadly as an attorney and strategist, a risky choice.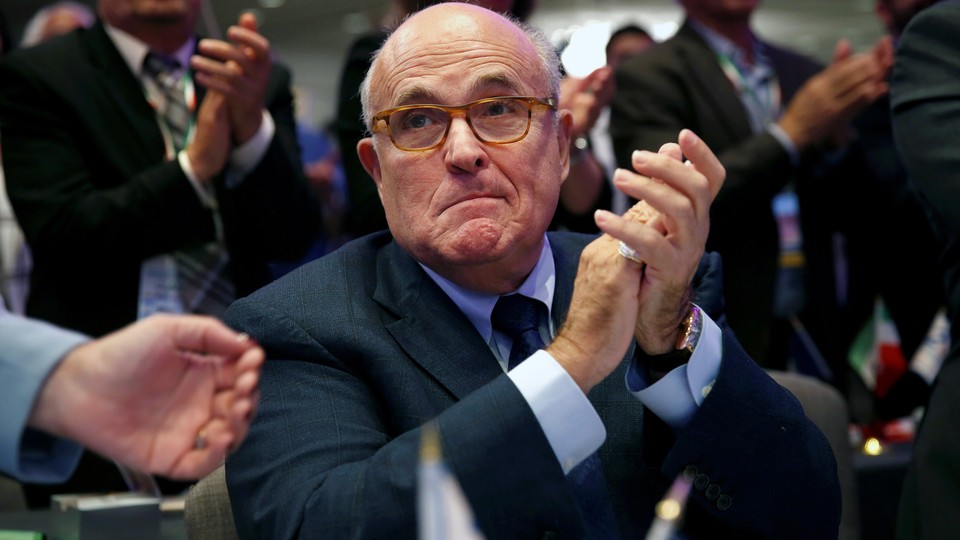 Despite a disastrous debut last week in his new role as a member of President Trump's legal team—including making contradictory statements, revealing White House untruths, and being publicly upbraided by his client—Rudy Giuliani was back at it over the weekend.
It's unclear what Giuliani's aim was. If he was hoping to clean up his mess and make the president look good, he didn't have a great morning. If he was hoping to make news, he succeeded. Among other statements, Giuliani said that Trump would not have to comply if Special Counsel Robert Mueller subpoenaed him (this is debatable, but most lawyers agree it would not hold up); admitted he was shaky on matters of both fact and statute—"I am focused on the law more than the facts right now," he said in an interview with CNN Sunday; and seemed to call the president a fool.
"I'm facing a situation with the president and all the other lawyers are, in which every lawyer in America thinks he would be a fool to testify, I've got a client who wants to testify," Giuliani said on ABC's This Week.
This confusion of aim applies not only to Giuliani's press appearances, but to his very presence on the Trump legal team. Is he a spokesman? A litigator? A go-between? A strategist? The answer has important bearing on the president's political and legal strategy, and on Giuliani's future with Trump. Giuliani has proven to be an unreliable spokesman so far, and he hasn't impressed with his legal knowledge, either, but he might be an even worse strategist.
When he joined the team, Giuliani appeared to be filling a dual spokesman-mediator role. Like many Trump hires, he had long had experience speaking on behalf and in favor of the president on television, which the president has demonstrated he values highly. But he also said he hoped to negotiate an end to the Mueller probe, and to do so very quickly.
"I'm going to join the legal team to try to bring this to a resolution," he told the New York Post. "I don't know yet what's outstanding. But I don't think it's going to take more than a week or two to get a resolution. They're almost there."
That was more than three weeks ago. There's no sign that Mueller is closer to wrapping up his probe or at least clearing the president, as Giuliani effectively conceded this weekend when he speculated about Trump rejecting a subpoena or invoking his Fifth Amendment right and refusing to testify. Since Giuliani joined Trump's team, there's been a more intense focus on Michael Cohen and his legal troubles, which is handled by the Manhattan U.S. Attorney's Office and not Mueller, in part because of Giuliani's own missteps.
Over the same period, Giuliani has seemed to evince an ever-broader role. He is easily the most prominent spokesman for the president's defense, overshadowing Jay Sekulow, and exceeding the attention granted to either Ty Cobb or John Dowd, former Trump lawyers. (A White House official, asked whether he would encourage Giuliani to appear on Hallie Jackson's NBC show, replied, "I don't think he needs my encouragement, Hallie. He seems to be doing a lot of media on his own.") Yet that's been a bumpy ride, as Giuliani has repeatedly contradicted himself, and last week Trump scolded him for not knowing what he was talking about: "He started yesterday, he'll get his facts straight." Giuliani has also implied that Trump paid far more in hush money than has publicly been reported. Unless the goal is simply to kick up as much dust as possible—never something that can be ruled out as a Trump administration's communications strategy—it hasn't gone especially well.
Perhaps Giuliani's failings as a spokesman would be irrelevant if he were primarily hired for his legal expertise, but that seems unlikely. There are celebrity lawyers, and then there are celebrities who are lawyers. In the first group are figures like Alan Dershowitz, the Harvard professor and Trump defender; Ted Olson, who declined to join Trump's team; and Emmet Flood, who has just jumped on board. In the latter group is Giuliani, along with a cadre of other people who used the law as a stepping stone to politics.
As Stormy Daniels's lawyer Michael Avenatti and others have pointed out, Giuliani has sought to prove that there was no violation of campaign-finance law related to the Daniels case, but didn't appear to understand the law itself. He seemed to acknowledge his weak grasp of the underlying statutes when he told CNN he was "focused on the law more than the facts." One would expect that the president's attorney in such a high-profile matter would understand the relevant laws, but Giuliani isn't best known for his lawyering today. He was a highly celebrated prosecutor in the 1980s, he has not often practiced law since then, and when he did, worked at major firms with fleets of associates to do grunt work for him. But reporting from The New York Times and others suggests that Giuliani is acting without consulting the other lawyers on the Trump team.
Giuliani also seems to be acting as Trump's strategist, at least on Mueller-related matters. He has reportedly conferred with the president on his moves, and after his first round of interviews, told The Washington Post that Trump had called him to praise his appearances. Trump then sent a series of tweets that backed up Giuliani's account of how Cohen was reimbursed—only for the president to say a day later that Giuliani didn't have his facts straight. Politico situates Giuliani's approach as part of a White House-wide midterm strategy to make Trump the center of everything.
Past experience counsels caution about entrusting strategic decisions to Giuliani. Like another Trump campaign surrogate, Michael Flynn, Giuliani has been most successful in his career when working within a system, and the greatest hazard to himself and others when less inhibited.
Giuliani's public prominence, of course, began as U.S. Attorney in Manhattan. In that role, his pursuit of the mafia won him applause. "At the same time he was supervising 130 attorneys in the nation's largest Federal prosecutor's office, he was personally devising the imaginative strategy for one of the most significant Mafia cases in recent times," Michael Winerip wrote in The New York Times Magazine in 1985.
The tendency to involve himself in every stage is familiar from his behavior so far on the Trump campaign. There are other ironic connections between his days prosecuting the mob and his work today. Just as he did then, Giuliani assiduously pursues press attention. (He did, however, not immediately respond to a request from this reporter.) Although he has blasted leaks from the investigation in Manhattan, he boasted in November 2016 of getting leaks from the FBI, and the veteran New York reporter Michael Daly says Giuliani loved to leak when he was U.S. attorney.
Legally, Giuliani's innovation in New York was to target not just mafia bosses, but also their lieutenants—what Winerip called the "board of directors" of mob families. As legal analysts have noted ad nauseam, Mueller's approach of going after peripheral figures and moving toward Trump mirrors mob-prosecution strategies. Today, Giuliani blasts the FBI as "stormtroopers" with no regard for civil liberties. Back then, civil libertarians complained that Giuliani's tactics included "an array of extreme measures that threaten the presumption of innocence and the right to an adequate defense in six criminal trials."
Giuliani thrived as U.S. attorney, a structured office with a defined role and established hierarchy. (This is not to say that there were not critics who felt he stinted on white-collar crime or went easy on certain mob bosses.) When he is his own boss, things have not always gone as well. He was elected mayor of New York in 1993, on his second try, and while his popularity sagged late in his term, he was able to rebound enough to comfortably win reelection in 1997. By 2000, however, his public image was in the tank, dragged down by racial tensions exacerbated by the NYPD and the sideshow of his feud with the Brooklyn Museum over Chris Ofili's controversial Virgin Mary. In April 2000, just 37 percent of New Yorkers approved of his job as mayor, with 57 disapproving.
The attacks on 9/11 turned around Giuliani's image, which is probably one reason he invokes it frequently. The mayor's response galvanized the nation, and by 2006 he was the most popular politician in America. But while 9/11 may have fixed Giuliani's image problem, it didn't improve his strategic thinking. In 2008, he managed to squander that popularity on a head-smacking strategy in the Republican presidential primary, in which he decided to ignore early primary states and focus all of his energy on Florida—only to finish a distant third there, effectively ending his campaign.
Giuliani spent the Obama years making a series of ill-advised comments about Barack Obama, as well as, presumably, a pile of money from private-sector ventures. Trump's rise gave Giuliani a chance to return to the spotlight, but the president-elect snuffed Giuliani's hopes at becoming secretary of state after the election. Given the marginalization of the man who eventually got that job, Rex Tillerson, Giuliani may have gotten the better end of the deal. His apparently wide berth as spokesman, lawyer, and strategist for Trump offers a great deal more power and media attention. The president, however, has often spoken of deals as zero-sum games. If Giuliani is getting the better end of the deal, is Trump getting the worse?