Ukraine's Successful Courtship of Trump
Trump was convinced to sell lethal weapons to Ukraine thanks in part to a savvy charm offensive from Kiev—but the deal may be more bark than bite.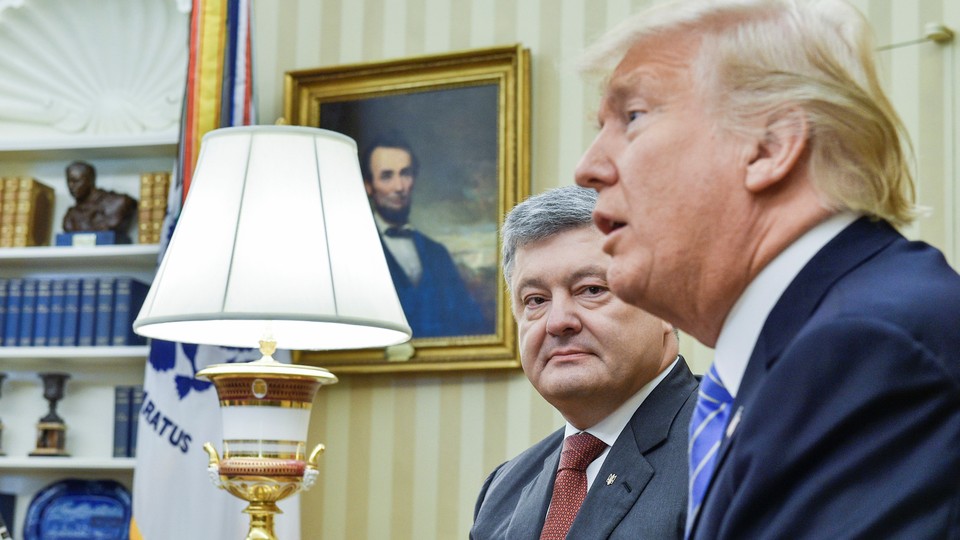 The United States completed its shipment of Javelin anti-tank missiles to Ukraine on Monday, finalizing a sale that was reluctantly approved by President Donald Trump in November. The deal was widely reported as a rebuke to Russian President Vladimir Putin, who annexed Crimea and invaded eastern Ukraine in 2014. "This decision … reflects our country's longstanding commitment to Ukraine in the face of ongoing Russian aggression," Republican Senator Bob Corker said late last year.
But the terms of the arrangement show it may be more bark than bite. The weapons "have been delivered to a secure facility in Ukraine, not on the line of conflict," Kurt Volker, the U.S. Special Representative for Ukraine, told me. He did not elaborate further, but The Wall Street Journal reported in January that the weapons would be stored in training centers in western Ukraine that will be monitored by American soldiers.
Trump has said repeatedly that "no one is tougher on Russia" than him. But his critics have accused him of challenging Putin only superficially. Shortly after the Trump administration expelled 60 Russian diplomats in March—48 of whom were actually intelligence officers, according to a State Department spokesperson—the State Department acknowledged that the Kremlin would be allowed to refill the vacated positions. The Treasury Department recently sanctioned more than three dozen Russian oligarchs, officials, and entities who "profit" from Russia's "malign activity" and "corrupt system." But many of the sanctioned oligarchs had four months' notice to move their money, thanks to a list of Russia's wealthiest individuals released by the Treasury in January. That money might already be back in Russia. "As they say, 'a barking dog cannot hinder a caravan's journey,'" Putin told Russia's TASS news agency at the time. He mocked his own absence from the list. When UN Ambassador Nikki Haley announced new sanctions against Russia over its support for embattled Syrian dictator Bashar al-Assad, she was contradicted by the White House hours later.
"There is confusion about the Putin-Trump relationship," Major General Volodymyr Havrylov, Ukraine's defense attaché to the U.S., told me last month. "And an element of unpredictability. But we believe in checks and balances in the United States." Former National-Security Adviser H.R. McMaster and Defense Secretary Jim Mattis pushed for Trump to approve the lethal weapons sale to Ukraine, according to Havyrlov and another U.S. official familiar with the deal who requested anonymity to discuss it freely. Trump was convinced, at least in part, by the fact that President Barack Obama—to whom Trump frequently compares himself—had balked at the sale. The official relayed a conversation between Trump and Ukrainian President Petro Poroshenko last year in which Trump asked why Obama had "done nothing when Russia invaded Crimea." (Obama sanctioned Russia over the incursion in 2014.)
Trump, ever transactional, also wanted to make sure he was not giving away something for nothing. The U.S. official said it was emphasized to the president that this would be a sale, not a gift, and Poroshenko won favor with Trump by facilitating an $80 million coal deal—the first between the U.S. and Ukraine—that was politically expedient for both leaders. In February, Ukrainian Railways signed a $1 billion locomotive deal with GE Transportation. Trump had promised during the campaign to revitalize the U.S. rail industry. "The Trump administration is very much focused on jobs creation," said Daniel Vajdich, the president of the strategic advisory firm Yorktown Solutions. "So, naturally, Ukraine has thought about its ability to help create jobs for Americans in the context of creating leverage by feeding into Trump's policy desires." A Ukrainian-American lobbyist who spoke to me on condition of anonymity put it more bluntly: "Poroshenko has become a hostage of Trump," he told me.
In June of 2017, Poroshenko attempted to pique the administration's interest in helping to end the war in Ukraine by offering U.S. construction firms 90 percent of all contracts to repair and rebuild infrastructure in the disputed Donbass region, according to the Russian newspaper Kommersant. It is unclear how Trump responded to the pitch, which was made to Vice President Mike Pence, former Secretary of State Rex Tillerson, and Mattis at the White House.
The Ukrainian government hired Haley Barbour, former Republican National Committee chairman and founding partner of BGR Group, to lobby in the United States just after Trump was elected, according to foreign-lobbying registration documents filed with the Justice Department. Ed Rogers, the chairman of BGR, was hired for the lobbying work, too. The firm has ties to this White House: The Trump transition team held meetings with lobbyists at BGR Group's offices, according to The Washington Post. And Rogers is "as inner-circle Jeff Sessions as they come," a source with knowledge of their relationship told me on condition of anonymity, referring to Attorney General Jeff Sessions. (Both men are from Alabama.) BGR also worked with Corey Lewandowski, Trump's former campaign manager who still visits the White House regularly, as recently as last summer, The Daily Beast reported.
Vajdich, who previously worked on the Senate Foreign Relations Committee where he was in charge of regional issues in Europe and Eurasia, cautioned that it was unclear whether Kiev's engagement with the Trump administration's policy goals had "fundamentally transformed" Trump's attitude toward Ukraine. "The fact that the Russians have invaded a country in the heart of Europe in the 21st century is something that hasn't changed from one administration to the next," he said.
In the months following the weapons sale, Poroshenko ordered Ukraine's top anti-corruption prosecutor tasked with probing corruption under former Ukrainian President Viktor Yanukovych to stop cooperating with Special Counsel Robert Mueller, who is investigating former Trump campaign chairman Paul Manafort's work in Ukraine and ties to Russia, according to two sources familiar with the request. The New York Times first reported on that order on Wednesday, indicating that Kiev had blocked the Manafort investigations just as the Trump administration was finalizing the weapons deal in an attempt to stay on Trump's good side. Trump, according to the U.S. official, saw Manafort's legal problems as a function of Yanukovych's regime rather than a reflection of Poroshenko's.
The deal was a political victory for Poroshenko—who is facing a tough reelection next March—and for Trump, who has been accused of kowtowing to Russia. But it is still largely symbolic. "It's a political symbol that allows others to understand that Ukrainian security is important to the U.S.," Havrylov said. "Even just the presence of weapons on Ukrainian soil is significant." Balazs Jarabik, a nonresident scholar at the Carnegie Endowment for International Peace whose research focuses on Ukraine, agreed. "This delivery symbolizes for Kiev the ongoing support of the U.S. for Ukraine, or actually an increased one as Obama never agreed with this step (what was proposed by the Pentagon)."
The U.S. official defended the decision to store the weapons away from the battlefield, arguing that it will allow Ukraine to maintain greater control over them. Not everyone agrees that this is the best move, however. Michael Carpenter, a former deputy assistant secretary of defense with responsibility for Russia, Ukraine, Eurasia, and the Balkans, told me that "storing anti-tank missiles hundreds of miles from the front lines defeats the whole purpose of using these weapons as a deterrent" and "drastically reduces their effectiveness."
"The whole point is to make your adversary think twice about the numbers of casualties they might sustain as a result of their tanks coming under fire," Carpenter said. Vajdich acknowledged that the weapons were "not necessarily going to change the course of things on the ground." But he argued that, substantively, the Trump administration's policies have been "good" for Ukraine. "There obviously was quite a bit of fear in Ukraine, when Trump took office, that there was going to be some kind of massive policy shift with regard to Ukraine and Russia," Vajdich said. The weapons deal, Vajdich argued, was evidence to the contrary. "His cabinet was pushing for this, and it was something that allowed him to counter this narrative that he is in bed with the Russians," Vajdich said. "That leads to fewer people pointing fingers at him."