The Danger of Imitating Trump
Michael Cohen is the latest to try to adopt the president's tactics, only to have it backfire.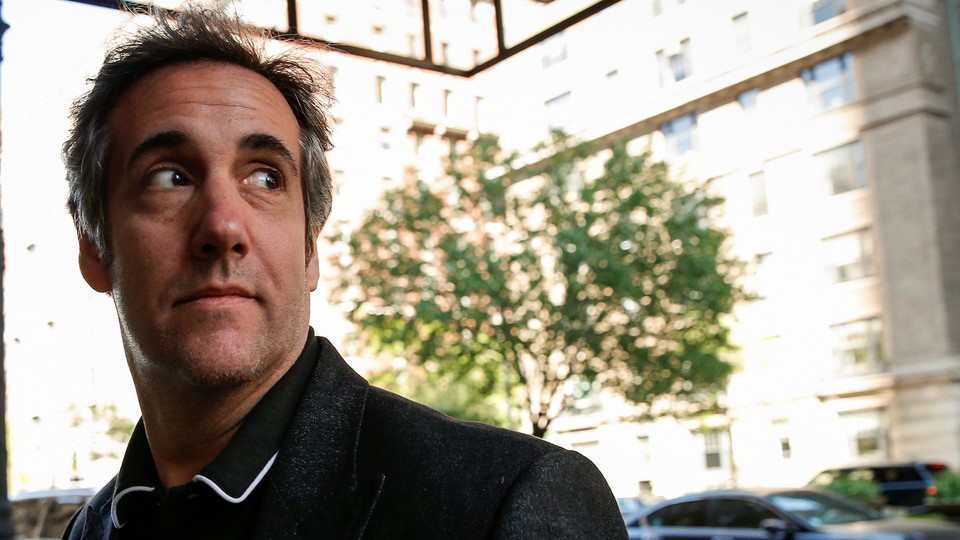 Donald Trump's genius has always been his ability to capitalize, literally, on his fame—to use his celebrity as a vehicle to enrich himself, even when he didn't have the accomplishments or knowledge or business prowess (or the cash) to back up what he claimed.
Since his entry into politics, plenty of his hangers-on have attempted the same thing, hoping that Trump's fame could prove their meal ticket, too. And while some of these figures have found success, several of them also find themselves in serious legal jeopardy, demonstrating once again that what works for Trump is often extremely dangerous for other people.
The glaring current example is Michael Cohen, the longtime Trump fixer. In the last few days, there's been a surfeit of new information about Cohen's manner of doing business, both before and after the election. Cohen is often said to have been closer to the president than anyone else, and to have the best understanding of how he thought, and he seems to have pursued the purest version of the Trumpian scheme: Make big promises, pull in big money, underdeliver big-league.
As the public learns more about Cohen's questionable business dealings before the election, it's unclear the extent to which he might have modeled himself on Trump's business practices, which have also sometimes put him afoul of the law. But after an enigmatic disclosure from Michael Avenatti, the lawyer representing Stormy Daniels, news outlets have managed to piece together a great deal of Cohen's post-election activity. (Some of what Avenatti claimed has proven to be sloppy and incorrect, too.) Cohen hoped for a White House job, but, finding himself shut out, set to hauling in money instead.
The full scale of Cohen's revenues is not yet clear, nor are the connections of all of his clients, such as Columbus Nova, the mysterious company linked to Russian oligarch Viktor Vekselberg. The two best-explained examples, AT&T and the Swiss pharmaceutical company Novartis, are plenty illustrative, though. Between early 2017 and December, the company paid Cohen $600,000. Novartis signed a deal with Cohen in February 2017 looking for advice on health policy, with Cohen's Essential Consultants set to receive $100,000 every month for a year, for a total of $1.2 million.
Special Counsel Robert Mueller has evidently been aware of the transactions for months, contacting both companies last year. Trump lawyer Rudy Giuliani told Time that he had recently spoken to Trump and the president didn't know anything about the payments Cohen was receiving, though the lesson of last week is that no one should take what Giuliani says publicly at face value, whether because he is uninformed or actively misleading.
What exactly was Cohen peddling? According to at least some accounts, he told his clients he could deliver access to Trump; certainly, one imagines that clients were hoping for it, either way. As has now become clear, though, Cohen was already in the process of being marginalized from Trump's inner circle. The common description for deals like this, when companies contract with people who are not registered as lobbyists, is that they are seeking "insight" into Trump. A friend told The Washington Post, "There's probably no one in the country who understands the mechanics of Trump world better than Michael Cohen."
The very idea of understanding Trump is a fraught one. No matter Cohen's experience, the idea that the president's actions are rational and follow some sort of set process does not hold up to scrutiny, and his frequent changes of heart suggest even Trump doesn't understand Trump. Nor is proximity to him a guarantee of persuasion, as the policy defeats of Jared Kushner and Ivanka Trump have shown.
Whatever these two clients were seeking, they did not get it. AT&T had good reasons to want to understand Trump better, or even better to curry favor with him, or best yet to get access to him. The company was seeking federal approval from regulators to acquire Time Warner. In the case of AT&T, however, the Trump administration moved to block the merger, notwithstanding whatever insights Cohen provided.
Novartis's account of what happened after they signed on with Essential is jawdropping:
In March 2017, Novartis had its first meeting with Michael Cohen under this agreement. Following this initial meeting, Novartis determined that Michael Cohen and Essential Consultants would be unable to provide the services that Novartis had anticipated related to US healthcare policy matters and the decision was taken not to engage further. As the contract unfortunately could only be terminated for cause, payments continued to be made until the contract expired by its own terms in February 2018.
The drugmaker agreed to shell out huge sums of money to Cohen, but apparently hadn't done enough homework to realize he would be useless on health policy, and also signed a contract they couldn't exit due to the contractor's incompetence.
Obviously, companies paying for insights and access to a new administration is not new. (Slate parses some of the ways Cohen's arrangement was and wasn't typical.) The fact that these companies were willing to spill so much money on an unproven quantity, with a reputation that mostly consisted of a clownish video clip and bizarre threats to reporters, shows just how rattled corporate America was in the early days of the Trump administration, and desperate to get a grip on the new reality.
It also serves as a reminder how much cash sloshes around Washington. As my colleague Alexis Madrigal reported, AT&T paid at least $200,000 to 14 different lobbying firms in 2017. This was just the sort of swamp that Trump promised to drain during the campaign. He just helped bring in a new set of swamp creatures, like Cohen. While the money may have been a rounding error in the budgets of companies like AT&T and Novartis, it was big money for Cohen, who was already wealthy and found himself getting wealthier faster. Cohen's Trump-style strategy of overpromising and underdelivering was working as well for Cohen, if at a smaller scale, than it had for Trump.
Not so much anymore. Cohen is widely expected to be indicted soon. The FBI raided his home, a hotel room, and his office and seized many documents. His legal bills are piling up. His taxi business, already in trouble amid the rise of Uber, is under new scrutiny. This week, Cohen put his family's apartment at the Trump Park Avenue up as collateral for troubled loans.
That makes Cohen just the latest example of a Trump associate trying to use Trump's name and tactics and finding they don't work so well. Start with Paul Manafort, who had already won a significant fortune, but saw his business sputtering, and reportedly saw closeness to Trump's campaign as a pathway to repaying a debt to a Russian oligarch. Manafort now faces a stupendous array of charges for financial crimes, which could put him in jail for life if he is convicted. (He has denied wrongdoing.) Manafort's business partner Rick Gates joined Trump at the same time; he has pleaded guilty to lying to the FBI and conspiracy against the U.S., and is cooperating with Mueller.
Michael Flynn took on a lucrative contract on behalf of Turkey even while serving as a top surrogate for the Trump campaign. His efforts were transparently ridiculous: He made a 180-degree turn in his statements about the Turkish government, and reportedly also discussed a strange kidnapping scheme. He ended the work only when he was appointed national-security adviser in November 2016. Flynn reportedly pushed some projects from his private-sector consulting even after entering office. He was fired just weeks into the new administration, ostensibly for lying to Vice President Mike Pence, and he too has pleaded guilty to lying to the FBI and is cooperating with Mueller.
Corey Lewandowski, Trump's first campaign manager, tried a similar maneuver. Despite having been fired from the campaign, his long stretch with Trump got him pegged as a Trump whisperer. Lewandowski set up a lobbying shop with another former Trump adviser, Barry Bennett, but he left the firm in May. It's unclear how effective he was. He then formed his own consultancy, and brazenly lied about not having clients. His book, Let Trump Be Trump, was released in late 2017 but didn't make much of a splash. More recently, he appeared with Trump at a rally in Michigan. Lewandowski is likely better off than he was before joining Trump, but his dreams of a Washington-bestriding role as a wise man seem finished. (Bennett, however, is reportedly raking in cash.)
The most entertaining example, as my colleague McKay Coppins wrote at the time, was Anthony Scaramucci, who lasted just 10 days as White House communications director, pursuing a strategy of being Trumpier than Trump in conversations with the press. Scaramucci seems to have landed on his feet, and patched up a marriage that broke during his brief administration stint, but he was a wealthy man before. More recently, Giuliani's press tour suggests he's trying a Trumpian strategy and struggling as well.
Despite this record of misfortunes for those who try to emulate Trump, imitators continue to try, for the same reason that Trump does what he does: There's the possibility of money to be made. What works for Trump, however, almost never works for anyone else. Given the president's political and legal jeopardy, it may still be too soon to tell whether it even works for Trump.