Trump's New Strategy for Responding to Robert Mueller
The president's message focuses on undermining the investigators and investigation, rather than insisting that no crimes were committed.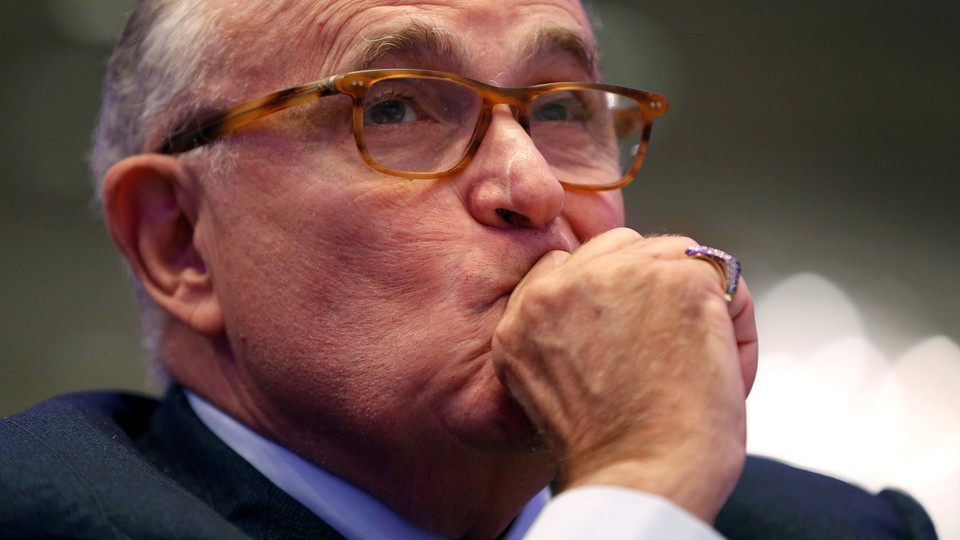 Rudy Giuliani's first weeks as President Trump's lawyer have been hectic and full of contradictions—both Giuliani contradicting himself, and the president contradicting Giuliani.
Underneath the chaos, however, it's becoming possible to discern a fresh Trump legal strategy since the president shook up his team. On the one hand, Trump's lawyers say they continue to work with Special Counsel Robert Mueller's team. At the same time, they are pursuing a fresh line of attack in public, shifting from proclaiming the president's innocence to attempting to undermine the probe itself. The contours of the new strategy were on display in a highly entertaining jousting match between Giuliani and Chris Cuomo on CNN Friday morning.
The biggest fireworks came when Giuliani tried to filibuster Cuomo from playing an old video clip where he contradicted his own comments from 1998 about whether the president can be subpoenaed. But the single most notable piece of news was Giuliani's pronouncement that Mueller has agreed to limit the scope of an interview from five to two topics.
"It is accurate as of Wednesday night," he said. "We received a communication from them. We did go through five letters. We didn't get a response. Then they sent us a response. I can't go into detail, but narrowing the subjects for questioning down to about two."
A spokesman for the special counsel declined to comment on Giuliani's remarks. Giuliani didn't say what the two topics were, and it's probably worth taking his answer with a grain or two of salt. Giuliani previously said that he'd negotiate an end to the probe within a week or two, which didn't happen, and the president said he was wrong about some aspects of a reimbursement to former fixer Michael Cohen. But Giuliani's remarks make clear that far from ruling out an interview, the president's team continues to work toward a meeting with Mueller. He also told Politico that Trump is beginning interview prep.
Rhetorically, however, Giuliani and Trump are pursuing a harder line. As the Mueller probe heads into its second year, it seems almost comical to say that Trump could ratchet up his approach to what he's been calling a witch hunt for months now, yet there are signs of a genuine shift. For example, it was only two months ago that Trump first singled Mueller out by name in a tweet. Until this spring, Trump's top two lawyers, John Dowd, his personal attorney, and Ty Cobb, a White House attorney, argued for cooperation with Mueller. Both have left Trump's employ in recent months.
The new strategy, particularly as demonstrated by Giuliani on CNN, follows three prongs. First, impugn the investigators themselves. Second, argue that the investigation was tainted from the start. Third, argue that Mueller cannot indict Trump anyway. The Cobb-Dowd strategy began with the assumption that Trump had nothing to hide. The new strategy, however, seems to take as its premise that Trump is guilty of at least something.
Trump has taken the lead on the first part, focusing on the political ties of Mueller and his team to argue that the investigation is unfair and based on partisan motivation. In particular, the president has criticized the use of staffers who donated to Hillary Clinton and other Democrats. (The donations do not fall afoul of Justice Department rules.) Mueller, a lifelong Republican who has served presidents of both parties, is a tougher case to make, so Trump has simply lied, claiming for example that Mueller worked for Barack Obama for eight years. Mueller was FBI director for nearly five years under Obama, having been appointed by George W. Bush.
Giuliani, for his part, has referred to officials in the FBI and U.S. Attorney's Office for the Southern District of New York, both of which he praised in the recent past, as "storm troopers." (He also said he knew more about the case than FBI Director Christopher Wray, another career Republican who has said the investigation is not a witch hunt.) This lays the groundwork for an easy response, no matter how the Mueller probe proceeds or concludes: The White House will say it's always been a Democratic vendetta.
The second part is to say there should never have been an investigation in the first place, and that the investigation is tainted. Earlier this week, The New York Times laid out in new detail the origins of the investigation into possible Trump collusion with Russia, stretching back to the presidential campaign, long before Mueller's May 2017 appointment.
A standard reading of this story is that federal law enforcement has been concerned about Trump's ties to Russia for years:
The F.B.I. obtained phone records and other documents using national security letters—a secret type of subpoena—officials said. And at least one government informant met several times with [Trump advisers Carter] Page and [George] Papadopoulos, current and former officials said.
The article even came close to a mea culpa for a much criticized story, headlined: "Investigating Donald Trump, F.B.I. Sees No Clear Link to Russia." The more recent story stated, "When The New York Times tried to assess the state of the investigation in October 2016, law enforcement officials cautioned against drawing any conclusions, resulting in a story that significantly played down the case."
Giuliani and Trump proffer a more esoteric reading. They argue that the fact that the FBI was investigating Trump as far back as 2016 shows not only political motivation, but also that there is nothing to investigate.
"The point is the whole investigation is totally illegitimate," Giuliani said Friday. "The question of whether there was collusion had been resolved in the first investigation by the FBI, which the Times revealed. … in that investigation there is a memo that says that there is no evidence of collusion with the Russians on the part of Donald Trump. End of Story. Why an investigation? There is no probable cause for anything."
This is kind of clever on its face, though it has several problems. It's peculiar to conclude that simply because the investigation hadn't turned anything up in that time, there must be nothing to see. The public knows a great deal more than it did then, and presumably so does the Justice Department. Besides that, as Giuliani knows, it was Trump's decision to fire FBI Director James Comey, pinning it on the Russia investigation, that led Deputy Attorney General Rod Rosenstein to commission Mueller, and raised new questions about obstruction of justice.
The setting of arbitrary timelines is a common motif. Trump has repeatedly said there is no evidence of collusion, even as two of his former aides have pleaded guilty to lying to the FBI about contacts with the Russians, and despite the June 2016 Trump Tower meeting between a Russian lawyer, Donald Trump Jr., Jared Kushner, Paul Manafort, and others. Giuliani on Friday charged that Mueller's probe "$20 million later has come up with nothing," when in fact the investigation has been unusually prolific.
The Times' mention of an informant has once again inspired conspiracy theories about the probe. In a tweet Friday morning, Trump quoted Fox host David Asman: "Apparently the DOJ put a Spy in the Trump Campaign. This has never been done before and by any means necessary, they are out to frame Donald Trump for crimes he didn't commit."
It may or may not be true that DOJ placed a spy in the Trump campaign, but there's no public evidence for it. Someone inside informing the FBI about goings-on is not the same as the Justice Department sending someone undercover. Nor is it scandalous for law enforcement to use legal methods to investigate possible crimes. Nonetheless, Giuliani emphasized the idea on Friday.
"Here's the issue that I really feel strongly about with this informant. First of all, I don't know for sure if there really was. We're told that," he said. "It corroborates what people told us off the record. You don't know if they're right or not. People knew about the investigation."
We've heard this again and again. First, Trump claimed that Obama had "tapped" Trump's "wires" during the campaign. This remark turned out to be nonsense, the result of a game of speculation in conservative media. Trump's Justice Department said it was not true. Later, when it became clear that Manafort had been surveilled, some of Trump's defenders claimed it vindicated his wiretap claim, which it did not, as I explained at the time. That's a good reason to take the most recent claims skeptically, too. When Cuomo pointed out that Trump has often said false things, Giuliani blustered, "That's a disgraceful comment about the president of the United States." But he didn't say Cuomo was wrong.
Trump continues to make such claims—"this is bigger than Watergate!" he wrote Thursday—and compliant media allies continue to hype them as proven. The apparent aim of the "embedded informant" talking point is to make the case that even if anyone did commit crimes, they were being entrapped and led into crimes by DOJ infiltrators who sought to take down Trump's campaign. As Jonathan Chait notes, one problem with this implication is that they did no such thing and Trump won. The theory requires a special combination of dastardly genius and incompetence on the part of Trump's supposed deep-state opponents.
Third and finally, Giuliani says that Mueller's team told him that they did not believe the special counsel had the power to indict the president, and would merely write a report about whatever they found. This may be a relief to Trump and his lawyers, but as public relations, it is a bit confounding. One doesn't talk about whether or not one's client can be indicted unless one believes that one's client is likely to have committed some indictable crime. But the presumption of guilt has increasingly suffused the message of Trump defenders over the last month. It also surges through repeated warnings from Trump allies that Mueller might try to catch the president in a "perjury trap," as though Trump could not avoid that by telling the truth.
It's not clear what is behind the new strategy. The president appreciates aggressive media responses, and Giuliani is to a certain extent just aping the president's own words. The turnover on the legal team means new personalities with new perspectives. Trump and his aides may also be reacting to new information about what Mueller knows and the topics about which he wants to interview the president. Even without understanding the reasons for the shift, it's clear that out of the chaos of the last several weeks, Trump and Giuliani are defining a new approach, at once aggressive and defensive, toward the special counsel.