'Maybe You Shouldn't Be in the Country'
That was President Trump's suggestion to NFL players who protest racial injustice. His comments, made in an interview with Fox News, highlight a dissonance in his thinking on free speech.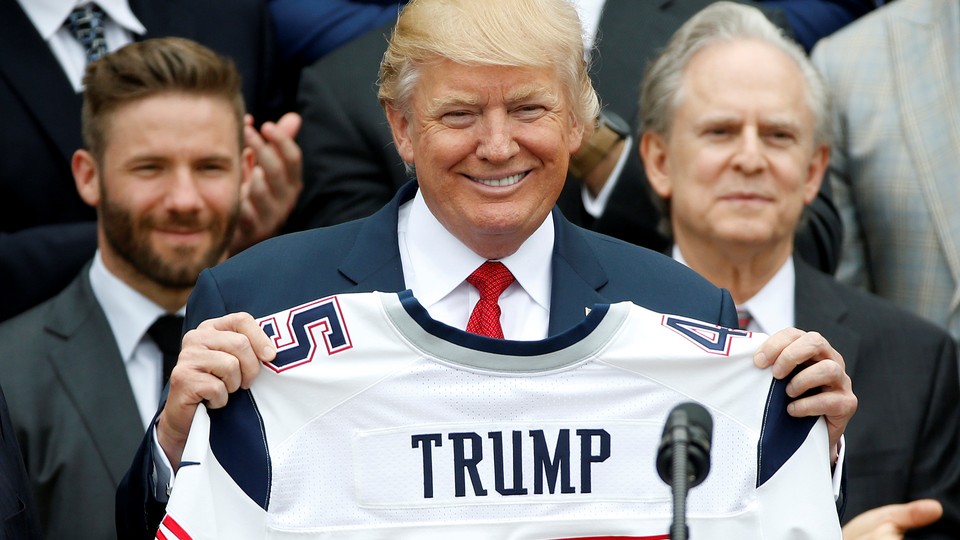 President Trump, who has portrayed himself as a defender of free speech and foe of political correctness, told Fox News's Brian Kilmeade in an interview aired Thursday that NFL players should be barred from the field—and should perhaps even leave the U.S.—if they seek to protest.
"You have to stand proudly for the national anthem or you shouldn't be playing," Trump said in the interview. "You shouldn't be there. Maybe you shouldn't be in the country."
Trump was commenting on a new NFL policy, unveiled Wednesday, to handle players who have kneeled, sat, or raised a fist in protest during the playing of the national anthem before football games. Players will no longer be required to be on the field during the anthem, but if they do not stand, they could be fined. The president was generally positive about the policy, but added, "I don't think people should be staying in locker rooms."
The president's comments are the latest volley in his war of words with NFL players. The feud burned hottest last September, when he said at a rally in Alabama, "Wouldn't you love to see one of these NFL owners, when somebody disrespects our flag, to say, 'Get that son of a bitch off the field right now, out. He's fired. He's fired!'"
But Trump's demand that players be on the field, his suggestion of mandatory standing, and his idea that protesters should leave the country once again spotlights a dissonance in his thinking. Trump has claimed that religious people are not free to speak their minds (including saying "Merry Christmas"), and he decried efforts to prevent speakers like the conservative provocateur Milo Yiannopoulos from addressing students at the University of California, Berkeley. Yet at the same time, the president is infuriated by athletes, most of them black, who are protesting to bring attention to racial injustice. He seeks to dictate their behavior, and he has argued repeatedly that they should lose their livelihoods.
Trump has also in the past suggested that people should have their citizenship stripped for burning the American flag, which the Supreme Court has deemed protected speech.
The president's comments about the NFL were the most notable during his interview with Kilmeade, which was taped on Wednesday. The president has not held a press conference in more than a year, and seldom grants on-the-record interviews to non-Fox journalists, but has made the morning show a primary platform. He is said to devotedly watch the show, and often tweets about it in real time. Still, Thursday's interview was only a short check-in with Kilmeade during the president's stop in Long Island, far from the free-wheeling, more-than-a-half-hour-long call-in he did in April.
Among other topics, Trump weighed in on the latest skirmish over immigration in Congress. Although he portrayed the matter as a fight between Democrats and Republicans—and said Democrats were feeling the pressure—the reality, as my colleague Russell Berman reports, is a war between moderate Republicans and hardliners. Moderates want a vote on a replacement for the Obama-era Deferred Action for Childhood Arrivals program, and they're pursuing a procedure called a discharge petition to force a vote over the objections of GOP leaders. Trump told Kilmeade he would not sign a bill that funded his border wall and replaced DACA without provisions to end the visa lottery and what he has called chain migration. "I think it's time to get the whole package," he said.
The president also delivered a confusing riff in which he seemed to imply he didn't like the process of judges processing immigration cases.
"We're the only country that has judges," he said. "They want to hire thousands of judges. Other countries have, it's called security people, people that stand there and say, 'You can't come in.' We have thousands of judges and you need thousands more judges. The whole system is corrupt. It's horrible. So yeah, you need thousands of judges based on this crazy system. Who ever heard of a system where you put people through trials?"
It is not the first time that Trump has lashed out at the judicial process and the rule of law. The president also claimed once again, falsely, that his wall is under construction, and he defended his calling MS-13 gang members "animals."
Amid ongoing questions about whether a planned June 12 summit with North Korea will occur as scheduled, Trump was noncommittal, saying, "We'll see what happens." On the central question of whether and when North Korea will denuclearize—Trump has said the country must, while Pyongyang has refused to be pinned down—the president was flexible on process and timing, though he insisted denuclearization was an essential part.
"I'd like to have it done immediately, but physically a phase-in may be a little bit necessary, but I'd like to see it done at one time," he said.
One of the more surprising elements of the interview was what Trump didn't say. Over a series of tweets and in brief comments to reporters Wednesday, the president fumed over news that an FBI informant had spoken to members of his presidential campaign who were suspected of untoward contacts with Russia. Trump has referred to this outside informant as a "spy" who was "placed very early into my campaign" for political purposes, even though neither he nor anyone else has produced evidence to back these claims up. (What is known is the informant spoke to three campaign aides about contacts with Russia, after one of them, George Papadopoulos, bragged to an Australian diplomat that Russia had dirt on Hillary Clinton.)
Speaking to Kilmeade, Trump criticized James Comey, whom he fired as FBI director a year ago, and said that some leaders within the bureau were "rotten apples." Rather than reprise the spying allegations, however, he quickly changed the subject to boasting about positive economic news. It was a pivot that even the most conventional politician could have admired.