The Eroding GOP Resistance to Trump's Immigration Agenda
The mainstream Republicans who won Tuesday's primaries adopted the president's nationalism.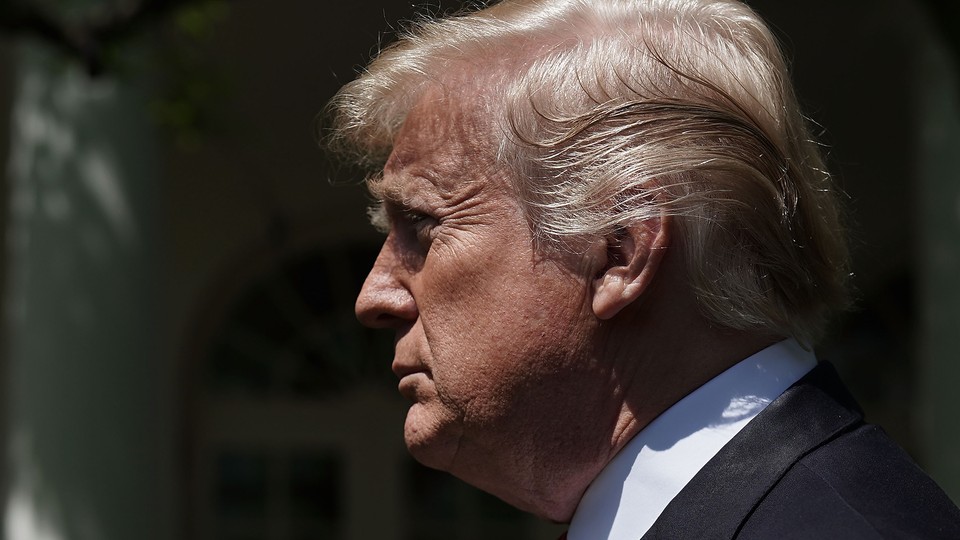 The results of Tuesday's primary elections simultaneously bolstered the Republican Party mainstream and demonstrated how much ground it has yielded to Donald Trump, particularly on the volatile issue of immigration.
In several key races, GOP primary voters rejected candidates who presented themselves as the most ardent acolytes of Trump, in terms of style, political agenda, or both. But the relatively more mainstream alternatives triumphed in those contests only after embracing much, or all, of Trump's hostility toward immigration. That dynamic underscores Trump's success at eroding resistance in the GOP toward his racially infused nationalism. And that could prove a defining gamble for the party in a nation inexorably growing more diverse.
In the near term, Republican strategists were mostly breathing a sigh of relief after voters picked party favorites over populist and conservative insurgents in almost all races where they clashed. (The biggest exception was a North Carolina House race.)
In Ohio, state attorney general and former U.S. Senator Mike DeWine easily won the gubernatorial nomination over Lieutenant Governor Mary Taylor, who bonded herself to Trump and besieged DeWine as insufficiently conservative. In the Columbus, Ohio, district being vacated by Representative Pat Tiberi—the site of the next marquee U.S. House special election—state Senator Troy Balderson narrowly topped Melanie Leneghan, who ran hard to his right. In the West Virginia Senate primary, the formerly incarcerated coal-company executive Don Blankenship declared himself "Trumpier than Trump," but finished a distant third; state Attorney General Patrick Morrisey captured the nomination to face Democrat Joe Manchin in November.
All of these losers threw thunderbolts on immigration. Taylor aired a blistering ad attacking DeWine as soft on the issue, with images of shadowy figures scrambling across a road. Blankenship, who served a year in prison for his role in a mine explosion that killed 29 workers, went the furthest, with an 11th-hour ad that accused Senate Majority Leader Mitch McConnell of creating "millions of jobs for China people" and accepting "tens of millions of dollars" from "his China family." That language, stripped of any remaining veil of nativism, referred to the Taiwanese heritage of McConnell's wife, Elaine Chao, Trump's transportation secretary.
The defeats of these candidates showed that even in the Trump-era GOP condemning immigrants most vociferously is no guarantee of primary success. But even more telling was how aggressively the more mainstream, winning candidates sought to coopt these arguments. If there was a major GOP candidate in these primaries who did not loudly declare their support for building Trump's border wall, I didn't see it. Likewise, every major GOP candidate pledged to crack down on so-called "sanctuary cities," which limit their cooperation with federal immigration-enforcement officials, and several pledged to constrict legal immigration.
Mike Braun, the business executive who beat two Republican House members for the Senate nomination in Indiana, succinctly expressed this new conservative catechism in one ad: "We must build the wall, ban sanctuary cities, and put an end to chain migration." Even in West Virginia, Morrisey and Representative Evan Jenkins, who finished second, apparently raised no public objections to Blankenship's broadsides against "China people."
Perhaps most dramatic was DeWine's response to Taylor's assault on his immigration record. As a U.S. senator from Ohio, DeWine in 2006 had supported the bipartisan immigration-reform bill that passed the Senate, which provided a pathway to citizenship for millions of undocumented immigrants. But rather than defend his past position against Taylor, DeWine aired his own ad declaring he "is fighting for President Trump's travel ban that will keep us safe and punishing illegal sanctuary cities."
These maneuvers confirmed a pattern established in earlier Trump-era Republican contests. In last year's Republican gubernatorial primary in Virginia, Ed Gillespie narrowly beat anti-immigration firebrand Corey Stewart. But during the general election, Gillespie—who years earlier, as the Republican National Committee chairman, had championed a more inclusive party—swerved toward nativist themes, with ads darkly warning of threats from the Central American gang MS-13.
Likewise, Representative Martha McSally, the Republican-establishment favorite in August's upcoming Arizona Senate primary, has moved to preempt two immigration hard-liners to her right—Kelli Ward and former Maricopa County Sheriff Joe Arpaio—by co-sponsoring legislation from House conservatives. Their bill would not only fund the wall and stiffen enforcement against undocumented immigration, but it would also cut legal immigration by roughly 40 percent, according to some estimates.*
In all these ways, relatively more mainstream Republican candidates are holding off the anti-immigration vanguard by accepting much of their agenda. Only a handful of prominent Republicans, such as Arizona Senators Jeff Flake and John McCain, still publicly dissent. "There is not an obvious set of leaders to put a break on this," said Simon Rosenberg, the founder of the Democratic advocacy group NDN, who has long studied the impact of demographic change on both parties.
Especially striking is that Republicans are stampeding toward this harder line not just in Rustbelt states like Ohio, West Virginia, and Indiana—which have few immigrants and little diversity. They're also doing so in the Southwest states, where there are growing Latino and Asian American populations. Texas Governor Greg Abbot has signed legislation to punish sanctuary cities. At last weekend's California Republican state convention, delegates flocked to a session encouraging local governments to join the Trump administration's lawsuit against the state's sanctuary law. And the Arizona Senate primary has been a race to the right on immigration.
All of these choices reflect the magnetic pull Trump is exerting inside the GOP coalition. But in the broader electorate, roughly three-fifths of Americans have opposed building the border wall and an even higher share has supported some legal status for the undocumented. While sanctuary policies can be more difficult ground for Democrats to defend, polls consistently show that significantly more Americans believe immigration strengthens, rather than weakens, the country; the margin was greater than 2 to 1, for instance, in an NBC/Wall Street Journal survey released last September.
The solidifying hostility to immigration evident in this week's GOP primaries places the party on a collision course with that consensus. The impact may prove more damaging in the Sunbelt than the Rustbelt, but on both fronts the party has now clearly surrendered the wheel to Trump.
---
* This story originally stated that legislation co-sponsored by Representative Martha McSally would cut legal immigration in half. We regret the error.