Trump Finally Fesses Up to Reimbursing Michael Cohen
There's still a great deal of mystery surrounding the president's payment: Who knew about it, and why was it not previously disclosed?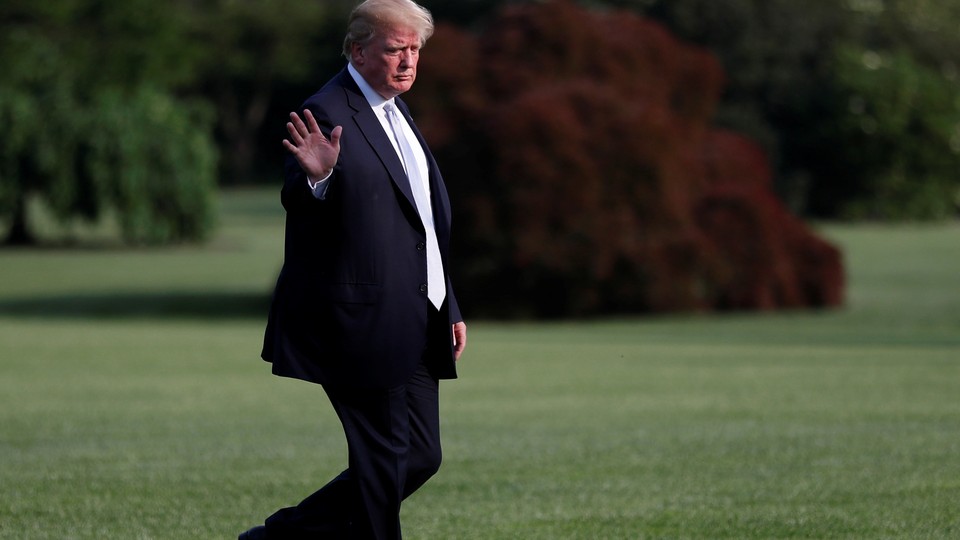 Updated at 8:31 p.m. ET
In a new financial disclosure released on Wednesday, the Trump administration delivered an authoritative answer to one question about the president's payment to Stormy Daniels—and raised a whole set of new ones.
The form, released by the Office of Government Ethics, mentions in a footnote that President Trump had made a six-figure payment to his former fixer and lawyer Michael Cohen in 2017.* The funds appear to have been reimbursement to Cohen for a $130,000 payment to adult-film actress and director Stormy Daniels in exchange for her silence about an alleged affair with Trump.
The president contends he was not legally compelled to detail the payment, but OGE disagrees. In the disclosure, Trump said this:
In the interest of transparency, while not required to be disclosed as "reportable liabilities" on Part 8, in 2016 expenses were incurred by one of Donald J. Trump's attorneys, Michael Cohen. Mr. Cohen sought reimbursement of those expenses and Mr. Trump fully reimbursed Mr. Cohen in 2017. The category of value would be $100,001 - $250,000 and the interest rate would be zero.
OGE, on the other hand, believes the payment to Cohen should have been reported the year it was made. The office wrote in the disclosure that it "has concluded that the information related to the payment made by Mr. Cohen is required to be reported and that the information provided meets the disclosure requirement for a reportable liability."
OGE Acting Director David Apol wrote a letter to Deputy Attorney General Rod Rosenstein saying the same thing, referring to an existing complaint filed by the watchdog group Citizens for Responsibility and Ethics in Washington about Trump's failure to report Cohen's payment to Daniels as a loan in his 2016 disclosure.**
Though late and arguably legally insufficient, Trump's statement about the payment to Cohen is important because the president and his aides have made conflicting and false statements about it in the past. The latest disclosure is presumably the most accurate rendering of what happened, because it is legally binding.
When the $130,000 payment from Cohen to Daniels was first revealed, Cohen said that he had paid Daniels out of his own pocket, and that neither the Trump campaign nor the Trump Organization had reimbursed him. In March, the White House said it was unaware of any payment. And in April, the president himself said the same. "You'll have to ask Michael Cohen," Trump said at the time.
But earlier this month, Rudy Giuliani, a new addition to Trump's legal team, said on Fox News that Trump had repaid Cohen for the expense, giving him the money as part of a vague retainer agreement. Giuliani also said the payment was made for purely personal, rather than political, reasons, and he seemed to believe that this absolved the president and his associates of any campaign-finance violations—though experts in campaign-finance law were not convinced. Giuliani also undercut his own explanation the following day, saying Trump didn't want news of the affair to emerge late in the campaign.
That earned him a scolding from Trump, who said his new lawyer was just "learning the subject matter" and was wrong. "He started yesterday, he'll get his facts straight," the president said.
The various contradictions in the official story meant Washington was avidly awaiting the disclosure to see whether and how Trump would handle the Cohen payment. The filing resolves one question definitively: The president did, in fact, pay Michael Cohen six figures at zero interest at some point in 2017. Yet it also raises a series of other questions, new and old.
For one thing, Giuliani told The New York Times that Trump had actually paid Cohen $460,000 or $470,000. It's not clear what time frame Giuliani was referring to, nor what Trump was supposedly paying for, but in any case, the range cited in the disclosure—$100,001 to $250,000—is significantly less. Was Giuliani wrong, and if not, why are those additional payments not disclosed?
Second, what did Trump know about the payment to Daniels, and when did he know it? Giuliani initially said that Trump had learned about it in late April or early May, but then backtracked, offering a "trust me, I was lying" defense. That means it's still unclear when Trump found out.
Third, who else knew about the payment, and why was it not previously disclosed? It's possible that whoever prepared Trump's 2016 disclosure was kept unaware of the payment; indeed, Trump himself claimed ignorance about it. But Trump must have delegated enough authority to someone in his orbit for that person to have made the reimbursement. If his disclosure is accurate, Trump paid Cohen more than $100,000 without knowing he was doing so. That's not a huge sum in the scale of Trump's fortune, but it is peculiar that he would be unaware.
Whatever the explanation, the omission may have violated the law. By signing the 2016 disclosure, Trump certified that it was true (although his lawyer attempted to file without the certification). But his 2017 disclosure contradicts that. Former OGE Director Walter Shaub, a frequent critic of Trump's, said the letter to Rosenstein is tantamount to a criminal referral, recommending the Justice Department investigate whether crimes were committed. It's unclear whether the department was already looking into problems with Trump's financial disclosures. "You may find the disclosure relevant to any inquiry you may be pursuing regarding the President's prior report that was signed on June 14, 2017," Apol wrote.
OGE has often clashed with the Trump administration, and has on occasion recommended punishment for White House staffers who've violated ethics rules. But OGE has no enforcement power: It can suggest repercussions, but it's up to the White House to actually levy them—something Trump has opted against.
By referring the matter to the Justice Department, OGE is flexing a new muscle—and passing off a hot potato. DOJ has the power to investigate, but pursuing a case here would ratchet up already high tensions between Trump and Rosenstein. "There have been people who have been making threats privately and publicly against me for quite some time and I think they should understand by now the Department of Justice is not going to be extorted," Rosenstein said earlier this month.
That appeared to be a reference to the president. Trump has repeatedly complained about his deputy attorney general in interviews and mused about firing him. While Trump is sensitive about the Russia investigation led by Special Counsel Robert Mueller, which he has called a "witch hunt," he bristles most aggressively about anyone peering into his personal and business ties. By concluding that Trump ought to have disclosed the payment to Cohen, OGE is showing the limitations of the president's ability to insulate his personal life from scrutiny.
---
* This story originally reported that President Trump made a payment to Michael Cohen in 2016.
** It also mischaracterized Citizens for Responsibility and Ethics in Washington's complaint about Cohen. We regret the errors.