Trump Goes to War With Mueller
The president has repeatedly said he intends to intervene in the Justice Department, and leaks and changes to his legal team telegraph a strategy of escalation.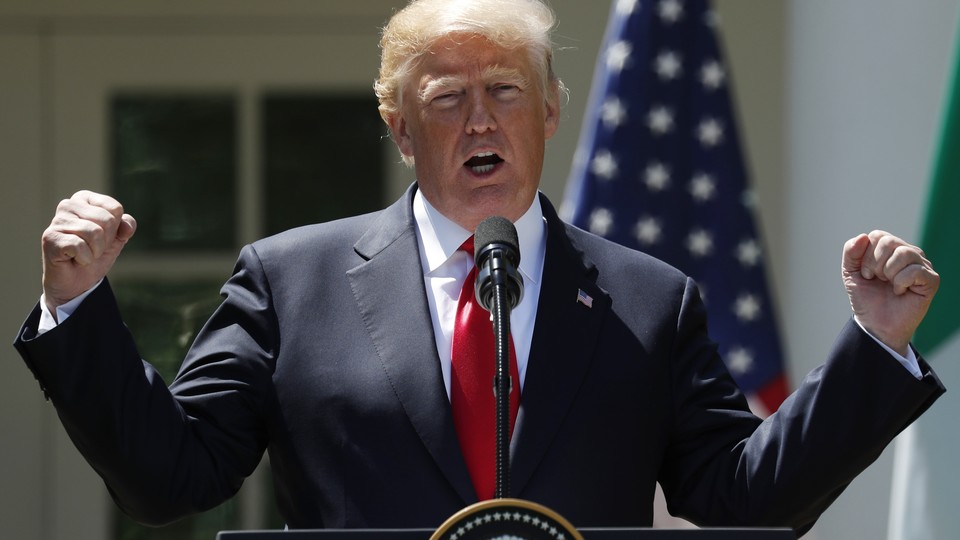 Updated on May 2 at 3:05 p.m.
When the president of the United States says repeatedly that he's going to do something, it's probably because he intends to do it.
Donald Trump lies repeatedly, but on big issues he tends to follow through, or try to follow through, on what he promises. Trump has now several times indicated his intention to meddle in the Justice Department and with the special counsel probe investigating him in order to protect himself. That, combined with a leak earlier this week and a shake-up on his legal team, point to the president escalating his skirmish with Robert Mueller and the Justice Department into a full-blown war.
Wednesday morning, Trump tweeted, "There was no Collusion (it is a Hoax) and there is no Obstruction of Justice (that is a setup & trap)." Three hours later, he added:
A Rigged System - They don't want to turn over Documents to Congress. What are they afraid of? Why so much redacting? Why such unequal "justice?" At some point I will have no choice but to use the powers granted to the Presidency and get involved!

— Donald J. Trump (@realDonaldTrump) May 2, 2018
This is at least the third time in a week that Trump has said he intends to intervene in the Justice Department. Last week, he told the hosts of Fox and Friends, "I have taken the position, and I don't have to take this position and maybe I'll change, that I will not be involved with the Justice Department." A few minutes later, he added, "Our Justice Department, which I try and stay away from, but at some point I won't, our Justice Department should be looking at that kind of stuff, not the nonsense of collusion with Russia."
(Trump's comments about redactions are confusing. He has attacked former FBI Director James Comey for releasing memos he claims are classified, and briefly blocked a Democratic memo from the House Intelligence Committee over its inclusion of classified information, yet he grandstands against redactions insisted upon by his own Justice Department.)
The president hasn't made explicit what he intends to do when he steps in, but the most obvious guesses are that he would fire either Deputy Attorney General Rod Rosenstein or else Mueller himself. On Tuesday, Rosenstein said, "There are people who have been making threats, privately and publicly, against me for quite some time. I think they should understand by now the Department of Justice is not going to be extorted. We're going to do what's required by the rule of law."
As for Mueller, Trump not only called his apparent obstruction-of-justice investigation a trap, but also tweeted a quote from Joe DiGenova, a lawyer who nearly joined Trump's legal team and who views the special counsel as a deep-state conspiracy.
Trump has run hot and cold about the Mueller investigation, often calling it a "witch hunt," in several typographical variations, but also expressing a strong desire to sit for an interview with Mueller. (Mueller does not comment publicly.) Yet events over the last week, in addition to these threatening quotes, suggest the White House is moving from a strategy of cooperating with the probe in an effort to put it in the past as quickly as possible, to take a far more aggressive stance toward the special counsel.
Begin with a bombshell New York Times report Monday, which revealed a set of questions, compiled by Trump's lawyers, that Mueller wanted to ask Trump. The list appears to have come from an ally or aide to the president: "That document was provided to the Times by a person outside Mr. Trump's legal team," the paper explained. Several other outlets also acquired it. But subsequent reporting from The Washington Post says the document actually represented "a list of 49 questions that the team believed the president would be asked," prepared by Trump attorney Jay Sekulow.
Why would the Trump team leak the list of questions it merely "believed" the president would be asked—which, as my colleague Adam Serwer reports, gestures at major dangers for the president—to the press? Only the sources themselves can speak definitively to their motivation, but the disclosure invigorated Trump's defenders on cable news and elsewhere. That produced a feedback loop: The leak of questions from the White House inspired angry reactions from the likes of Jesse Watters and Joe DiGenova; Trump then amplified DiGenova's attacks on Mueller; and the press rushed to cover the controversy. With Trump's media protectors taking to the barricades, he gained more cover to refuse to cooperate with Mueller.
Following the list of questions, the Post reported that during negotiations with Trump's team, Mueller had threatened to use a subpoena to compel the president to testify. Such a step would be highly unusual, and certain to infuriate Trump, but precedent from 1974's U.S. v. Nixon (yes, that Nixon) says the president must comply. Wednesday morning, former Trump lawyer John Dowd confirmed to ABC News that Mueller had raised the idea of a subpoena. Once again, it's curious that Trump's former lawyer would disclose this—but it creates an opportunity for Trump's current team to push back in the court of public opinion, trying to either force Mueller to agree to a limited interview, or else to wage a political war by trying to refuse.
In fact, Rudy Giuliani, a new addition to the Trump legal team, told the Post's Robert Costa Wednesday afternoon, "Some people have talked about a possible 12-hour interview. If it happens, that's not going to happen, I'll tell you that. It'd be, max, two to three hours around a narrow set of questions." He added, "They are going to need to narrow, to a great extent, the questions."
Meanwhile, the administration announced Wednesday afternoon that White House Special Counsel Ty Cobb, the attorney who has been most insistent about cooperating with Mueller all along, will be leaving the White House.
Curiously, Cobb spoke with ABC News Wednesday morning, in the wake of Trump's latest threats, and again insisted that cooperation was possible. "It's certainly not off the table and people are working hard to make decisions and work towards an interview," he said. He reportedly made no indication that he was on his way out, even though that announcement came within hours, and the White House said it had been planned. "For several weeks Ty Cobb has been discussing his retirement and last week he let Chief of Staff Kelly know he would retire at the end of this month," Press Secretary Sarah Sanders said in a statement.
Cobb's exit, following Dowd's in March, seems to mark the demise of the faction of Trump defenders who wanted to work with Mueller. Naturally, he denied that in an interview with CBS News's Major Garrett. "People will think this means we're going to war but I would not read that into this," he said, adding that "the bulk of the work was done." But Cobb has been predicting an imminent end to the inquiry since last year, too.
Cobb will be replaced by Emmett Flood, White House Press Secretary Sarah Sanders said in a statement, who will join the president's team "to represent the President and the administration against the Russia witch hunt." Flood is a top Washington lawyer who previously represented President George W. Bush amid congressional investigations, and was also a member of President Bill Clinton's team during his impeachment. (In March, when the Times reported on discussions with Flood about joining the legal team, Trump furiously denied it.)
Flood's hiring looks like an indication of growing seriousness by the president, much like the April hiring of Marty and Jane Raskin, a husband-and-wife team of lawyers with experience defending public officials. Yet Trump has a long way to go on getting serious: As Bloomberg reported, Cobb had a security clearance, but none of Trump's personal lawyers were cleared to view sensitive documents, hobbling their ability to defend him. That includes Sekulow, who is a First Amendment lawyer by trade. It also remains to be seen whether Trump will take Flood's advice seriously. He has tended to discount the advice of lawyers in his public and private handling of the Mueller probe, and often continues to confer with lawyers who represented him previously. In part for this reason, a large number of noted white-shoe lawyers have removed themselves from consideration to represent Trump.
The Flood hiring suggests a more confrontational approach. Giuliani told Costa,  "Jay had the most to do with it. Jay felt that he needed someone that was more aggressive."
It stands to reason that Trump would seek an aggressive attorney, since all of his other moves in the last week indicate a decision to fight a war against Mueller, rather than seek a negotiated path. No one other than Trump, and possibly (though not necessarily) his lawyers know what he is seeking to conceal from Mueller, but there's something from which he feels he must protect himself, and he is willing to take large legal risks, and to undermine rule of law, to do so.
What is at the end of this path? Is it a battle in the courts over whether Mueller can subpoena him? Is it firing Mueller? Is it firing Rosenstein, with an eye to limiting Mueller's scope? It's too early to answer these questions, and besides, Trump has already sought to fire Mueller twice and backed down, so even his own decisions are often not final. Regardless, the president has made explicit that he intends to meddle in the probe, and so it should come as no surprise when he eventually does so.