The 'Caravan' Migrants Have a Long Road Ahead of Them
Despite having arrived at the U.S. border, processing and adjudicating asylum claims could take years.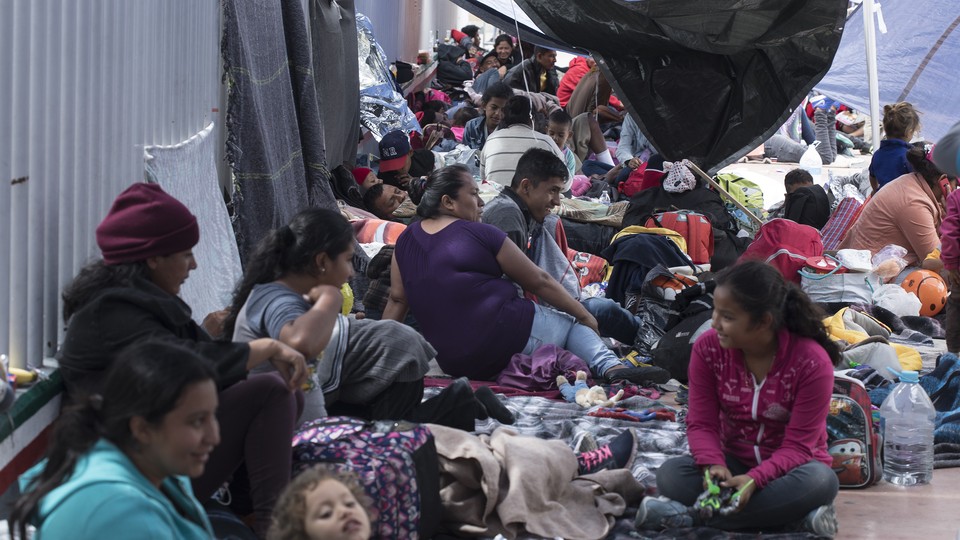 After a weeks-long journey to the United States, more than 100 Central American migrants, part of a caravan that once consisted of 1,200 people, finally reached the southern border Sunday in hopes of applying for asylum. Upon arriving, they were faced with the first of what's likely to be many obstacles toward being granted asylum in the United States: a port of entry too full to process them.
Customs and Border Protection said that the San Ysidro facility, near San Diego, was filled up to capacity, though it did not release how many people were being processed in the center, which can hold about 300. The standstill raised questions about if and when the administration would start processing migrants whose trek from the Guatemalan border has gained national attention. Then, late Monday, CBP began processing some of those migrants.
"We reached capacity at the San Ysidro port of entry over the weekend, and were temporarily unable to bring additional persons traveling without appropriate entry documentation into the port of entry for processing. We began processing undocumented arrivals again on Monday," CBP said in a statement. The New York Times reports that the group admitted included three mothers, four children, and an 18-year-old man.
President Trump has repeatedly denounced the caravan and urged the Department of Homeland Security, which oversees the border, not to let the migrants in, many of whom are seeking protections. But once they present themselves to CBP, the United States is required to consider asylum claims under international law, though there's no guarantee they'll be granted protection. Entering the United States through a port of entry, like many of these migrants are attempting to do, is not illegal. Many of them plan on turning themselves over to immigration officials and requesting protection. Under normal circumstances, processing of undocumented arrivals can take several days.
This isn't a typical situation. CBP said San Ysidro did not have space earlier this week to process individuals, so while they've since begun processing individuals, it's unclear how quickly they'll be able to get through the dozens of migrants waiting to apply for asylum. In its statement, the agency said, "The number of inadmissible individuals we are able to process in a day varies based on the complexity of the cases, resources available, medical needs, translation requirements, holding/detention space, overall port volume, and enforcement actions."
Facilities temporarily shutting down is not unprecedented: Centers have filled up in the past and, as a result, required the administration to put a pause on asylum applications. In December, the San Ysidro facility was in a similar position. "Facilities do fill up on occasion," said former CBP Commissioner David Aguilar, who served under President George W. Bush. "In fact, I would say frequently and it all depends on the type of flow that the area is experiencing."
In fiscal year 2018, more than 1,000 unaccompanied children and more than 1,300 families were apprehended in the San Diego sector, according to CBP figures. The region, like many others, has seen an uptick in unaccompanied children trying to cross the southern border. Overall, however, the number of apprehensions since October has been lower than it was during same time the previous year. What threatens to overwhelm the San Ysidro facility, according to Aguilar, is the sheer number of those who are seeking asylum.
With an overwhelmed immigration court system, asylum seekers may have to wait years before their hearing. According to a 2017 DHS report, more than 223,433 asylum cases were awaiting adjudication by USCIS by the end of 2016. And when the hearing does happen, what qualifies as a credible claim could change. Attorney General Jeff Sessions, for example, is reviewing an asylum case that could have big implications for women fleeing domestic violence abroad.
The process starts when an individual encounters a CBP officer and, in this case, claims asylum. CBP will then take the person into custody and take down basic information and biometrics, conduct a screening interview, and alert Immigration and Customs Enforcement and U.S. Citizenship and Immigration Services. That alone can take hours.
Migrants are then turned over to ICE custody. During that time, USCIS will conduct a "credible-fear" interview to assess whether the individual is indeed fleeing dangerous conditions and/or at risk of being persecuted upon return to his/her origin country. One of two things can happen after that: Officials can find that a migrant's credible-fear claims are valid, and have him or her stay in ICE custody until their hearings, where a judge will ultimately decide if he or she will be granted asylum; or order that the individual be returned to their origin country. (Asylum seekers can appeal an officer's decision if their claims are found to be invalid.) Due to the limited space in ICE detention, migrants are sometimes released with ankle bracelets or under certain conditions, like checking in regularly with immigration officials.
"Historically, the training has been that you are overinclusive," said John Sandweg, who previously served as the acting director of Immigration and Customs Enforcement under the Obama administration, referring to the credible-fear interview. "Better to send someone to an immigration hearing than to send them home to be persecuted." The Obama administration faced periods of increased border crossings in the spring of 2014 and fall of 2016. CBP erected tents in the Rio Grande valley to deal with the overflow of migrants being processed.
It's not clear if the caravan migrants will face elevated scrutiny, given the hardline immigration positions of the administration, and in that same vein, how many, if any at all, will be found to have valid claims. But at the very least, immigration officials will have to hear them. And that alone may provide some hope to the dozens of migrants waiting to make their case.