Playing Second Fiddle at Your Own Campaign Rally
At an event for Senate hopeful Marsha Blackburn in Nashville, President Trump barely addressed the candidate he was there to support. But he may have helped her anyway.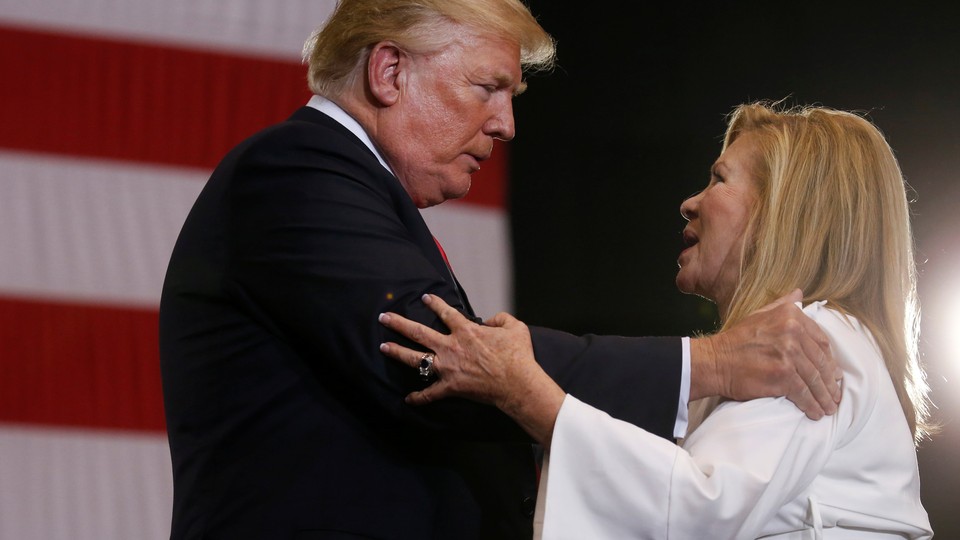 NASHVILLE, Tenn.—On an overcast Tuesday night, Marsha Blackburn made peace with being a wallflower.
The Tennessee congresswoman is running to replace the retiring Republican Senator Bob Corker, but even in this redder-than-red state, she's currently neck-and-neck with her Democratic opponent, former governor Phil Bredesen. President Trump was thus called in to provide reinforcements. His Tuesday-night rally here was billed as a call to arms for Republican voters—to make sure they turn out in November for a congresswoman who's embraced Trump tighter than most.
But Trump's past performance stumping for congressional candidates suggested that Blackburn would struggle to maintain the president's focus—and that's precisely what happened here in the city's crowded municipal auditorium. In his signature free-wheeling style, Trump spoke for over an hour, touting his enthusiasm for everything from tax reform to plans for new airports, calling House Minority Leader Nancy Pelosi an "MS-13 lover," and mentioning Blackburn's name just a handful of times.
To those familiar with past Trump events for down-ballot candidates, this wasn't a surprise. At a similar rally in March, for example, the president more or less ignored Pennsylvania's Rick Saccone, who ultimately lost the special election for the 18th district, and instead used the occasion to go after, among others, Oprah, a rumored presidential candidate in 2020. And just last week, in a move that seemed specifically engineered to spike the cortisol levels of congressional Republicans, Trump joked at a dinner hosted by a pro-life group that the crowd's votes in 2018 weren't all that consequential. "Your vote in 2018 is every bit as important as your vote in 2016—although I'm not sure I really believe that, but you know," the president said, interrupting his own prepared remarks. "I don't know who the hell wrote that line."
It would be understandable, then, if Blackburn was feeling uncertain on Tuesday afternoon, when she and her team met Trump on the tarmac in Nashville. There was no way to know whether the president would, in fact, stick to his tweet from that morning, when he vowed to "focus" his "energy" on the GOP agenda going forward. The eight-term congresswoman, who's expected to win the state's August GOP primary, has trailed Bredesen in all three polls conducted in the race so far. As she suggested to Fox News on Tuesday, Trump's "big crowds" could be crucial to sparking "momentum" for her campaign.
Yet in the few minutes she spoke Tuesday evening, far from seeming fazed by her footnote status, Blackburn appeared to understand exactly who her audience was: not a collection of voters she'd inspired to rally on behalf of her campaign, but loyal Trump enthusiasts who had come mainly to see him. Many people I spoke to before the rally admitted they didn't know much about Blackburn. Her goal, it seemed, was to ensure that those same people left the auditorium convinced of one thing: that Marsha Blackburn stands with Donald Trump.
---
People began lining up outside the venue as early as Monday. They wore red Make America Great Again hats and ponchos to guard against the drizzle. One group, slouching in folding chairs, held up a banner that read, "Close our borders." Of the dozens of people I saw in line throughout the day on Tuesday, not one carried a sign or donned merchandise in support of Blackburn.
Voters inside the cavernous auditorium made plain to me why they were there. About an hour before the rally kicked off, I met Roy and Becky Couch, who had driven in from Sevierville, Tennessee, over three hours away. The couple wore matching blue-sequin jackets and assorted MAGA gear. They'd come to the rally, Becky told me, because they adore the president. "We would go to the ends of Earth for Trump," she said. "We loved him from the beginning."
I asked if they knew much about Blackburn. "I've heard about her being here," Becky said. "And I think I saw her on TV one time."
Other people I spoke to gave similar answers. Twenty-one-year-old Caton McCarty, who's stationed at the nearby Army base Fort Campbell, said he came to "see the boss man"—as in Trump. As for Blackburn, "I know the majority of my friends on Facebook are supporters of her," he said. "Uh, I know …" he began, his voice trailing off, "not too much, honestly."
Despite this predictable knowledge gap among the rallygoers—none of the attendees I spoke with were from her district— Blackburn didn't use her stage time to paint a fuller portrait of herself. She didn't talk up her conservative roots, or her tenure in the House, like her leadership of a House panel investigating Planned Parenthood in 2016. Nor did she specify what she wants to achieve in the Senate. Instead, she focused solely on her support for Trump.
"I've gotta tell ya, he has had an amazing 18 months," she said, after Trump introduced her. "A Supreme Court justice, 40 federal judges, repealing record number of regulations, tax cuts, decreasing illegal immigration, standing up to China and North Korea, defeating ISIS and Syria—let me tell you, that is what you call getting the job done.
"And I'm gonna tell ya right now, Tennessee needs a senator who's gonna support President Donald Trump," she continued. "And I am going to be there to stand with President Donald Trump, and take your Tennessee values to Washington, D.C., to fight with him to get the job done. Thank you all so much."
That was her entire speech before Trump took the show back over. After reclaiming the microphone, he immediately claimed that no administration before his "has done what we have done"—a fact even his "enemies," as he put it, were "begrudgingly admitting." He then launched into a soliloquy about job creation, unemployment rates, and how the "forgotten men and women of this country" were "no longer forgotten."
In a riff on immigration, Trump attacked "Chuck and Nancy" as proponents of "open borders." He told the crowd the two Democratic leaders were "more interested in taking care of criminals than they are of taking care of you."
And he couldn't resist a reference to Hillary Clinton, whom Trump bested here in Tennessee 61 percent to 35 percent in 2016. After he chastised Bredesen for accepting donations from "Crooked Hillary," the crowd starting chanting, "Lock her up."
Over the course of the president's full hour on stage, when he did mention Blackburn, it was in the form of a strange coda to an unrelated ramble, as though he suddenly remembered who, technically, the rally was about. "We need Marsha Blackburn to win," Trump said in one non sequitur, shortly after a tangent on Alaska's Arctic National Wildlife Refuge.
On the surface, the lack of attention on Blackburn might seem disastrous. After all, the ostensible purpose of the evening was to improve the congresswoman's name ID among voters unfamiliar with her record, and to convince all Tennessee Republicans she's worth turning out for in November. But Blackburn may very well have accomplished those goals by tying herself so publicly to Trump, and by centering her remarks on the only politician her audience actually cared about.
I caught up with Becky Couch once more after the rally, her sequin vest visible across the auditorium. I asked her if she planned, now, to go vote for Blackburn in November. "Oh, definitely," she said. "Especially since Trump said to."