It Took Eric Schneiderman Just 3 Hours to Resign—Why?
What predicts whether a politician accused of sexual harassment or abuse will try to stay in office—or quickly fold?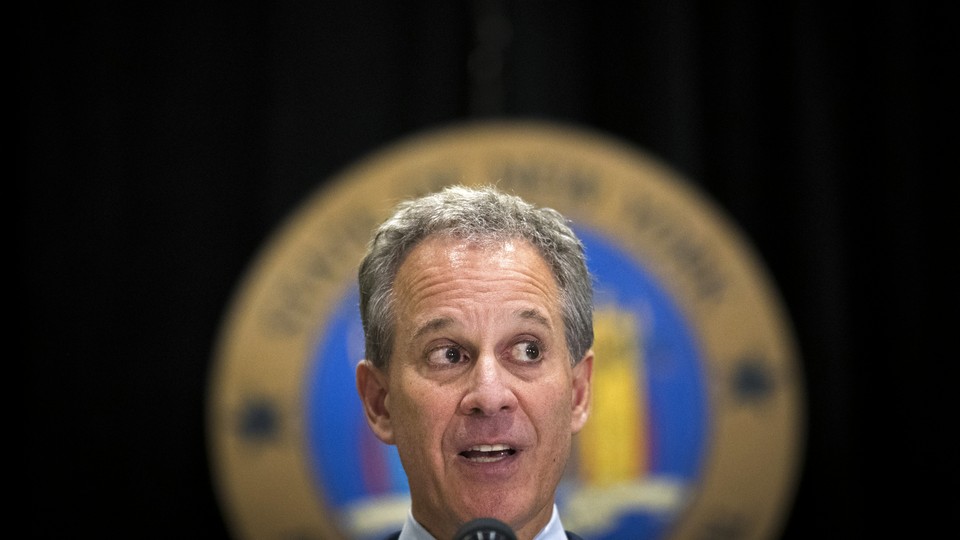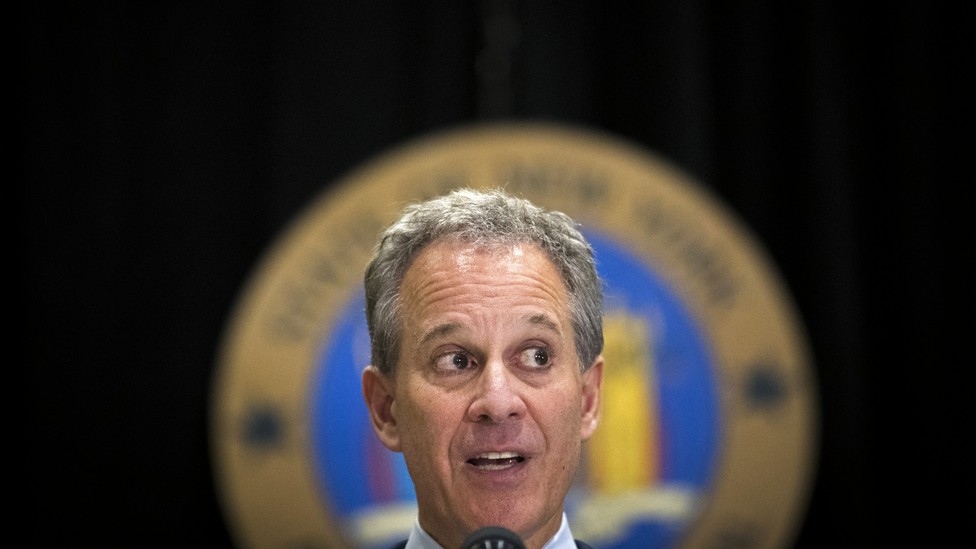 The fact of a powerful man being accused of sexual misconduct is not, at this stage, all that unusual—though the details of the accusations against New York Attorney General Eric Schneiderman were nauseating.
What was unusual was the speed with which he resigned. Just three hours elapsed from the moment The New Yorker published an article detailing allegations of abuse by former romantic partners until Schneiderman, a Democrat, announced he was leaving office. He offered a terse statement denying the claims, but added, "While these allegations are unrelated to my professional conduct or the operations of the office, they will effectively prevent me from leading the office's work at this critical time. I therefore resign my office, effective at the close of business on May 8, 2018."
The women described Schneiderman repeatedly hitting and verbally abusing them. One woman, Michelle Manning Barish,
says that when they had sex he often slapped her across the face without her consent, and that she felt "emotionally battered" by cruel remarks that he made. She says that he criticized how she looked and dressed, and "controlled what I ate." Manning Barish, who is five feet seven, lost thirty pounds, falling to a hundred and three. In a photograph from the period, she looks emaciated; her hair, she recalls, started to fall out. Nevertheless, he squeezed her legs and called them "chubby."
Another woman says Schneiderman brought her home from a party and told her successful women secretly wanted men to take charge during sex. As his talk became more aggressive, she pulled away. Then he slapped her twice, she said.
"Schneiderman hit her so hard, she says, that the blow left a red handprint," The New Yorker reports. "'What the fuck did you just do?' she screamed, and started to sob. 'I couldn't believe it,' she recalls. 'For a split second, I was scared.'"
The women also accused Schneiderman of threatening them if they spoke to anyone about his behavior, and said he often drank to excess.
Schneiderman was viewed as an ambitious, upwardly mobile politician. The attorney general's office is often a stepping stone to the governor's mansion in New York. Schneiderman had also positioned himself as a leading counterweight to the Trump administration, investigating both Trump and his company. Last month, he asked local legislators to change the state's law on double jeopardy, with an eye toward giving New York the leeway to prosecute Trump associates in state court even if the president pardons them.
While some men dethroned after allegations of sexual assault, harassment, and other types of misconduct have entered the early stages of attempted comebacks, it is difficult to imagine Schneiderman resurrecting his political career—especially given the damage that the allegations do to his image as an upright, if sometimes self-righteous, scold.
But the quickness of Schneiderman's exit remains surprising. The allegations against him were horrifying, and they were consistent across the women's stories. So were the accounts the women had earlier given to their friends, corroboration that makes it very hard for Schneiderman to claim there was simply some sort of misunderstanding or misrepresentation. Still, three hours is something like a record for #MeToo resignations.
So far, there isn't an obvious pattern to predict who will fall—and how fast—after a public, credible claim of misconduct is lodged. While the allegations against Schneiderman were appalling, they were not uniquely so. Nor is there enough evidence to suggest that the speed of resignation is accelerating as the #MeToo era continues.
It's tempting to seek an explanation that falls along party lines. There is a pointed comparison with Roy Moore, the failed Republican U.S. Senate candidate in Alabama. While Schneiderman left quickly, Moore was defiant in the face of allegations that he preyed on young girls, and while many Republicans distanced themselves from and condemned Moore, the president of the United States endorsed him and cast doubt on his accusers' accounts.
At the same time that Moore's accusers were coming forward, Senator Al Franken, a Minnesota Democrat, was forced to resign after allegations of unwanted groping, largely because of pressure from other Democrats in Congress. As Franken pointed out, the president of the United States also stands credibly accused of sexual harassment by more than a dozen women, with alleged incidents dating back to the 1980s.
But the Democrats' record isn't all that much better than the Republicans'. It took some time for Democrats to begin trying to force John Conyers, the dean of the House, to resign. Franken, who was at first defiant, announced his resignation about two weeks after being accused, but didn't resign for another month after that. Ruben Kihuen, a Democratic representative from Nevada, announced that he wouldn't run for reelection after accusations of sexual harassment, but refused to step down. Then he considered reversing course, floating the idea of running for reelection after all. Democratic leaders stayed tight-lipped, and Kihuen ultimately concluded he won't run again.
The strongest predictor for how long a politician holds out seems to be how much leverage his respective party has on him. That's a trend that began during the 2016 campaign. By the time the Access Hollywood tape was released in October of that year, Trump had already defied most of the Republican Party and won; he had little incentive to listen to calls for him to exit the race. GOP officials similarly had little leverage on Moore, who most Republican leaders, both nationally and in state, thought would be a catastrophic candidate. Having won his party's primary despite their opposition, and with the tardy backing of the president the GOP also couldn't control, the only check on him was voters—and check him they did, electing Democrat Doug Jones instead.
Consider also Missouri, where Governor Eric Greitens, a Republican, stands accused of several crimes, including an affair with a woman whose testimony describes a sexual assault. Greitens was elected in large part by running against the establishment GOP, so fellow Republicans wasted little time in calling on him to resign. But because there's little connection between the governor and his party, he has thumbed his nose at the calls for resignation. The state legislature is now moving toward impeachment, but that's a long, tortuous process.
When a politician is more embedded in the party apparatus, he seems more likely to leave, and to do so quickly. Kihuen had little to lose as an individual. Franken, however, saw himself as a good Democratic soldier, and realized his presence was hurting the party's pro-woman messaging. On the Republican side, House members were able to use ethics investigations as leverage to push Representatives Blake Farenthold, Pat Meehan, and Trent Franks toward the exits.
Schneiderman must have seen the writing on the wall. Not only did the accusations against him make his cheerleading for Weinstein-effect topplings look hypocritical, but his fellow New York Democrats would not hesitate to turn on him. Governor Andrew Cuomo has long had a snippy relationship with Schneiderman and quickly called for his departure. U.S. Senator Kirsten Gillibrand, who did the same, has been one of the most prominent advocates for harsh consequences for harassment, and helped to push Franken out. Schneiderman would have quickly been on an island far smaller and lonelier than Manhattan if he'd chosen to ignore their calls.
The notion that party leverage over an individual is perhaps the best predictor of the way they react to sexual-harassment or -abuse allegations is not wholly encouraging at a time when party leaders seem to be losing control, and are unusually powerless to stop candidates (including Trump) that they don't favor. Less encouraging is the certainty that there will be new #MeToo data points to consider before long.