The First Porn President
Donald Trump and the path from Playboy to Stormy Daniels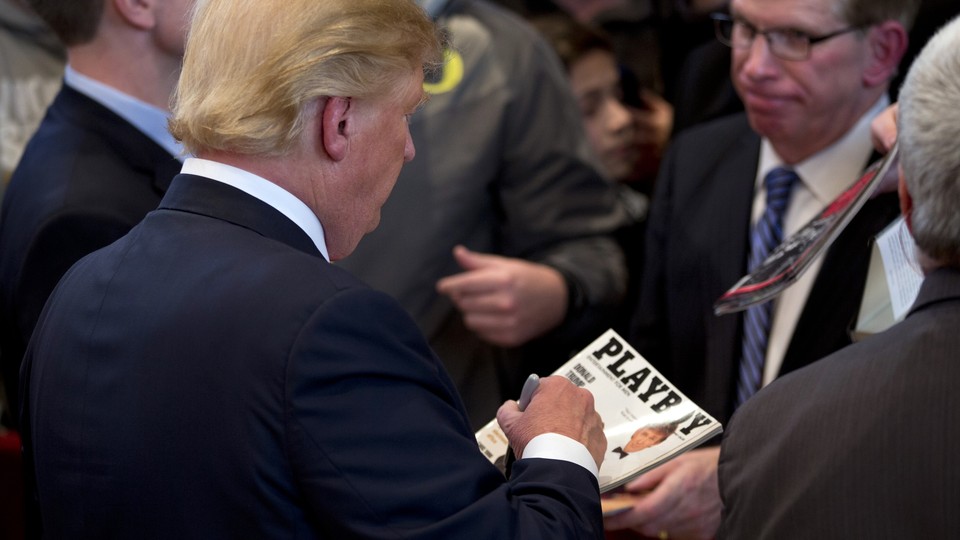 "I can now retire from politics," he said—the king of cool, the ironist in chief—"after having had 'Happy Birthday' sung to me in such a sweet, wholesome way": JFK, speaking to the vast audience at Madison Square Garden as Marilyn Monroe tottered away on her high heels, in her flesh-colored dress, leaving behind the hot trail of her sexual desire glowing in the darkness. In less than two years, they would both be dead, but that moment will live forever, reminding us always of our first and only Playboy president. The "playboy," as the publication invited its reader to think of himself, was urbane, sophisticated—able to handle a wide variety of amorous women, from the Miss Porter's sophisticate with her expensive underwear and afternoon passions to the Hollywood showgirl whose naked photographs had been published against her wishes in that very magazine. In reality, of course, the Playboy reader was just as likely to be a henpecked masturbator, trying to find a few minutes away from the old ball-and-chain while he gazed at a shaking image held in one ever-tightening fist. But that homely truth was beside the point. It was the way he thought of himself when the pages were shaking that really mattered, and what Playboy said was this: You know how to handle all of these beautiful girls, they are here for your pleasure, and they will only add to your legend.
Bill Clinton was our first frat-boy president. He could cheerfully reach into an enthusiastic intern's pants and then, without washing his hands, pick up the phone and conduct the nation's business. He was careless, self-confident, a winner. He would deny, deny, deny, but when there was no plausible version of reality that could still include a denial, he handed out a few breadcrumbs of contrition: "I misled people, including even my wife." Although Clinton was always called shameless, he wasn't—not really. He was humbled and embarrassed by many of the things that he brought on himself through his mistreatment of women.
Down the ladder we go until we reach the bottom rung: Donald Trump. He is miles away from Playboy and its endless offerings of clean, healthy girls who were high-school cheerleaders and education majors and whose prettiness was as central as their sexiness. He's not an undisciplined golden boy whose private behavior, if exposed, could destroy his image. He is the first truly shameless president, the first porn president, and that is why it is Stormy Daniels—more than the FBI or the IRS or the string of women who have claimed sexual harassment or abuse by him—who just might take him down. Daniels and Trump built their careers in different industries. She is entirely self-made, he is not. But the business approach she has taken to her porn career is similar to the one he has taken in his real-estate and political enterprises, and although the asymmetry of their respective powers—the aging sex worker and the president of the United States—might seem insurmountable, in many respects they are equally matched.
Hef is dead. The Playboy mansion was sold to the Twinkie king, Daren Metropoulos, who is the co-owner of Hostess, purveyor of lunchbox treats to good little girls and boys. The magazine itself has lost its way, overcome by the porn revolution and unable to find safe ground for its gauzy, almost romantic images. In 2015, it made the bold decision to discover how many people really do buy it for the articles and stopped publishing nude photos altogether—taking it from a slow death spiral to a suicidal plunge—before it spread out a safety net and began publishing the pictures again. "I'll be the first to admit that the way in which the magazine portrayed nudity was dated," Hef's son Cooper tweeted.
What was so dated? Not just the restraint of Playboy's images—a problem for the magazine since the pre-internet advent of Penthouse and Hustler, with their para-gynecological explorations of the female reproductive tract—but its insistence that Playmates have not just a backstory, but one that emphasized a certain kind of "niceness," the famous "girl next door" quality of its models. Anyone with enough money can hire a sex worker, even a famous one. But what kind of man has the power to undress another man's well-cared-for daughter, to unleash the hidden sexual eagerness of all the beautiful, spurning girls who walk the high-school corridors of this country, emerging into respectable professions before being snapped up by wealthy doctors and lawyers and becoming the soccer moms of tomorrow? Only a playboy. In its heyday, the magazine offered not just sexual pleasure but matchless status to the men who imagined squiring these verified sex kittens to parties and bedrooms. That is why the brand has long held an irresistible appeal for Donald Trump, who actually appeared on a cover of the magazine in 1990, alongside 21-year-old Brandi Brant. (Like many Playboy cover girls, she was a live wire, ultimately getting sentenced to six years in prison for cocaine trafficking. It was the Playmate inside that issue—Deborah Driggs, Miss March—who typified the ideal: cheerleader; figure skater; homecoming queen at Saddleback College in Mission Viejo, California.)
It is from this world of middle-class, young female respectability—as it was calibrated, circa 1966—that Karen McDougal emerged. In late March, McDougal appeared in a long, broken-hearted CNN interview with Anderson Cooper, in which she seemed to have been briefly cleaved from the princess telephone on which one French-manicured hand has been resting since 2006, willing it to ring, hoping to hear one more time from the man who stole her heart and took her to bed, but refused to commit himself to her.
If Karen McDougal had not existed, Playboy would have had to invent her. She so encapsulates the magazine's ideal that she could have been created from Hugh Hefner's rib and a handful of fairy dust. In only one respect does her biography differ from that of the dream girl: She is the child of divorce. But what can a publisher do when it is forced to merchandise the biographies of actual women and when the basic facts of their lives are so stubbornly uniform? McDougal makes up for this imperfection by having not one, not two, but three protective older brothers, their names a tom-tom of protective "all-American" maleness: Bob, Dave, and Jeff. Raised in Michigan, she was a high-school cheerleader, member of the color guard, and volleyball player, who was known, in the corridors and locker rooms of River Valley High, as "Barbie" and who was surely bound for respectability as it was measured in 1980s Michigan. Off she went to Big Rapids, to study elementary education, emerging two years later as a teacher of pre-K (Kindergarten itself being too much of a fallen world for this radiantly innocent but rapidly ripening creature), and then, it begins: the chance encounter with a swimsuit competition, an exciting win, and the career as glamour, promotional and swimwear model.
All of these are not euphemisms, exactly, but they were powerful signifiers to the Playboy reader: She had been recognized as a perfect physical specimen, and had been rewarded for it in the farm leagues, but while she may have been circling close to the venues where nudity is required, there is very good chance—or at least it was plausible for the consumer to believe—that these Playboy photos were her first experience with the form. Playmate photos of previously obscure women offer the appeal that "audition" videos of women in porn offer: the moment of crossing over, the introduction to the world of serving men. Time passed and she became not just the December 1997 Playmate of the Month, but a Playmate of the Year and then the runner-up to the "Playmate of the 1990s." And then, in 2006, she tugged on her bunny costume to appear at the Mansion in a party scene for Celebrity Apprentice. By then Hef's ever-present bathrobe suggested less a swinging lifestyle than an assisted-living wing; by then, the complex had gone a bit to seed, the grotto pools reeking of chlorine, the Jacuzzis needing a skim. And it was there she met Donald Trump, the beginning of what she described to Cooper—beautiful eyes occasionally filling with tears, embarrassing questions causing her to look down at her lap—as a great love affair between two good people who were deeply attracted to one another.
The CNN interview revealed a stunningly pretty woman, one day shy of her 47th birthday, wearing a tasteful blue dress and simple jewelry. She looked like a rich man's wife, the kind of L.A. mom who picks up her kids in a Range Rover and ferries them home to a $10 million house for tutoring, soccer drills, and a Whole Foods dinner. She described her months with Trump the way that kind of woman would describe her romance with the investment banker or law partner she married: She loved that he was "an interesting person; he's brilliant"; she was attracted to his good looks and "great posture." She loved how much fun they had together, how "we would talk about anything and everything from what kind of food do you like to how's your family?" He was "respectful"; he was romantic; he called her "Baby" and "Beautiful Karen." He told her that he loved her. Sure, she cried her eyes out in the back of the limo after he tried to pay her the first time they'd been "intimate." ("I'm not that kind of girl," she said, deeply hurt. "You're really special," he said, before sending her home with a driver.)
Yes, it had been an ugly surprise to discover that during one of their romantic getaways, to a July 2006 golf tournament in Lake Tahoe, he'd also apparently been having sex with other women, including Stormy Daniels. McDougal's eyes welled up with big, All My Children-style tears of guilt and apology when Cooper confronted her with the fact that she had conducted this affair while her lover's wife was busy with their newborn son. When she finally called it off—a prelude, she said, to becoming "a different kind of girl" and getting "involved in my church"—McDougal told Trump that her mother would be disappointed in her, but she never stopped loving him. She may have worked in the world of soft-core sex, but she was also a hardcore Republican, who revealed on CNN that she had voted enthusiastically for her old beau.
But if McDougal was crushed by the breakup, she got over it quickly. Her eyes glinted as she told the story of how she'd managed to sell her story for $150,000 to AMI, the parent company of The National Enquirer, and how it had been a fantastic deal. It offered her the chance to "rebrand" herself in a new career, as the author of occasional fitness columns in three of the conglomerate's other titles: Star, OK, and Radar Online. Far from feeling victimized by a "catch and kill" scheme by AMI, she had loved the organization's plan—which they had not hidden from her, but openly explained before she signed the contract—not to run the story about her affair. It would allow her to maintain the kind of "wholesome" image that is apparently demanded by consumers of fitness advice in OK magazine. Indeed, her only complaint—despite her welling eyes—was that AMI hadn't published enough of her columns. In the end, she was small time, a bunny, looking for a creative way to face the challenges of being "an older model."
On the other hand: Stormy Daniels, who was never for one second in love with Donald Trump, who was not an admirer of his posture or his good looks or his brilliance. "Ugh," she thought the first time she saw him on his bed waiting for her, "here we go." She had not been raised with Bob, Dave, and Jeff to protect her. She had grown up hard, in Baton Rouge, Louisiana, and everything she has, she earned.
Stormy Daniels was not given a million dollars in seed money from a rich father, but in many other respects she is like Trump. She sees human sexuality as rife for transaction, she has no shame, and she's tough. She, too, cultivates a passion of the leisure class (he golfs, she owns and rides horses competitively) and she shares his vision for imposing her name on a vast landscape. For Trump, this means blighting skylines with ugly buildings, each of them crowned with his big '80s logo, that arrangement of gilded letters that stands for the worst of the decade. She seeks to control a vast region of online pornography by writing and directing and starring in films that fuse the storytelling and prop-filled premises of the '70s long form with the contortionist extremes and necessary visual tropes of the contemporary short form. Like Trump, she understands that to be a winner you must be your own brand, and that if you spend your life as a Miss December, you will never really come out ahead: It's your name you want on the building—or the Pornhub channel—not your employer's.
Like Trump, Daniels knows that the range of acceptable public and private behavior is ever-widening in this country, and like him she was once a surprise candidate on the Republican ticket, exploring a run for U.S. senator from Louisiana in 2009. (His campaign slogan: "Make America Great Again." Hers a more forthright: "Screwing People Honestly.") She, too, has been married three times, and she, too, has a deeply loved daughter, who has justified all of the struggle. The oldest American story there is: the sins of one generation paying for the genteel pursuits of the next.
When she was interviewed by Anderson Cooper on 60 Minutes (and even here she was a winner over McDougal: the Tiffany network for the porn star, basic cable for the bunny), she seemed entirely different from the quivering playmate. Daniels is almost 10 years younger, but she looked strained and tired, with circles under her eyes. She was not tearful; she was not remorseful; she did not call sexual intercourse "being intimate." Her complaints were simple, believable and—as far as Trump is concerned—potentially grave. She had sex with him one time, and had kept up a phone-line flirtation on the off-chance that he would make good on his offer to try to get her on Celebrity Apprentice. When it was clear it wouldn't happen, she dropped him.
"Were you attracted to him?" Anderson asked.

"No," she replied, forthrightly but without rancor.

"Not at all?"

"No."
"I thought of it as a business deal," she said of the relationship. Two weeks before the election in 2016, she made another business deal: signing a nondisclosure agreement for $130,000, brokered by Trump's personal lawyer Michael Cohen. This agreement has caused her tremendous difficulties, but it is Trump who may ultimately be its greatest victim. According to Trevor Potter, a former chairman of the Federal Election Commission who also appeared on 60 Minutes, the money may very well constitute "a coordinated, illegal, 'in-kind' contribution by Cohen for the purpose of influencing the election." In the end, the person who may bring down Donald Trump just might not be a hapless James Comey or a slow-moving Robert Mueller. It could in fact be the star of Nymphos and Snatched, the woman who started stripping at 17 and learned very quickly that if you want to get rich serving the needs of men, you want to control the means of production.
Stormy Daniels is angry, she's not backing down, and the facts, as she presents them, could constitute a crime. She objects to any characterization of herself as an opportunist, despite her current "Make America Horny Again" tour. "Tell me one person who would turn down a job offer making more than they've been making, doing the same thing that they've always done," she said to Anderson Cooper. She is one more worker in the great service economy of a post-global America, and—unlike so many others in her general situation—she is making it work for her.
In the end, Trump, McDougal, and Daniels are three Republicans who are happy to build, inhabit, and impose upon all of us a heartless world, untroubled by the one consistently compelling notion that the GOP used to offer: that the American institution most worthy of respect was the family, the home, the shelter of one another. To the three of them, a wife—even one who had recently delivered a new baby—was not deserving of any special consideration or protection, or even of decency in its broadest possible definition. But McDougal is the odd one out, clinging as she does to her cloying simulacrum of "wholesomeness," trying to will herself into a world in which Donald Trump would build her a golden cage, treat her kindly, and call her "Beautiful Karen" for all the rest of her days. He's not a playboy or, really, much of a husband. He's a porn president, where every intimate interaction is for sale if the money is right, and where the underlying truth of each deal is that at the end of it somebody is going to get screwed. This time—maybe, maybe—it could be him.