The Lingering Mysteries of a Trump-Russia Conspiracy
A year of dizzying developments have bolstered both Mueller's critics, who say he's on a "fishing expedition," and his defenders, who believe he's leaving no stone unturned.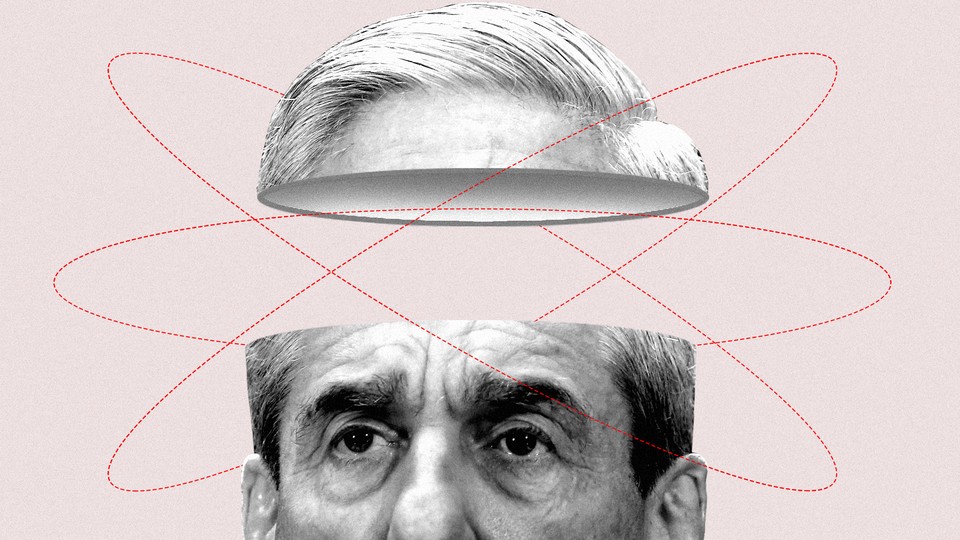 Updated on May 16 9:00 a.m. ET.
The day after Robert Mueller was appointed special counsel to lead the investigation into Russia's election interference, it seemed to some that President Trump's "worst nightmare" had come true. A year and nearly 20 indictments later, there's no sign it's winding down.
Dozens of dizzying developments and near-daily news alerts have bolstered both Mueller's critics who say he's on a "fishing expedition," and his defenders, who believe he's leaving no stone unturned. All along, Mueller has never said a word, preferring to speak through the criminal charges he's levied against multiple Trump associates, including Trump's former campaign chairman Paul Manafort and his deputy, Rick Gates. Trump has taken the opposite approach, ramping up his attacks on Mueller's "witch hunt" and against the special counsel himself in tweets and interviews.
To the president, the investigation may seem like it has dragged on. But the longest special-counsel probe—Iran-Contra under former President Ronald Reagan—lasted nearly seven years. The Whitewater and Monica Lewinsky inquiry involving former President Bill Clinton, which ultimately led to Clinton's impeachment in the House, lasted four years. And the investigation of the Valerie Plame affair under former President George W. Bush lasted three-and-a-half years. Mueller's pace has been breakneck, legal experts tell me—especially for a complicated counterintelligence investigation that involves foreign nationals and the Kremlin, an adversarial government.
As the probe wears on, the fundamental legitimacy of Trump's presidency hangs in the balance: Did his campaign conspire with Russia to undermine Hillary Clinton and win the election?
Here, the most significant revelations the country has learned since Mueller began his probe—revelations that could eventually answer that question.
---
Jared Kushner Proposed a Secret Backchannel to Moscow
In late May 2017, The Washington Post reported that Jared Kushner, Trump's son-in-law and senior adviser, was willing to go to extraordinary lengths to establish a secret line of communication between the Trump team and Russian government officials during the presidential transition after the 2016 election. As part of a series of meetings he held with foreign officials during that period, Kushner spoke with Russia's then-ambassador, Sergei Kislyak, in December and floated the possibility of setting up a secure channel. He also wanted those talks to take place in Russian diplomatic facilities in the U.S., which would essentially conceal future interactions from the American government, according to The Post. A surprised Kislyak relayed Kushner's offer back to Kremlin officials, in conversations that were picked up as part of the intelligence community's routine eavesdropping of monitored foreign agents.
Kushner explained in a statement prepared for the congressional intelligence committees investigating potential collusion that he had simply been wondering aloud whether such a channel existed, so that the incoming administration could securely discuss their military options in Syria with the Russians. But he did not initially disclose the Kislyak meeting to U.S. officials during his background check—the White House only acknowledged it after news outlets reported on it. It was part of a pattern of off-the-books interactions between the Trump campaign and Kislyak. One of Trump's top surrogates, then-Senator Jeff Sessions, met with Kislyak twice, but told his colleagues during his confirmation hearings for attorney general that he had no contact with Russians during the campaign. Two other campaign aides, Carter Page and J.D. Gordon, spoke to Kislyak following a panel at the Republican National Convention. And Trump's first national-security adviser, Michael Flynn, was forced to resign after mischaracterizing his conversations with the former ambassador.
The Trump Administration Made Early Attempts to Lift Russia Sanctions
Just days after Trump took office, his administration looked into lifting the sanctions that former President Barack Obama had imposed on Russia over its meddling in the 2016 election. Tom Malinowski, who stepped down in January 2017 as Obama's assistant secretary of state for human rights, told me last June that he and Daniel Fried—then the chief U.S. coordinator for sanctions policy—scrambled to lobby Congress to halt the development of a sanctions-lifting package being considered by the White House after government officials began ringing "alarm bells about possible concessions being made" to Russia. (Malinowski was lobbying unofficially). By that time, the FBI, CIA, and NSA had concluded that the Russians had interfered in the election to derail Hillary Clinton's candidacy.
From the legislative side, Democratic Senator Ben Cardin and Republican Senator Lindsey Graham quickly introduced the Russia Sanctions Review Act on February 8, 2017. The legislation called for new penalties on Russia and included a provision that gave Congress veto power over any sanctions-lifting package proposed by the White House that would affect Russia. It passed that summer with a veto-proof majority, effectively forcing Trump to sign the bill. The administration blew through two deadlines to impose the new sanctions as required by law, but began to implement them in waves in March.
Several of the Russian oligarchs sanctioned by the administration are key players in Mueller's investigation. At least one, Viktor Vekselberg, was questioned by the special counsel's team earlier this year about payments he made to Trump's longtime personal attorney Michael Cohen between January and August 2017.
A Russia-Linked Professor Offered Dirt on Clinton
In April 2016, a shadowy professor with ties to Russia named Joseph Mifsud told a young Trump campaign aide, George Papadopoulos, that Russia had "dirt" on Clinton in the form of "thousands of emails." Russia had hacked the Democratic National Committee months earlier, and would soon break into Clinton campaign chairman John Podesta's inbox. It is still not clear how Mifsud seemed to know in advance that Russia sought to compromise Clinton's candidacy. After his breakfast meeting with Mifsud at a London hotel, Papadopoulos tried several times to organize a meeting between Trump and Putin, according to emails he sent to top Trump campaign aides that were released by the special counsel's office in October.
Another unknown is whether Papadopoulos explicitly told Trump campaign officials about the "dirt" Mifsud had disclosed; The New York Times reported on Tuesday night that a Trump campaign aide told Senate investigators that he recalls receiving an email from Papadopoulos describing the compromising information Mifsud had alluded to. Mueller charged Papadopoulos in October for lying to federal agents about his conversations with Mifsud. Papadopoulos pleaded guilty and agreed to cooperate in exchange for a lighter sentence. Mifsud has virtually disappeared since his name was made public late last year.
Top Trump Campaign Officials Met With Russians to Get Dirt on Clinton
Last July, as Trump and his aides were flying back to the U.S. from a whirlwind trip to Poland and Germany, The New York Times published what seemed like a smoking gun: Donald Trump Jr., Paul Manafort, and Jared Kushner had attended a meeting at Trump Tower at the height of the election with a Russian lawyer who promised dirt on Clinton. Emails released by Trump Jr. after the meeting was made public detailed how it had been arranged: Music publicist Rob Goldstone, who represents the pop-star son of one of Trump's former business partners, offered Trump Jr. information on behalf of "the crown prosecutor of Russia" that would "incriminate" Clinton. "This is obviously very high level and sensitive information but is part of Russia and its government's support for Mr. Trump," Goldstone wrote. "If it's what you say I love it especially later in the summer," Trump Jr. replied. Following the exchange, the lawyer, Natalia Veselnitskaya—who acknowledged recently that she works as an "informant" for the Kremlin—was dispatched from Moscow to meet with the trio on June 9, 2016.
Trump Jr., Manafort, and Kushner have said they were disappointed by what she brought with her—that there was little usable opposition research. Still, Manafort took notes on the conversation referencing "active sponsors of the RNC" and "Cyprus offshore." When news of the meeting broke, Trump helped write a statement for his son that omitted any reference to compromising information about Clinton; it said the meeting was instead about Russia's adoption policy, a topic the president had discussed the day before with Putin at the G20 summit. Mueller has made that misleading statement a focus of his investigation, according to questions drafted by the president's lawyers based on their conversations with Mueller's team.
Manafort and a Former Russian Spy Discussed Repaying a Russian Oligarch
Emails exchanged between Manafort and his longtime business associate Konstantin Kilimnik—a former agent of Russia's military-intelligence unit known as the GRU—suggest that Manafort was using his high-level campaign role to curry favor with the Russian oligarch Oleg Deripaska. In late September, The Washington Post reported that Manafort asked Kilimnik how he could use his position to repay Deripaska, and offered to give him "private briefings" about the campaign. The Atlantic later reported a more complete account of their exchanges. On April 11, 2016, Manafort asked Kilimnik whether he had shown "our friends" the media's coverage of him since his hiring as a senior campaign strategist. "Absolutely," replied Kilimnik, who has come under FBI scrutiny over his purported ties to Russian intelligence. "Every article."
"How do we use to get whole," Manafort responded. "Has [Oleg Vladimirovich Deripaska] operation seen?" According to legal complaints filed in the Cayman Islands, Deripaska's representatives claimed he gave Manafort $19 million in 2014 to invest in a TV business venture. Manafort, the filings say, all but disappeared without paying Deripaska back when the project fell through. Manafort and Kilimnik met in New York on August 2, 2016. Just over two weeks later, Manafort was forced to resign after The New York Times reported that the pro-Russia political party he had worked for had earmarked him $12.7 million for his work between 2007 and 2012.
Top Trump Campaign Aides  Received  'Millions' From Oligarchs
On October 30, 2017, Mueller filed his first indictments in the Russia investigation against Manafort and his deputy Rick Gates, who were accused of laundering the "millions" of dollars they had received from Russian and Ukrainian oligarchs throughout their years advising Ukraine's pro-Russia Party of Regions. That same day, the special counsel's office revealed that a little-known Trump campaign aide named George Papadopoulos was cooperating with the probe after pleading guilty to lying to the FBI about his conversations with a foreign national with ties to Russia. The Manafort and Gates indictment contained 12 counts, including conspiracy against the United States, conspiracy to launder money, and seven counts of failure to file reports of foreign bank and financial accounts. Following a second round of indictments against both men in February, Gates decided to cooperate with investigators in exchange for a lesser sentence. Manafort, meanwhile, has maintained his innocence. His trial is scheduled to begin on July 10.
Russian Trolls Worked to Help Trump
In mid-February, Mueller dropped another bombshell: Thirteen Russian nationals connected to the Internet Research Agency—a Kremlin-backed outfit whose employees posed as Americans and spread disinformation online in an attempt to influence the 2016 election—were charged with "knowingly and intentionally" conspiring with each other "to defraud the United States." The defendants' operations in 2016, the indictment alleges, included "supporting" Trump's candidacy and "disparaging Hillary Clinton."
According to Mueller, the defendants took extra steps to make it look like its social-media campaign was based in the U.S. rather than in Russia, purchasing space on computer servers in the U.S. Individuals associated with the Trump campaign were targeted by the Russians, too, as they sought to "coordinate political activities" like rallies and protests. The indictment reinforced an intelligence community assessment released in January 2017 that said the Russians interfered to hurt Clinton's candidacy. It was released days after the country's top intelligence officials warned lawmakers that the Russians plan to target the 2018 midterm elections.
Mueller Questioned a Russian Oligarch About Payments to Trump's Attorney
One of the biggest scoops in the Russia investigation came just recently, from a lawyer representing the adult-film performer Stormy Daniels in her lawsuit against Trump and Michael Cohen. Cohen had been paid hundreds of thousands of dollars by the Russian oligarch Viktor Vekselberg between January and August 2017, the attorney, Michael Avenatti, claimed last week. He did not offer any evidence up front to support the claim, but soon CNN reported that Mueller had questioned Vekselberg about the payments. Cohen's lawyer Steve Ryan acknowledged the Cohen-Vekselberg transaction but told me that it was not "a payment." Cohen's New York office and residences were raided by the FBI last month on a tip Mueller gave to the Southern District of New York. Investigators were reportedly looking for evidence of potential bank fraud, wire fraud, and campaign finance violations.