The Final Fall of Eric Greitens
Missouri's Republican governor announced that he will resign rather than face impeachment over allegations of sexual misconduct and violations of campaign-finance law.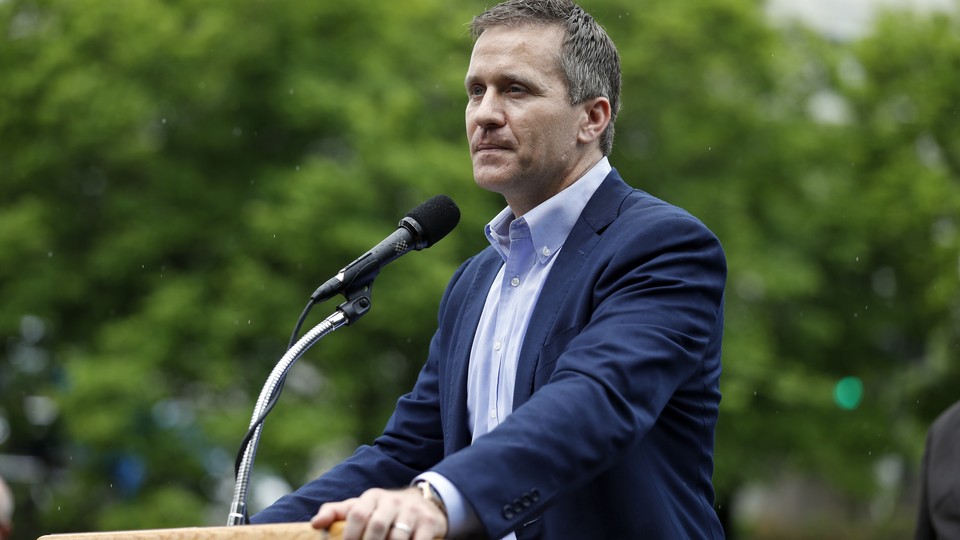 Missouri Governor Eric Greitens, once seen as a rising star and possible presidential candidate in the Republican Party, will resign on Friday, less than a year and a half into his term.
The scandal-plagued Greitens made the announcement in a surprisingly defiant statement late Tuesday afternoon in Jefferson City, where he faced possible impeachment. He will be replaced by Lieutenant Governor Mike Parson.
"It's clear that for the forces that oppose us there is no end in sight," Greitens said. "I cannot allow those forces to continue to cause pain and difficulty to the people that I love. I know, and people of good faith know, that I am not perfect but I have not broken any laws nor committed any offense worthy of this treatment."
The resignation caps a dizzying rise to office by a first-time candidate, followed by a just-as-dizzying collapse. The governor faces an array of troubles, some stemming from an affair he conducted while running for governor, others related to persuasive alleged violations of campaign laws.
"The last few months have been incredibly difficult for me, my family, my team, my friends, and for many many people that I love," he said. "This ordeal has been designed to cause an incredible amount of strain on my family. Millions of dollars of mounting legal bills, endless personal attacks designed to cause damage to family and friends, legal harassment of colleagues, friends, and campaign workers."
Despite his tone of persecution, the governor's troubles are seemingly self-inflicted, and in recent weeks, Greitens's removal from office had become a foregone conclusion—the question was whether he would go under his own volition or wait to be impeached. While a criminal invasion-of-privacy case related to the affair was dropped earlier this month, the state legislature this month began hearings with an eye toward impeaching him.
The governor resigned hours after a judge ruled that Greitens must give legislators documents related to A New Missouri, an independent nonprofit formed shortly after he took office, to see whether he illegally coordinated with the group.
Greitens took office with what appeared to be an immaculate record: a full-ride scholarship to Duke, where he designed his own major in ethics; a Rhodes Scholarship; a stint in the Navy SEALs, including a Purple Heart and Bronze Star; a prestigious White House fellowship; and the foundation of a nonprofit to aid veterans, along with three inspirational books. There were some warnings—a group of SEALs questioned his career with the unit and his medals—but they were largely ignored. Greitens kept his politics carefully hedged and his options open.
Unsurprisingly, both parties tried to recruit him to run for office in his home state of Missouri. This was just as Greitens had designed it: He'd been telling people since at least college that he wanted to be president, and in 2009—years before he ran for any office—he reserved the URL EricGreitensForPresident.com.
Greitens, long a registered Democrat, made his move in 2015, announcing in a FoxNews.com essay that he was a "conservative Republican," and proceeding to jump into the race for governor, seeking the GOP nomination. Still, he opted to run largely by separating himself from the state Republican Party, portraying himself as the squeaky-clean, family-values alternative to a corrupt class of career politicians in Jefferson City.
This turned out to be a smart short-term political move, as it carried him to victory, but a deeply ironic and ultimately Pyrrhic strategy. According to the allegations against him, the governor was neither squeaky clean nor especially morally upright. Meanwhile, his campaign rhetoric alienated many Missouri Republicans, who not only did not come to his defense when he came under scrutiny, but were all too happy to move forward with impeachment proceedings.
As he was preparing to declare his candidacy in early 2015, Greitens, who is married with children, began a sexual relationship with a woman he met at a hair salon. Though the relationship began consensually, the woman's testimony to the legislature showed that things quickly took a darker turn. She said that when she was naked, he bound her and then took a picture and told her, "You're not going to mention my name. Don't even mention my name to anybody at all, because if you do, I'm going to take these pictures, and I'm going to put them everywhere I can. They are going to be everywhere, and then everyone will know what a little whore you are."
Her account also described a sexual assault, as she said that Greitens became violent, and she felt coerced to perform oral sex in order to be allowed to leave his house. In a pointed rejoinder to Greitens's complaints, the woman noted last week, "I'm in the middle of the most difficult, crazy fight that I didn't ask to be a part of. And I feel like I'm this easy punching bag. Yet I haven't thrown any punches." (The story was revealed only when her ex-husband surreptitiously recorded her speaking about it and leaked it to the press.)
The St. Louis city prosecutor charged Greitens with a felony charge, but the case against him was, despite the appalling testimony of the woman, tenuous*: The government admitted it did not have the photo Greitens allegedly took in its possession, and the case against him fizzled amid prosecution blunders earlier this month, though the prosecutor has vowed to refile the charges later.
In the end, it didn't matter. The damage done to Greitens by the woman's testimony was probably irreparable in the MeToo era, and in any case, by then it was just one of his problems. Most of the state's leading Republicans had called on Greitens to resign, and supported impeachment if he refused.
They had more to go on than just the affair. In April, state Attorney General Josh Hawley said that Greitens may have committed a felony by improperly using a donor list from the Mission Continues, his veterans nonprofit, to fundraise for his campaign. Hawley turned evidence of that over to prosecutors. In May, a report from the legislature added more detail, including pointing out that Greitens had agreed not to disclose the donor list, and also lied in campaign-finance reports about how he acquired it. Greitens is also accused of using A New Missouri, the independent group, to circumvent campaign-finance laws.
Greitens's case took on national interest for several reasons. First was the pure spectacle of a telegenic, nationally admired young politician becoming scandal-tarnished. Another was the possible impact on the November election for U.S. Senate, where Hawley is challenging incumbent Democrat Claire McCaskill. She is seen as vulnerable, and Greitens's departure is expected to be at least a mild help to Hawley.
Greitens was also one of several high-profile politicians to be accused of sexual misconduct in the current wave. He largely followed the combative playbook drawn up by President Trump, who has also been accused of harassment by at least 19 women. Trump has so far survived; Greitens did not. Nonetheless, Greitens kept to his combative tone as he resigned on Tuesday, invoking his military pedigree just as he has throughout his short and eventual political career, sometimes to the point of absurdity.
"The time has come though, to tend to those who have been wounded and to care for those who need us most," he said near the end of his brief statement. "So for the moment let us walk off the battlefield with our heads held high. We have a good and proud story to tell our children."
Yet Greitens has always been eager to stand out from the crowd by dint of his sterling resume and to set himself apart from other politicians. Though he used the first-person plural, it was hard to see who the "we" was in Greitens's remarks, or what the proud story was. The governor stood alone at the lectern to make his statement, and he exits the stage of Show-Me State politics just as he entered: an entirely singular figure.
---
* This article originally misidentified the prosecutor who charged Eric Greitens. We regret the error.