What Virginia's Vote Means for the Future of Medicaid Expansion
With state legislators deciding this week to extend the program to 400,000 citizens, the drawn-out battle over Obamacare's signature provision draws nearer to an end.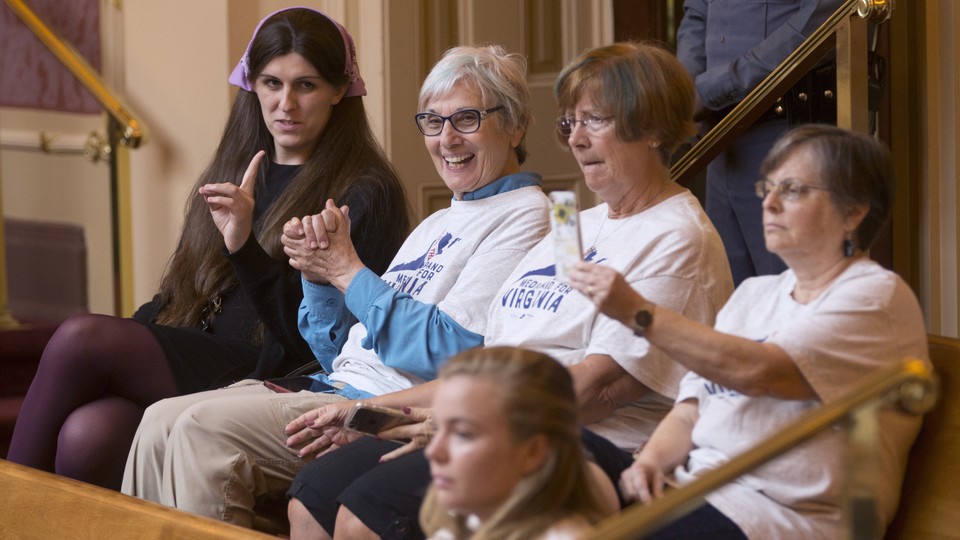 Lost in the manifold dramas of the Trump administration is the fact that one of the main sagas of the Obama administration is finding its way to a close. After the Affordable Care Act expanded Medicaid in 2010 to the whole of the American poor, it launched a struggle that would play out in hospitals, courts, and statehouses around the country. Expansion would soon become a referendum on the project of health reform, with blue states adopting it quickly, and Republican-led states resisting.
But as the national consensus began to change around health reform, even in the deepest reaches of red states, the Medicaid expansion kept, well, expanding. The latest domino to fall is the state of Virginia, where on Wednesday night, after five years of heated debate, a slim Republican majority in the state Senate approved a budget that would expand Medicaid. With the prior approval of the House of Delegates, and Democratic Governor Ralph Northam ready to sign off on the plan, 400,000 low-income Virginians are poised to receive government-sponsored insurance. According to the Kaiser Family Foundation's tally, that now makes 33 states (and Washington, D.C.) that have chosen to expand Medicaid—and according to voters, there may be more to come.
Perhaps more than any other state, Virginia is a microcosm of the national debate over the ACA and its Medicaid expansion over the past six years. After the Supreme Court's NFIB v. Sebelius decision in 2012 made the expansion optional for states, Virginia became part of the firewall of 25 Republican-led and swing states that initially refused to change their Medicaid programs, which traditionally covered only a small subset of low-income families and people with disabilities.
In early 2013, Republican Governor Bob McDonnell officially decided against expanding Virginia's program, and like many other Republican governors, leaned on budgetary reasons for his rejection. In a plan designed to outmaneuver local Democrats, the state GOP's approved budget didn't cut off future possibilities of expansion, but made any such move contingent upon the implementation of "real, sustainable cost-saving reforms … at the state and federal level," as McDonnell put it.
But the firewall soon lost some of its strength. Facing both mounting health problems, like the opioid epidemic, and shifting public opinion, the first states to switch sides did so quickly. Michigan, Pennsylvania, New Hampshire, and Indiana launched pitched battles over the program, with mainstream Republicans, Tea Partiers, and Democrats fighting a three-way struggle over different iterations of reform. Michigan's Republican governor, Rick Snyder, yielded in late 2013. In 2014, New Hampshire's Republican-led Senate yielded to a Democratic compromise on expanding Medicaid. Later that year, Pennsylvania's Tom Corbett became the ninth party governor to defect. Many of these Republican crossovers were enabled by special Medicaid waivers that allowed conservatives to constrain program benefits and spending. As governor, Indiana's Mike Pence helped popularize that approach, crafting his state waiver in 2015 with the aid of then-health-care consultant Seema Verma, who's now the administrator of the Centers for Medicare and Medicaid Services.
Alaska, Montana, and Louisiana were next to fall, with each facing serious health-care access problems in poor rural areas that Medicaid expansion became a critical tool in fixing. While the GOP's focus on repealing Obamacare in 2016, as well as the party's resulting attempts at repeal throughout 2017, chilled some legislative conversations on expansion at the state level, by then the tide was already turning.
Perhaps even because of the GOP promises to repeal Obamacare—which long predated the last round of elections—public opinion on the health-reform program has steadily improved over the years, and Republican recalcitrance has softened. Additionally, Democrats in some swing states and congressional districts have harnessed increasing racial and ethnic diversity, combined with  surges in grassroots support, to challenge the GOP's dominance.
Virginia is an example of these trends. After five years of deliberation in the state, a Republican-leaning polling firm found that public support of the Medicaid expansion surged to 83 percent this year. And despite not controlling either chamber, Virginia Democrats claimed the 2017 elections as a victory, winning Northam the governor's house and making major gains in the state legislature. In polls and by ballot, the mandate to expand Medicaid in Virginia was stronger Wednesday than it'd ever been.
Even in states that don't—or, because of gerrymandering, can't—have such a strong correlation between popular will and legislative outcomes, citizens have increasingly used direct democratic means to circumvent state officials. In 2017, voters in Maine used a ballot initiative to push Medicaid expansion right past the staunch objections of Republican Governor Paul LePage, and advocates are now suing to compel his administration to move faster on its implementation. On Tuesday, officials in Utah certified that a Medicaid-expansion initiative will be on this November's ballot. Idaho petitioners await certification of a ballot initiative, and Nebraska petitioners are still gathering signatures for a similar measure. And in Montana, facing the pending expiration of a special Medicaid-expansion waiver program, petitioners are working toward a ballot initiative that would take reauthorization power away from the legislature and give it to voters directly.
With more repeal bills potentially on the horizon, and the Trump administration continuing to dismantle coverage regulations, the overall picture is still murky for health reform and the prospects of even near-universal coverage. The uninsured rate is still increasing, and the cost outlook for people with private insurance doesn't exactly seem rosy.
But, as Virginia shows, the shape of health care in this country is changing, if fitfully. The public is increasingly supportive of the idea of universal care, and that promise is buoying Democratic hopes to regain state leadership posts. And even in some states that will remain led by committed anti-Obamacare Republicans in perpetuity, thousands of citizens are pushing for their own reforms. The process seems to be moving slowly, but the outcome might already be decided. After all, it took almost two decades for all of the states to adopt the Medicaid program in the first place.