Democrats Split Over Trump's Prison Pitch
The party is torn over a reform bill that just passed the House with the president's support: Should it back modest changes to the criminal-justice system or hold out for more?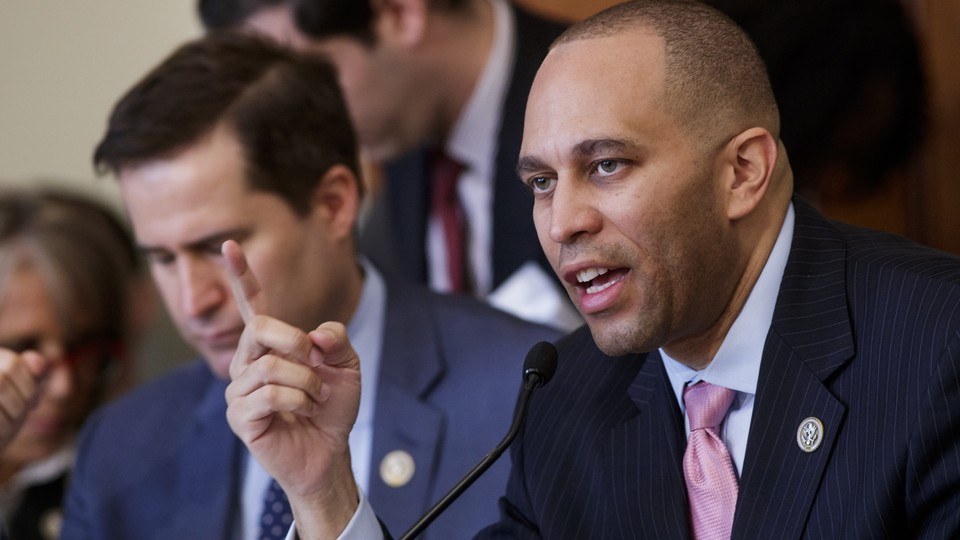 Many Democrats believed that a years-long bipartisan push to overhaul the federal criminal-justice system died with the election of Donald Trump. The president had proudly anointed himself the "law-and-order candidate" in 2016 and appointed as his attorney general Jeff Sessions, the Senate's leading conservative critic of reducing mandatory-minimum sentences, improving federal prison conditions, and easing the transition back into society for those incarcerated.
But Trump is now backing a component of that effort—prison reform—and the sudden viability of the issue is dividing Democrats, who are torn over whether to accept a modest step toward reducing rates of recidivism or hold out for a more comprehensive solution that's unlikely to pass while Trump is in office. The House on Tuesday evening passed bipartisan legislation known as the First Step Act that would authorize $250 million in new funding for prisoner-reentry programs, ban the shackling of pregnant inmates, and expedite early release for elderly inmates and those who earn "good time" credits during their sentences.
The 360–59 vote came despite a late push against the bill from some civil-rights groups, former Attorney General Eric Holder, and a coalition of leading Senate Democrats, including Dick Durbin of Illinois, Cory Booker of New Jersey, and Kamala Harris of California. In a letter released last week, the senators said the measure would be "a step backwards" and that prison reform would fail if Congress did not simultaneously overhaul the nation's sentencing laws. Also signing the letter were Representative Sheila Jackson Lee of Texas and Representative John Lewis of Georgia, the civil-rights icon whose opinion is widely respected by Democrats.
The missive infuriated Representative Hakeem Jeffries of New York, a rising progressive voice among House Democrats who negotiated the First Step Act with Representative Doug Collins, a Georgia conservative. Jeffries fired off his own seven-page letter rebutting the bill's critics point by point. "The letter, unfortunately, is riddled with factual inaccuracies and deliberately attempts to undermine the nationwide prison reform effort," Jeffries wrote.
In an interview, Jeffries criticized what he called the "all-or-nothing approach" of the bill's opponents and said they were unrealistic to think a broader sentencing-reform package could make it into law with Republicans in control of Congress, Trump in the White House, and Sessions atop the Justice Department. "There is no possibility of meaningful sentencing reform at this time," Jeffries told me.
The Democratic quandary on the prison bill is a familiar one for a party out of power: Do they seize an opening to work with the administration to make incremental progress on a key priority, or wait for the chance to tackle the issue on their own terms once they take back control? It's especially vexing for Democrats pondering a temporary alliance with Trump, a president they've accused of antagonizing the at-risk minority populations who would most stand to benefit from criminal-justice reform. The First Step Act grants wide latitude to wardens and the Justice Department to set criteria for accessing prison programs, and Democrats opposed to the bill do not trust Sessions to implement the provisions as Congress intended. And with Democrats poised to make gains in the November midterm elections, they could be in a stronger negotiating position next year.
"The bill is a tempting half-measure, but lawmakers should resist the lure," Holder wrote in a Monday op-ed for The Washington Post, warning that passing a narrow bill now would "derail momentum" for the broader set of changes Democrats and a coalition of Republicans have sought for years.
Trump has embraced prison reform at the behest of his son-in-law, Jared Kushner, who took an interest in the issue because of the experience of his father, Charles Kushner, who was incarcerated for 14 months after his conviction on charges of tax evasion, witness tampering, and making illegal campaign contributions. Over the last several months, he's met with lawmakers in both parties, including Jeffries. "In my view, Jared Kushner is authentically committed to achieving meaningful prison reform that will transform the lives of incarcerated individuals," Jeffries said. He said it was his understanding that with the Trump administration divided on criminal-justice reform, the White House has given Kushner the "prison-reform lane" and allowed Sessions to make decisions on sentencing reform.
Trump praised Kushner at a White House summit on prison reform last week, where he endorsed the House's First Step Act. While some prominent advocates of criminal-justice reform support the bill, including the National Urban League and Families Against Mandatory Minimums, others worry that Trump and congressional Republicans will claim a victory on the issue and stop there.
"We don't want Congress to clap their hands and say they've fixed criminal-justice reform yet not have actually done anything to actually address the problem of mass incarceration," said Inimai Chettiar, the director of the justice program at New York University's Brennan Center for Justice.
In a press release, the Brennan Center urged the House to reject what it called the "Trump prison bill." But Chettiar said she would support the legislation on the merits if it were paired with a sentencing-reform bill like the one Republicans and Democrats on the Senate Judiciary Committee advanced earlier this year. That proposal reduces mandatory minimums for many nonviolent drug crimes and gives judges more discretion in sentencing. "No one's opposing anything in the First Step Act itself," Chettiar told me. "It's more that it's not part of this broader package."
In fact, Senate Democrats have quibbled with some parts of the bill, raising concerns that a new risk-assessment system for determining "good time" credits could exacerbate racial disparities in access to prison education and training programs. They've also said that the number of people who could be released early under new rules—as many as 4,000, proponents say—is likely overstated.
Still, the dispute among Democrats is largely about strategy rather than substance, leading Jeffries to warn his colleagues that they risk losing focus on the people who would most stand to benefit from even limited congressional action. "There are thousands of people who are incarcerated right now who will be helped immediately if the First Step Act becomes law," Jeffries said. "They don't care about politics. They need the help, and they need the help now."
Despite Tuesday's overwhelming vote in the House, the bill's outlook in the Senate is murky at best. Senator Charles Grassley of Iowa, the GOP chairman of the Judiciary Committee, is siding with the Democrats demanding that prison reform only move forward with their legislation on sentencing. And even the narrower effort could face opposition on the right from the same Sessions allies, like Senator Tom Cotton of Arkansas, who led the charge against criminal-justice reform in the final years of the Obama administration.
The mounting opposition in the Senate, however, had little effect on lawmakers in the House. Nearly all Republicans heeded Trump's call to support the First Step Act, and more than two-thirds of House Democrats sided with Jeffries in ignoring the pleas from their colleagues in the Senate to oppose it. Before the vote, the New York congressman suggested that Durbin, Booker, and Harris—all stalwart allies of his in the progressive movement—stick to their side of the Capitol. "If you don't like the bill, kill it in your chamber," Jeffries said. "Or," he added, "improve it."