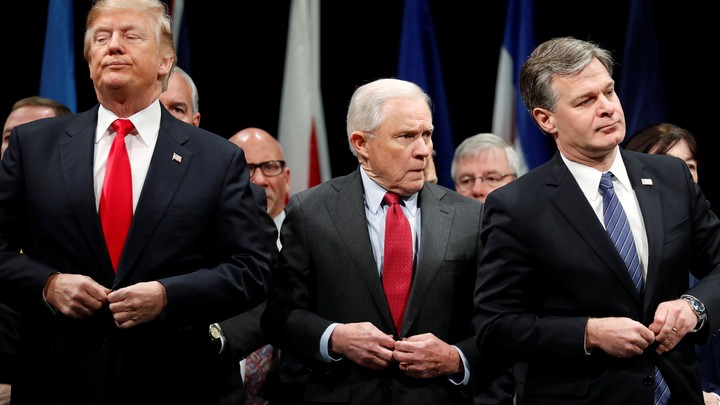 President Trump spent his early Wednesday morning, as he does many mornings, on Twitter. This time, he chose to weigh in on the "Criminal Deep State" and the claims that it embedded a spy in his presidential campaign as part of the federal investigation into Russia's election interference.
"They go after Phony Collusion with Russia, a made up Scam, and end up getting caught in a major SPY scandal the likes of which this country may never have seen before!" he wrote.
Much has been written in recent days about Trump's "new" strategy to discredit the Russia investigation. The president has been attacking both the investigators in the Russia probe and the news organizations that cover the investigation, all in an attempt to persuade the public that the probe has been tainted by bias from the start. The frequency of these attacks may be climbing, but Trump's tactics have actually remained remarkably consistent—beginning before he even took office. "Intelligence agencies should never have allowed this fake news to 'leak' into the public," Trump tweeted on January 11, 2017, referring to a dossier published by BuzzFeed that alleged collusion between his campaign team and Russia. "One last shot at me," he added. "Are we living in Nazi Germany?"
The rhetoric, while normal from this president, is norm-shattering. More puzzling, however, is the extent to which Trump has instigated a Republican-led war on intelligence agencies.
Republicans, touting themselves as the party of law and order, have long aligned themselves with the law-enforcement and intelligence communities. Just before the presidential election, Trump's newest lawyer and spokesman Rudy Giuliani defended the FBI against criticism about the agency's handling of an investigation into Hillary Clinton's private email server. FBI agents "don't look at it politically," he said at the time. He frequently touted his ties to the bureau, and claimed to have insider knowledge. In an interview with CNN, in August 2016, Giuliani said FBI agents "talk to me all the time." In another interview with Fox, days before the election, Giuliani said the FBI agents were "outraged" with Comey's handling of the Clinton probe. In a radio interview unearthed by The Daily Beast, Giuliani described "a kind of revolution going on inside the FBI" among agents who he claimed disagreed with the decision to clear Clinton of criminal charges. The intelligence community frequently tries to position itself as apolitical, but public opinion of intelligence agencies has in recent decades been clearly divided on partisan lines. Those views have clearly shifted.
Gallup polling late last year found that about half of Republicans said the FBI does an excellent or good job, down 13 percentage points since 2014. At the same time, the polling for Democrats who said the FBI does a good or excellent job was up nine points to 69 percent, compared with 60 percent in 2014. "The partisan shift in views suggests Trump's and other Republicans' efforts to cast doubt on the FBI's professionalism and portray it as a partisan agency have been somewhat successful among their supporters," Gallup's RJ Reinhart wrote.
In the 22 months since the FBI launched its counterintelligence investigation into potential coordination between members of Trump's campaign and Russia, Trump has attacked his own intelligence and law-enforcement communities far more often than he has condemned Moscow for its election interference. The president has chided the FBI, former FBI Director James Comey, Mueller, the Russia "witch hunt," and the "deep state" in more than four dozen tweets since April alone. He used Twitter to criticize Russian President Vladimir Putin for the first and only time on April 8. On March 21, Trump tweeted: "Getting along with Russia (and others) is a good thing, not a bad thing." On April 2, he called the FBI and Justice Department's desire to withhold sensitive information related to the ongoing investigation "an embarrassment to our country."
Former CIA Director John Brennan—a frequent Trump critic who saw early intelligence about Russian attempts to interfere in the 2016 Presidential election and has landed in the president's crosshairs—told me that this administration's posture toward the intelligence community stands in "stark contrast" to what he experienced while working under former Presidents Clinton, Bush, and Obama. "They looked upon me as representing the views and concerns of the intelligence community," Brennan said of the former presidents. "I was frequently challenged, but it was always done respectfully. That stands in stark contrast to what I've seen of this administration from the outside, and during the campaign."
Giuliani's transformation has been particularly striking: Long a forceful law-enforcement advocate—as a federal prosecutor and, later, as the mayor of New York City working closely with the New York FBI—Giuliani has adopted Trump's hostile posture toward the bureau. The New York FBI agents who raided the home and offices of Trump's longtime personal attorney Michael Cohen behaved like "stormtroopers," Giuliani told Fox last month. Parroting Trump, Giuliani also called Comey a "disgraceful liar," and said the Russia investigation being led by  Mueller, a former FBI director, is "tainted" and "totally garbage." The GOP strategist Rick Tyler, a former spokesman for Ted Cruz, noted that "Giuliani never was one to be shy about using the power of the prosecutor's office to go get the bad guys. Now it's all turned on its head." (Giuliani appears to have influenced the president in return—shifting the Trump camp's primary defense of "there was no collusion" to collusion "is not illegal.")
Trump also has several reliable allies in Congress attempting to chip away at the credibility of the investigation—and eroding the independence of the Justice Department. The most active is Congressman Devin Nunes, a California Republican who served on Trump's transition team and has been leading efforts to pry loose information about the Russia probe from the bureau and the Justice Department. He has done so under the auspices of congressional oversight, but has featured prominently in Trump's political theater—he has raged against the alleged "unmasking" of Trump associates' identities in intelligence reports; the FBI's use of some details in a dossier compiled by a former British spy to bolster its application for a surveillance warrant on Trump campaign adviser Carter Page; and the bureau's use of an informant to monitor members of the campaign with suspected ties to Russia—a tactic Trump has characterized as "spying" and potentially "bigger than Watergate."
On Sunday, Trump "demanded" that the Justice Department investigate the FBI's tactics, and Deputy Attorney General Rod Rosenstein referred Trump's demand to the DOJ's Inspector General. By Thursday, Justice Department officials were briefing Nunes and other lawmakers on the highly classified information—against an open warning issued by five former U.S. intelligence officials about "inappropriate political influence on the investigators." David Kris, a founder of Culper Partners who served as the assistant attorney general for the DOJ's National Security Division for two years during the Obama administration, told me he sees Nunes's efforts as "instrumental and contingent—that is, in service of the president's current preferences and agenda."
National-security and intelligence experts have pointed out that using human sources to collect information is common, and more discreet than having FBI agents approach potential subjects and targets of a probe for an interview. "The use of confidential human sources is encouraged, expressly, by the guidelines that cover the FBI's behavior," Kris said. He pointed to the Guidelines for Domestic FBI Operations, a manual produced under former Attorney General Michael Mukasey in 2008, which says that "the identification and recruitment of human sources—who may be able to provide or obtain information relating to criminal activities, information relating to terrorism, espionage, or other threats to the national security, or information relating to matters of foreign intelligence interest—is critical to the effectiveness of the FBI's law-enforcement, national-security, and intelligence programs, and activities undertaken for this purpose are authorized and encouraged."
Kris added that the use of such informants is "routine across the FBI and carefully regulated by a series of internal FBI documents." (He also wrote a recent essay for this magazine about the danger of breaching intelligence norms.) Partisan bickering over the intelligence community seems to have played a role in yet another extraordinary breach of norms in recent days when, after intense scrutiny by high-profile writers for right-wing websites, one informant's name was made public. It's not clear who originally shared the person's identity, which has since been shared by nearly every major news outlet since last week. "It's bad," said Frank Montoya Jr., a retired FBI special agent. "There aren't many sources like this, and it is potentially a life-threatening event … possibly for the source, but more so for his sub-sources (any Russian ones, certainly). It is also going to piss off our British partners. How will that affect other, ongoing operations? Or future ones?"
Nunes has not been alone in his efforts to force disclosures from the FBI and DOJ and paint the investigation as politically motivated. Other members of Congress aligned with the president—including Republican Congressmen Matt Gaetz, of Florida, and Jim Jordan, of Ohio—have characterized Mueller's investigation as inherently biased and manufactured by a "deep state" of career intelligence and law-enforcement officials intent on undermining Trump. "It's clear that the Republican Party made political gains by being the party of 'law and order,'" Tyler, the GOP strategist and former Cruz spokesman, said. "It's ultimately going to be detrimental to them to be denigrating the FBI."
Former Acting CIA Director Michael Morell told me that he "would not say that Republicans, broadly, have an adversarial relationship with the intelligence community. A few of them do, but I don't think you can paint either party, or an entire party, based off of the actions of a few. In my mind, it's really the president here. And it's really Devin Nunes." Morell emphasized that the intelligence community is "nonpartisan," noting that "they have no dog in the political fight or even in the policy fight." He said the intelligence community's instinct will be to not withhold any information but acknowledged that, in exceptional circumstances, officials could "decide to withhold some information if they are concerned about leaks."
Ultimately, some experts say, the damage done by Trump's attacks on the intelligence and law-enforcement communities could be the erosion of the core traditions and institutional norms that the FBI and DOJ have relied on to pursue investigations that are independent of the White House. The attacks could also have a chilling effect. "This could create an incentive to lean against disclosure" to Congress, Kris said. He noted that while there is "a history of low-level guerrilla warfare between the branches of government"—manifested through restricting funding, demanding documents, or threatening contempt and impeachment—"what's notable about the current environment is the way in which the most extreme kind of rhetoric is deployed so rapidly and readily."
"There are definitely fewer protected zones in our government," he said. "Intelligence used to be one of them, but we've lost something there."
We want to hear what you think about this article. Submit a letter to the editor or write to letters@theatlantic.com.
Natasha Bertrand
is a former staff writer at
The Atlantic,
where she covered national security and the intelligence community.