Trump's Two Biggest Scandals Converge in a Single Tweet
Stormy Daniels's lawyer is attempting to connect the dots between the Russia probe and the Michael Cohen investigation.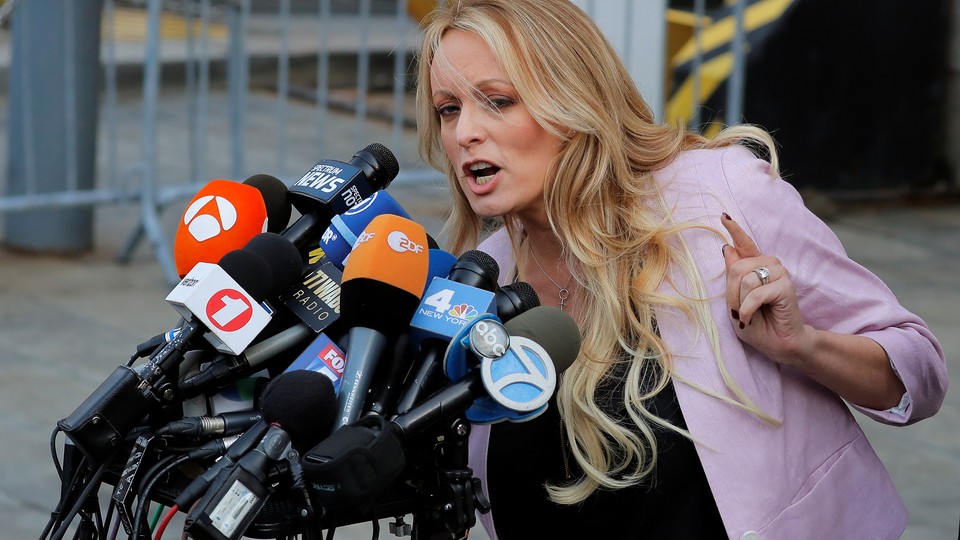 The attorney for adult-film performer Stormy Daniels made an explosive claim on Tuesday, merging the two biggest scandals of Donald Trump's presidency in a single tweet—and setting off a frenzy of fresh speculation about the Trump campaign's possible ties to Russia.
On Tuesday evening, Daniels's lawyer, Michael Avenatti, upped the ante further, publicly alleging that a Russian oligarch "may have" provided the hush money that Trump paid Daniels—via his longtime personal attorney Michael Cohen—to cover up an alleged affair between the president and the adult-film star.  (Trump has acknowledged the payment was made, but denies the affair and says the money had nothing to do with his campaign.) In Avenatti's words: "After significant investigation, we have discovered that Mr. Trump's atty Mr. Cohen received approximately $500,000 in the mos. after the election from a company controlled by a Russian Oligarc with close ties to Mr. Putin. These monies may have reimbursed the $130k payment."
Cohen's attorney, Steve Ryan, told me on Tuesday that the transactions did not amount to "a payment."
"I know you're using shorthand," Ryan added, when I asked him whether Cohen was paid by a Ukrainian-born Russian billionaire referenced in an unverified dossier that Avenatti published to Twitter. "But this was not a payment."
He followed up in an email, writing, "Don't contact me again. Ever."
In a phone conversation on Tuesday, Avenatti disputed Ryan's characterization, but declined to provide additional evidence to support his initial claim. "It is completely inaccurate to say that these were not payments," Avenatti told me.
Daniels's lawyer seems to be drawing from Trump's P.T. Barnum-like playbook in his attempts to stoke media attention and provoke the White House. Avenatti, like Trump, has a bombastic style and reality-television instincts. He's spent the past several days egging on high-profile figures with ties to Trump—including challenging Rudy Giuliani to a live-TV debate. Avenatti has also used the president's preferred medium, Twitter, to whip up suspicions about a possible connection between the Russian probe and the Daniels scandal. And, in a tweet over the weekend, Avenatti seemed to acknowledge his behavior is part of a strategy to get to Trump.
"The constant media/PR pressure has forced Trump, Cohen, et al. to make a series of huge errors and to make damaging admissions helpful to our case," Avenatti said. "This was not by accident. And we're not changing." Avenatti's strategy is, of course, its own kind of PR effort.